Challenges and friction in today's media marketplace

In the first two articles of this Rights and Royalties series, we discussed how the forces reshaping the media industry are turning rights and royalties into a competitive differentiator, and the evolution of content creation. Here's a quick recap of the top five challenges impacting media organisations today:
Rights and licensing complexity - Many media organisations have acquired intellectual property (IP), gone through mergers, or begun producing original content. On top of this, there are now more parties involved in commissioning, creating and licensing content. All of this means that media businesses are managing a more complex set of IP rights than ever before.
Challenges in tracking distribution and fighting piracy - Globalisation, streaming and expanding consumption channels - including syndication and social media - have driven a massive expansion in the volume and complexity of distribution that companies need to manage and track. This also makes it harder to crack down on piracy.
Managing content monetisation and calculating royalties - Media organisations are finding it harder to track content monetisation and calculate royalties quickly and accurately, thanks to the intricacy of IP rights and royalties rules, the inaccuracy and inefficiency of distribution data, and the disconnect between rights, distribution and financial processes.
Advertisement targeting constraints and ad fraud - Poor visibility into customers' content usage data makes it hard to precisely target ads to specific user groups. What's more, unreliable distribution data causes disputes between distributors and advertisers.
Creators' pay and reliance on intermediaries - Digital platforms like YouTube and TikTok have removed barriers to entry for aspiring content creators, galvanising a flourishing creator economy. Yet, creator frustration and resentment are growing. Creators want more direct-to-consumer options and far more equitable allocation of revenue from intermediaries, who can charge significant commission and provide limited insights into content distribution.
In this article, we'll explain how companies, creators and consumers can thrive in this exciting new era of media and entertainment by addressing their rights and royalties challenges using distributed ledger technologies or DLT - peer-to-peer systems that allow participants to simultaneously interact and transact within a secure, transparent, and immutable data network.
The future has arrived
Whenever a ground-breaking innovation emerges, there are sceptics and enthusiasts. For instance, a few years ago, the potential for distributed ledger technologies like blockchain was up for debate. But now, these technologies have become established across many fields and use cases, including decentralised finance, cryptocurrencies like Bitcoin, supply chain audit and digital identity. The UK Government Treasury this year announced plans to test DLT to become a global 'cryptoasset technology hub1.' Furthermore, investment in DLT use cases worldwide is forecasted to rocket from around $4 billion in 2022 to $140 billion in 20302.
Among this immense growth potential is a huge, largely untapped opportunity for the media industry, where DLT and blockchain technology could create a revolutionary shared, trusted and efficient transaction system for media assets.
Take NFTs, which became a phenomenon in 2020, was voted as the Oxford word of the year and rose to become a $4.4 billion market in 2021. Some were quick to ridicule them, and with fair reason, as most of the early collectible digital art NFTs were hijacked or originated as investment vehicles. Now we're seeing a renewed focus on the utilitarian design and potential of NFTs and smart contracts, which are based on blockchain and can execute interactions and transactions automatically once predefined criteria are met. Some estimates suggest the NFT market will reach a whopping $20 billion by the end of 20283.
Media organisations are gradually beginning to understand how DLT, NFTs and smart contracts will have an enduring impact on their business operations. Let's explore some of the potential use cases, and discuss how they tie into a broader vision for the future - including Web 3 and the metaverse.
Media industry applications for DLT and blockchain technology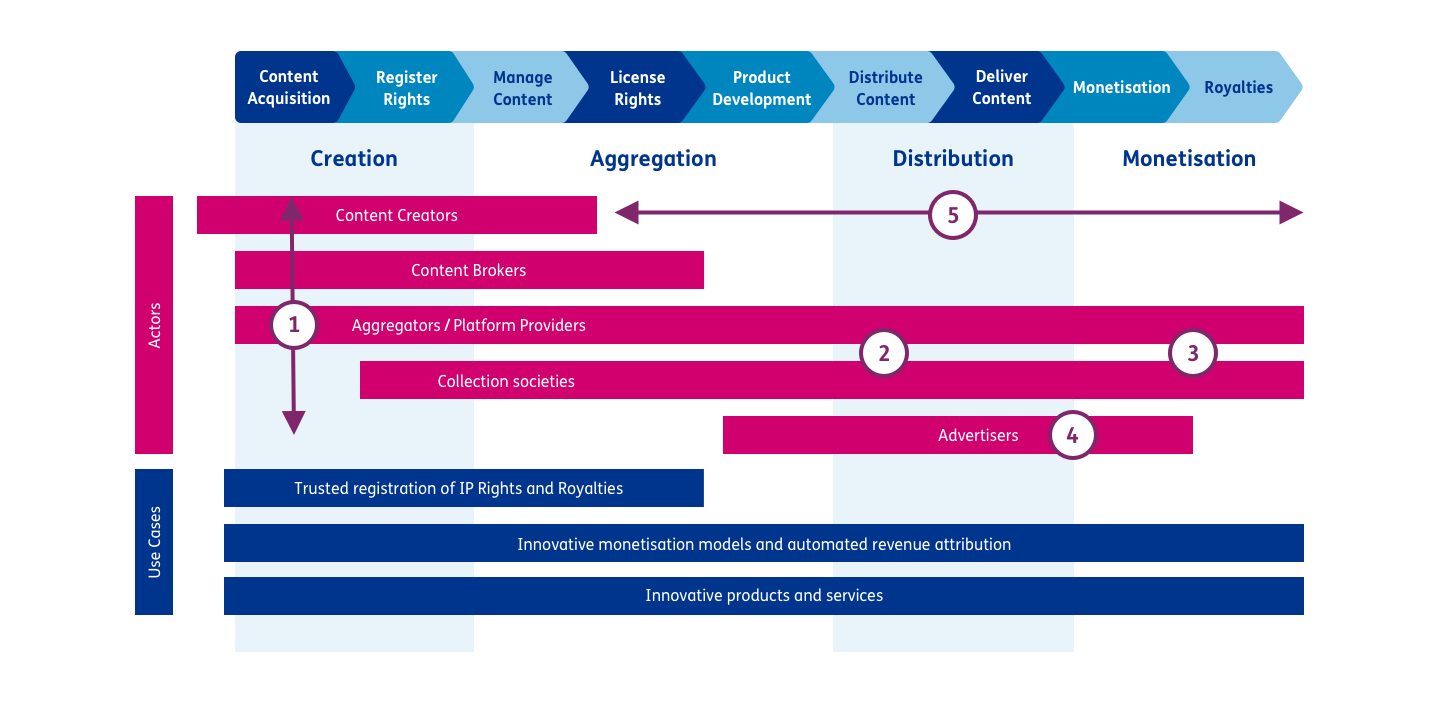 1. Enabling trusted registration of IP rights and royalties
Works, IP rights ownership, royalty rules and licensing deals are often stored locally across different parties in the media value chain. This creates a lack of transparency and data inconsistencies that require reconciliation and often lead to disputes. All of this contributes to inefficiency, inflated costs and lost revenues.
Blockchain can change all that. It can unify IP rights systems across industries and countries, vastly improving transparency, enforceability and efficiency. IP owners can register their works on an immutable shared ledger which acts as an authentication tool to validate the integrity of intellectual assets. Blockchain can also track and facilitate the exchange or transfer of IP assets and licensing using smart contracts.
Examples:
The European Union (EU)
is developing a blockchain-based IP registry and supply chain tracking system to combat counterfeit goods. Due for full-scale rollout in 2023, it's one of the most ambitious blockchain projects to date.
Binded
- Photographers upload their images to a copyright vault secured by a unique fingerprint saved on the blockchain. Once uploaded, artists can share their work and track similar images to thwart copyright infringements.
RightsfuAlly
- Creators register scripts and films, then share them - for example, with third parties involved in movie production. The network provides complete traceability and transparency of who can access each document.
2. Innovative monetisation models and automated revenue attribution
Blockchain can dramatically simplify and accelerate royalties calculations, by providing transparency of content distribution. Furthermore, smart contracts can automatically enforce contractual agreements between creators, producers, publishers and advertisers in the media supply chain. This enables immediate and automated royalty and revenue share distribution at the point of sale or content consumption. The upshot is that media companies can pay creators in seconds instead of years, creating greater incentives for loyalty.
Self-sustaining solutions like the Flixxo example below could potentially eliminate the need for services and processes currently provided by content brokers (eg music labels and publishers), aggregators (like Spotify or Audible) and collection societies (which make sure creators get paid when their work is used). This is an attractive proposition for creators, who stand to gain more direct-to-consumer (D2C) relationships and greater revenue share.
With accurate, real-time tracking of content distribution enabled by blockchain, you can also:
Prevent piracy and revenue leakage – making it easier to identify when copyrighted material is used without permission.
Introduce per-use payment models – automation and much cheaper content distribution and monetisation unlock the potential for per-use payment models. These are ideal for consumers who want access to select pieces of content. For example, with a blockchain distribution model, creators or distributors could sell per-stream videos or per-read articles with instant distribution of royalties or revenue.
Establish customer-to-customer (C2C) models – onward distribution of acquired content is a longstanding source of revenue leakage in the media industry. But all that could change with smart contracts, which are associated with content assets in perpetuity. This enables new models whereby, for example, the original artist collects a share of revenue for all future transactions.
Enhance ad targeting and efficacy – because tracking content distribution is so challenging, media companies and advertisers often end up disputing the number of genuine interactions with ads. Smart contracts could change that, because they provide accurate, trusted tracking of users. Just as smart contracts automate the distribution of royalties, they can precisely collect and distribute advertising spending – avoiding arguments and fraud.
Examples:
Opus - Artists store their tracks on the Opus platform and music is streamed via the Opus player on the Ethereum blockchain. The blockchain-based revenue system provides artists with 90%+ of revenue vs ~20% on other platforms.

Flixxo - is a decentralised content distribution platform where audiences pay creators cryptocurrency tokens in exchange for their content. To earn Flixxo tokens, participants make the videos on their computers available to the network. This decentralised crowdfunding and peer-to-peer hosting solution offloads the cost of running the network onto the users – rather than platforms footing the bill and taking hefty commission. This makes it far more lucrative for creators to take part.