Our people say it all
Hear directly from our people about what it's like to work at Baringa, our distinctive culture, and our people-first way of working.
Be kind.
Our people are the key to growing our business and creating impact that lasts. And it all starts with being kind to each other, our clients, and ourselves.
We look out for the people we work with – our teams around the world, our clients – everyone. We get to know each other through events and away days. We take a hands-on and open approach to career development so everyone can reach their potential and feel fulfilled at work. And we're proactive in supporting our people's mental health, so they know there's always someone they can talk to and no one should struggle alone.
We make sure everyone has a voice – we build an inclusive culture, respecting the contribution of each individual in our own business and in our clients' projects.
We're collaborative and recognise the team output is greater than the individuals.
We're compassionate, honest, and we do the right thing – even when that means delivering tough messages.
Be curious.
We're gleefully geeky about the industries we work in. In fact, we thrive in every opportunity we get to immerse ourselves and bring our deep knowledge and expertise to our clients.
We're always thinking outside the box to solve challenges. It's how we run our own business too. A big part of our curiosity is knowing when we don't know everything and turning that into a great learning opportunity.
We're passionate about adding value to our clients and bring deep knowledge and expertise.
We're innovative and always looking for new ways to solve challenges.
We love taking on the toughest challenges, because we know we have the expertise to solve them. We're street smart not just book smart, continuously learning to maximise our clients' potential.
Be great.
Our clients love how we're always part of the team – how we get to know them and work out what makes their businesses tick. We're passionate about tackling their biggest, most strategic challenges and leaving them better equipped to handle the next one.
But our 'greatness' isn't self-proclaimed. We've won plenty of awards. And we're a Certified B Corporation®, recognised for how we use business for good and deliver real value for our people, our communities, and the planet.
But it's when our clients, our peers, and our people tell us how great it is to work with us – when they can see the lasting impact we created together – that's when our hearts sing.
We act with integrity and will always recommend what's genuinely best for our clients.
We deliver high quality ideas and services and measure our success in engaged people and loyal clients
We each take personal ownership of our work and the ways we go about delivering it.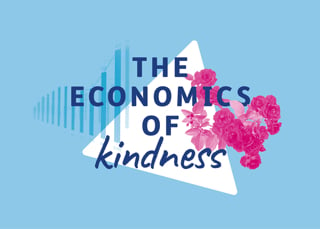 Does kindness in business pay?
We believe so. But what about you? Does kindness make good business sense? With the current economic uncertainty will kindness take a back-seat? Or is kindness an enduring tenet of success?
Find out more