Networking | noun (meeting people)
The action or process of interacting with others to exchange information and develop professional or social contacts.
Networking is key to building and maintaining relationships with both clients and colleagues. It is how you stay relevant and at the forefront of people's minds when opportunities arise. In today's world we are focusing on networking more than ever, and businesses are enabling this through conferences, online webinars, and social events to name a few.
Whilst networking is a well-established term, and despite recent global events forcing us to shift into a virtual world, businesses have seen the benefits and are now keen to build upon face-to-face interaction again. Here at Baringa, we recognise the importance of networking and therefore have a dedicated 'Client Experience' team whose role is to solely focus on our client networking events, shaping and improving this offering.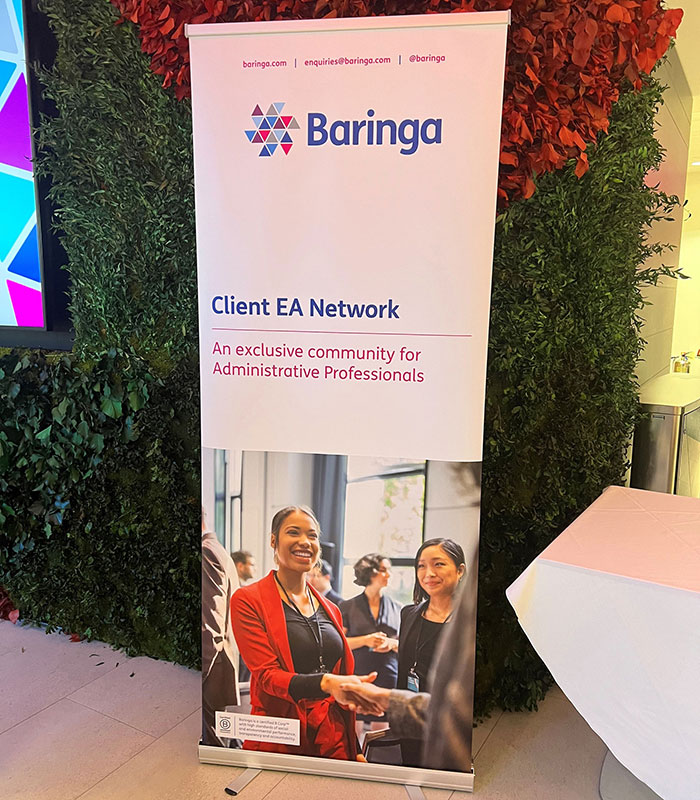 Baringa Client Experience Team
So why does Baringa have a Client Experience team? We lead on building strategic client relationships through networks. Client networks are essential for every business where clients feel informed and included in what's current on the agenda. At Baringa, we create and nurture relationships to develop vital networks and engage with our clients on every level, from business administrative support through to leadership or C-suite.
Baringa EAs have developed a unique offering for their Client EA Network, and they actively contribute to the organisation's strategy and success by building crucial relationships with our clients across the board. Putting people first is what we do, therefore our Client EA Network is not just an event here and there, but a platform to build upon our existing relationships with our EA counterparts. The marketing team support our EAs in this as much as we support other areas of the business. Our Client EA Network grows stronger as we work hard offering face-to-face networking opportunities, including exciting speakers discussing valuable insights for personal development.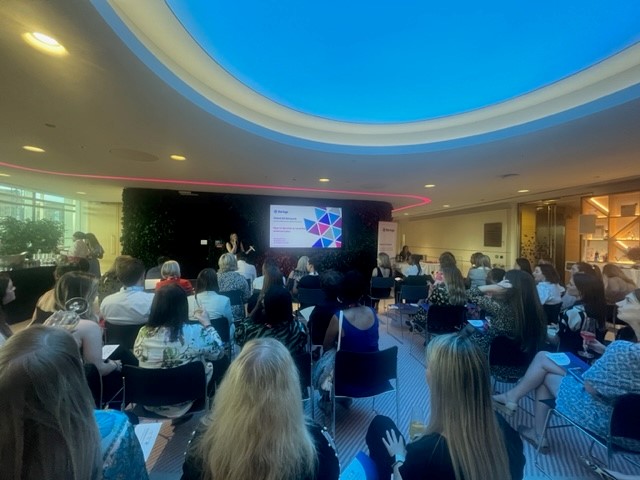 Baringa's Client EA Network
In line with Baringa's strategy of providing quality and expert service to our clients, we created a network specifically for our Client EAs and PAs, as we know how important this role is to any business, usually being the first point of contact. We wanted to help and support our clients and their EAs to grow and develop their skills, be able to meet like-minded people, learn together and share experiences.
We started building our Client EA network in the summer of 2020, launching a 'lockdown book club' and sent our client EAs books on a variety of topics from wellbeing to key administrative skills. In December 2020, we sent all our Client EAs a Baringa Christmas card and officially invited them to be part of our Client EA Network. Since then, we have had an overwhelming number of EAs sign up.
In line with our Client Relations initiative, in March 2022 we launched our #EAThings Blog, another way to provide practical tips and real-life stories from within our EA community.
The following year we ran a series of internal Client Relations workshops for our Baringa EAs to bring them into this initiative, understand the purpose and provide them with practical skills for networking. Finally, once the Covid pandemic was over, we were able to host out first ever in person Client EA Networking event in June 2022. We had a fantastic talk from key speaker Lucy Chamberlain on 'Becoming a Strategic Business Partner'.
Our second event followed in November 2022, with Lucy Brazier speaking to us on the topic of 'A changing world and your place in it'. Most recently we held our third event where we heard from interactive speaker Paul Pennant on "How to become an assertive communicator'. We aim to provide topical speakers at each event to engage and inspire our EA community. It's great to be able to meet all our Client EAs in person, toast with a glass of Prosecco, enjoy some delicious canapés and take home a small gift.
The feedback from these events and our network overall has been incredible. It's been great to see this network thrive and to see EAs build real friendships – where they meet up with one another for coffee, lunch and drinks.
We will be hosting our next event in Autumn, where we are looking forward to continuing to build this network with more initiatives, key speakers and eventually take our Networking Events international in line with the global growth of Baringa.
We would love to hear from you on what you would like from our Client EA Network so please do reach out, but for now we wanted to say thank you for your continued support and hope to see you at our next event.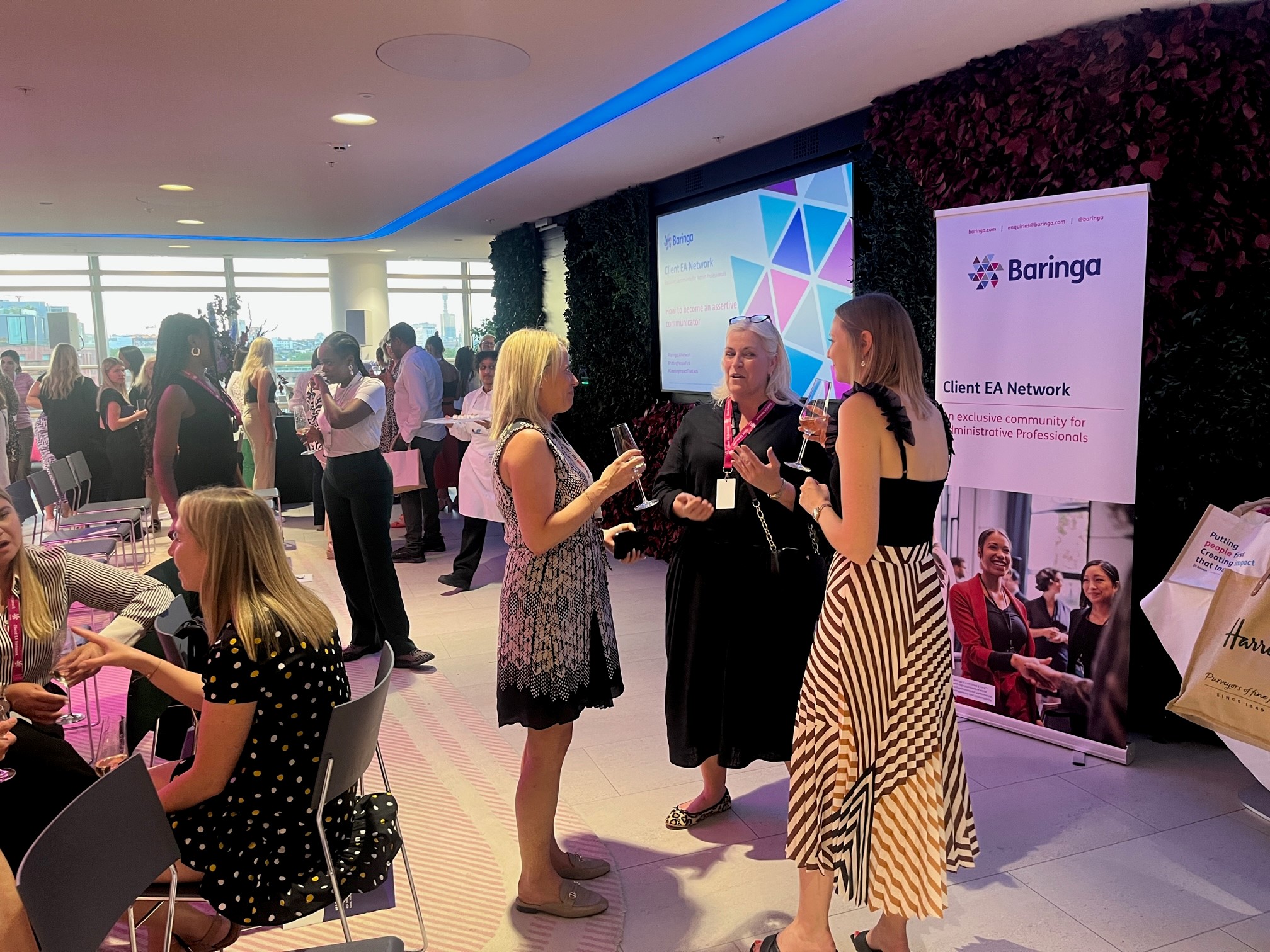 Quotes from our Client EAs who are part of this Network:
"Baringa's Client EA Network is a great opportunity to share experience and brainstorm ideas with peers in a similar role across a variety of public and private sectors."
"The guest speakers are inspiring, and I have enjoyed listening to both external (Lucy Brazier) and Baringa Partners discussing first-hand experiences and how an EA is instrumental to their business."
"I'd love to see this Network create a culture of best in class and be able to share updates and best practices."
"Working as an EA at Sainsburys we work closely with Baringa, so I was invited along to their first Client EA network. The chance to be able to network with other EAs is great, it's always nice to see how other EAs work. Also, the guest speakers are amazing, they make you sit back and listen, it's always great to learn something new every day and reflect. Please continue with guest speakers at your events, having a different topic each time is so exciting and inviting."
"I found out about the client EA network as I was working with some of the EAs at Baringa through my current company. It's a great way to meet other likeminded people who understand the job role and what being an assistant entails. All the talks are always very interesting, and you always take away something new. Baringa lay out the evening fantastically, a good mixture of networking but also having guest speakers and great canapés!"