Corporate kindness is all about the impact an organisation has on the world. Kind companies are engaged in responsible practices that benefit society as a whole – including their customers, employees, and the communities they operate in. Kindness can increase parity and enable collaboration, fostering openness around performance and giving people the support they need to improve.
This article is part of our series on the Economics of Kindness. Find out how we're changing the way that business sees kindness in the workplace.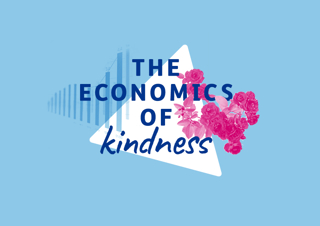 For employees, kindness also provides psychological safety. If the business has a clear purpose and a joint goal that everyone is working towards, and every person knows the role they'll play to get there, there's more of a sense of inclusion and belonging – which has been proven1 to increase productivity.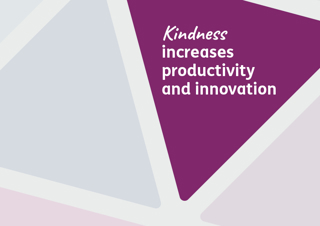 It also impacts innovation. When people know they're not going to get pulled up in an unkind way, that any feedback will be constructive and performance-focused, and that they have the same tools and opportunities as their colleagues, they have the freedom to be more confident, creative and innovative in their decisions.
That's how we work at Baringa – and kindness is delivering strong commercial outcomes. For example, teams are full of people who are not only technically strong but genuinely kind. And, because they collaborate, share best practice and support each other, client delivery is of consistently high quality.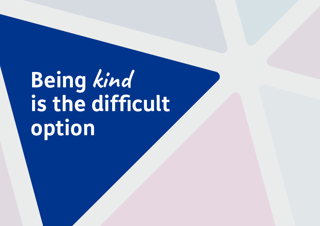 We also promote a culture of kind – rather than 'nice' – feedback. That means having difficult conversations around performance, but doing so in a constructive, supportive way. We won't assume the cause of someone's behaviour, and will try to help them unlock whatever's holding them back by asking questions, being curious, and of course being kind.
In a sense, that makes being kind the more difficult option. It's far easier to avoid tough situations, but we're committed to helping our people develop by making sure they hear what they need – and get the resources and support required – so they can be the best version of themselves.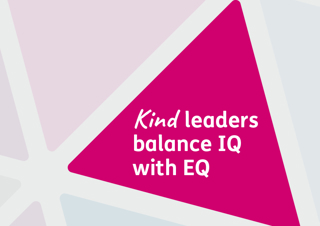 Hybrid working demands new leadership skills
Kind leaders balance IQ with EQ. They relate to employees' experiences and emotions, and take time to listen, support, guide and coach their teams. The most successful focus on organisational outcomes, but do so with compassion and understanding, and engage people on an emotional level. But being a leader today is arguably more challenging than ever. The world is changing at breakneck speed, and leaders are having to adapt to a constantly transforming world.
"The world is changing at breakneck speed, and leaders are having to adapt to a constantly transforming world."
One major shift we've all seen in recent years was the move to hybrid working. According to research by LinkedIn, more than a third of UK employees would quit their job2 if threatened with a full time return to the office – while 52% of women surveyed said they'd already left, or were considering leaving roles that lacked flexibility. It's safe to say hybrid is here to stay.
Hybrid working adds complexity when it comes to building strong relationships at work however, and we're seeing the 'middle manager squeeze' impacting organisations across sectors. Middle managers are still responsible for everything they've always done, but they're also now expected to manage in a hybrid way, without necessarily being taught the skills to do so.
Perhaps most significantly, middle managers have become the internal face of many companies. Garner3 found that '60% of hybrid employees say their direct manager is the most influential person they interact with in terms of connecting to their company's culture'. If that culture is portrayed through the wrong lens such as micro-management, there is more risk of loss of talent.
"For middle managers to have the empathy to spot what might really be going on at the other end of a phone call or Zoom meeting requires a whole new set of skills."
For middle managers to have the empathy to spot what might really be going on at the other end of a phone call or Zoom meeting requires a whole new set of skills. That applies to inclusion and belonging too. How do you help someone remote feel part of things, if their colleagues are all in the office together? But these are skills managers are having to learn and grow on the job and may be critical to the retention of key talent.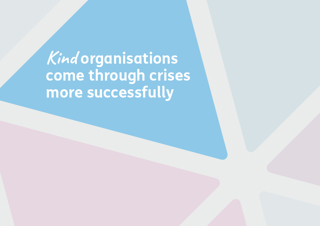 Kindness never needs to take a back-seat
Tough decisions will inevitably need to be made at some point in a people manager's career. For example, many organisations are currently managing redundancy programmes, which can be an unpleasant process for everyone involved, but that doesn't mean kindness has to take a back-seat. If employees see their exiting colleagues being treated fairly and appropriately, they're much more likely to remain motivated, productive and to stay with the business. Kindness in approach makes a huge difference, whilst the reverse can really knock those who are displaced, perhaps even impacting on their confidence to gain their next role.
Don't forget, those people leaving the business might also be future customers, or even alumni who one day return, so a positive experience in that moment can have an impact for years to come. Hall and Partners' Kindness in Leadership survey4 found organisations that practise corporate kindness come through crises more successfully. Kindness is a value that builds resilience, and that's something all companies should be striving for.
A 'shared' workforce may be the future
Despite the market dipping and many companies announcing redundancies, we continue to have a war for 'hot' skills in the UK. Indeed and Glassdoor5 predict a drop of 'prime age population' in the UK from 38% to 35.8% by 2050. To complicate this further, the strive for digital transformation means that tech and data skills will be in even hotter demand. Where hybrid working caused the last big workplace disruption, how organisations attract and retain hot skills will trigger the next. Skills shortages may usher in a completely new approach to employment, where talent is shared across businesses.
With hot skills hard to find, companies may be pressed to share resources, or 'borrow' them from other businesses. As a result, the competitive landscape could become more of a skills marketplace, where individuals are able to have far more varied careers and experiences.
And kindness, of course, plays a role in that future. Those 'shared' workers will still decide where they want to go, and organisations entering this hot skills economy will need aligned values if they're collaborating with others in this space.
Customers and employees will always be drawn to companies with a clear sense of purpose and values. They want to support organisations that impact the environment and society in positive ways – and to work for leaders who weave kindness throughout everything they do.
Join the #EconomicsOfKindness discussion on LinkedIn here.


1. https://www.gartner.com/smarterwithgartner/build-a-sense-of-belonging-in-the-workplace
2. https://www.theguardian.com/business/2023/mar/15/uk-workers-office-return-linkedin
3. https://emtemp.gcom.cloud/ngw/globalassets/en/human-resources/documents/trends/hr-toolkit-tackling-2023-future-of-work-trends.pdf
4. https://hallandpartners.com/thinking/report/kind-leadership-during-a-crisis-and-beyond
5. https://uk.indeed.com/lead/indeed-glassdoor-hiring-and-workplace-trends-report-2023
About the author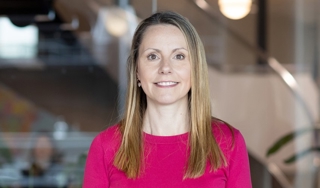 Katharine Henley
Katharine Henley is captivated by the future of work. Known at Baringa for her caring people focus, she set up our people consulting team and helps clients align their people capabilities and structures with their business strategy.
Learn more about Katharine