2023 is going to be a fascinating year for the Media industry. Why? Look no further than what we saw in 2022.
From the sector's response to the situation in Ukraine to the upheaval at Twitter; from the swinging pendulum of PSBs vs streamers to BeReal bursting onto the scene; we don't think Media has ever been as exciting or as diverse.
Our TMT team came together to reflect on our own highlights of 2022, from January to December, a reminder of how much has changed but also a precursor of more to come.
We hope you enjoy it and please get in touch to share your own reflections and predictions.
In January, former culture secretary Nadine Dorris announced that the government's next License Fee announcement would be its last. For two years the license fee will be frozen at £159 and, from 2028, a new form of funding will need to take effect, after the existing arrangement expires.
What makes this significant?
This is a seismic announcement, not only equating to a £2bn real-terms cut in funding for the BBC (with subsequent much higher inflation than was anticipated back in January) but also setting the clock (which behind the scenes has been ticking quietly) for a new funding model for the BBC, arguably the most well-known broadcaster on Earth. Navigating short- and long-term financial, editorial and creative choppy waters is not going to be easy.
Dealing with a frozen fee, a cost-of-living crisis, rising costs of content and competitiveness, and funding a transition to becoming a modernised, digital BBC that has relevance and relationships with audiences and consumers of content is the biggest challenge but also the biggest opportunity, that the BBC has faced in its history. With the likes of Netflix, Amazon, Apple, Paramount, Disney+ all circling and with upheavals in global and local news, as well as the US awakening to European sports, Director General Tim Davie and his team have some tough thinking ahead and even tougher actions to take.
What to look for in 2023?
Expect culture secretary Michele Donelan to continue with a review of the annual charge, but the path to a model beyond the licence fee is set. Keep an eye on signals for how the BBC makes its reductions in scope or cost; or how the revenue model might be augmented: e.g. a move towards commercial or subscription revenues; greater comings together of PSBs towards joint interests; a continued push to global of BBC Studios; government noises on broadband taxes; or any messaging starting to delineate entertainment and sport vs core PSB genres of education and news. Edinburgh in 2023 is not to be missed.
At the start of 2022, the world thought it might get a respite from catastrophic events. Yet Russian action in Ukraine was as unexpected as it was shocking. The invasion catalysed a chain reaction of defensive and offensive measures among media organisations. Media outlets became cut off from one another. Russian media were cut from international distribution and were doubled-down by the state as a conduit for a Kremlin-authorised narrative inside Russia. Western media struggled, not just to convey the true horrors of the conflict, but to understand how this could even happen on their watch. Overnight, the spotlight shone on the importance of truth in our freedom of speech, the danger of false narration and the failure of news as an industry to illuminate or forewarn of a trouble brewing for decades.
Why is this significant?
The power of the media to inform, influence and interfere with public perception has been well documented. In Ukraine, our collective failing to do anything with this documentation is critically underscored. The hold that telecoms companies, news organisations, and social media platforms have over what we think we think, and what we think we need to do is greater now than it has ever been. Media organisations that strive for balance or objectivity become caught in a crossfire of partisan agendas and a culture of soundbite and meme that distil a complex world into five-second bursts.
What to look for in 2023?
The tragedy of Ukraine shows no signs of a swift or easy conclusion. For the media, the news agenda is moving on, as inexorable as it is unfortunate. We can expect the large technology companies to come under further scrutiny and pressure to steward truth and authentic content. The in the UK is a great test of resolve. We are set on a road to further evaluate media companies' societal influences, perhaps even in our ESG frameworks.
The announcement of Microsoft's intent to purchase ActivisionBlizzard, one of the world's largest video game holding companies, and a member of the S&P 500, would represent the largest acquisition in the history of the videogames industry, valued at a staggering $68.7 billion. The interest, furore and opposition to the deal announced in March 2022 was almost instantaneous, and continues to rumble on without resolution into 2023…
What makes it significant?
Acquiring ActivisionBlizzard would make Microsoft the third largest games company globally – ranking behind China's Tencent and Japan's Sony. A big deal yes but creating a #3 is not usually a seismic change. However, for many millions of avid gamers (both geeks and occasionals, and probably including your kids) there is the very real prospect of some of gaming's most recognisable IP, including Call of Duty, Crash Bandicoot and World of Warcraft, to become exclusive to Xbox. It's not just a case of annoying gamers though, the deal could mean lasting change for how the gaming industry is structured. Yet other industries work this way and there is certainly precedent for platform specific games.
What to look for in 2023?
The key thing is will the deal be allowed to proceed? Microsoft's original intent was to complete the acquisition by mid-2023, which has (at the time of writing) been approved in Brazil, Serbia, and Saudi Arabia. However, the acquisition faces formal regulatory opposition in many other countries, including from the Federal Trade Commission in the US and the Competition and Markets Authority in the UK. The ultimate outcome for Microsoft and ActivisionBlizzard may well be heading to the Courts. 'Game Over' could be a long way off and the loot boxes seem to be heading for the lawyers. Barrister skins to enter Fortnite anyone?
BeReal burst onto the social media scene this past year with a relatively simple concept. Once a day, at an unknown time, everyone is notified simultaneously to capture a front and back facing photo of exactly what they are doing in that moment. Individuals only have two minutes to "be real" with everyone else. In a world of curated Snaps and Instas, this caught the mood as a refreshing way to share in what people are really doing, in a world that has real life in it.
What makes this significant?
BeReal was set up to bring authenticity to social media communication, with a staggering 20 million accessing the app daily (at the time of writing). How different to see life on a post, no matter how mundane, with no editing or filters allowed. BeReal is also egalitarian: you only see others if you share, a feature intended to prevent lurking or passive observers. And any posting beyond the two-minute window is watermarked so people might spot those curated poses and artisanal coffees you just quickly brewed up to make yourself look sophisticated.
BeReal is not just a new, truer technology. It represents an essential that we have forgotten. Life is not great all the time. Curated social media can be a source of personal and societal mental distress through what it portrays and how its algorithms portray it to an audience. Exotic lifestyles, digitally altered complexion, unaffordable material wealth, projections of body image, or unattainable 24/7 fun.
What to look for in 2023?
The era of BeReal is in its infancy, and there is opportunity for the app to develop technically and as a user experience. As with any new product growing to scale, BeReal has technical glitches that compromise engagement. For example, closing the app before posting your BeReal allows the time and number of attempts to reset, allowing people to "cheat the system" of authenticity.
There is also space for discussion about developing more urgent penalties or disincentives for late posts in order combat the emerging trend of "waiting until you are doing something exciting"; posting late but making your content more engaging – i.e. "Being UnReal".
Ultimately, BeReal is a welcome new kid on the block. It has brought a sense of fun, novelty and also community to social media (witness the rise of BeReal time in offices). Its simplicity is its biggest selling points but also its biggest drawback. No advertising or subliminal commercial agenda really limits your revenue potential and how investors look at you. Keep an eye on how this develops and how the big tech firms or investors move in. Was there ever a case for nationalising a social media company as a public good?
The ongoing shift towards digital streaming continues, with the BBC announcing in May that two of its major linear TV channels will stop airing over terrestrial broadcast and move exclusively online. Alongside this, the BBC's two News channels will be merged into one as part of the Corporation's plan to modernise, streamline and be digital-led.
Why is this significant?
Finding audiences through traditional digital TV broadcasting transmission (DTT) alone is becoming ever challenging, with many predicting a steady decline towards a fully streamed future. As the largest linear broadcaster of TV and radio in the UK, the BBC straddles this transition perhaps more than any other. With the yo-yo of BBC Three's strategy, which shifted from DTT to streaming over iPlayer only to then return to DTT, it's clear that the trade-offs are finely balanced.
The significance of CBBC's shift is greater and more profound than for BBC Four. While a BBC Four audience might expect to be prepared and able to search and stream content fairly easily, the shift in CBBC marks a different shift and challenge for the BBC. The challenges are where the youngest of audiences now are, what devices and content they engage with (or are given to engage with) and how the BBC can build any relationships with future generations - generations whose behaviours are critical to the very raison d'etre of a publicly-funded public service broadcaster.
While the headline shifts of big name channels to streaming may be reported as the start of a floodgate, the linear audience remains robust. Notwithstanding genres such as news and live sport, the technical shift to streaming distribution is not without consequences. Distribution over IP networks consumes a lot of energy and requires significant storage and network capacity. Reaching the furthest flung parts of the country is also still not a given. In contrast, broadcasting to many can confer efficiencies that are often overlooked. In a world where our planet and resources feel ever more precious, proper debate over the true cost of our near-limitless content availability feels timely.
What to look for in 2023?
While we will continue to see a shift to on-demand digital services and streaming, linear broadcast TV continues to offer significant reach and appeal. Witness the huge audiences for live, national interest events such as the state funeral of Queen Elizabeth II, or England's performances in the World Cup. At these times, the public turn on their TVs in their millions. Watch for how the DTT debate evolves, both for the role the industry plays in society but also for how we understand the true cost of our different distribution models.
For 2023, we are also keeping an eye on how the BBC's strategy for CBBC progresses and takes shape. We believe the success of the BBC's strategy for youth and relevance to future generations is the central most critical, long-term challenge the Corporation faces. Treated as a cost or efficiency play, the challenge feels ever greater. As a chance to invest and really re-connect the BBC brand with new eyes, the future might just surprise us all.
Google has developed a new Natural Language Processing Algorithm (NLPA), called the Pathways Language Model (PaLM) - the largest language model ever developed. An NLPA is essentially a new machine learning system which can learn to parse and respond to human language.
PaLM isn't just an AI that explains jokes — it signifies that AI is in the initial stages of understanding nuance, context, and human thought processes. When an AI can throw a little bit of humour in to your conversation, which of us could really tell whether it is man or machine at the end of the line?
Why is this significant?
With the recent spike in the popularity of ChatGPT, an NLPA, people (and organisations) are becoming increasingly aware of how useful these algorithms are, and how seamless our interacting with computers can be. The applications of such technologies are huge:
Replacing internet searching by just conversing with the internet (finally, a real AskJeeves?)
Revolutionising our web experience and unleashing new device forms – after all, do you need to thumb-type any more?
Automating both basic and complex tasks have long been the preserve of humans - such as coding, authoring, marketing, consulting and creating
Enabling much wider access to the planet's content by making our own languages just another algorithm
What to look for in 2023?
Keep an eye on technologies like PaLM and ChatGPT. The latter has hit the hype and one advantage is that it uses a relatively simplistic NLPA, with c.175 billion language parameters. Google's PaLM considers three times that number. So while ChatGPT is first to the market and is undoubtedly very impressive, it is still an incredibly immature version of what is to come. Expect other NLPAs in development to come out into the spotlight, with startling claims and achievements. The battle for securing investment and market position is all to come. Perhaps even a battle for what it is to replicate our own humanity. 2023 could be a landmark year, perhaps representing a pace that we are probably unprepared for. If it wasn't so serious, it would be well worth telling an AI joke here.
In July, Meta announced that it will change the way in which artists and music rightsholders are paid via Facebook, by moving to a revenue-sharing model for user-generated video content. In practice, this means that content creators will find it easier to use licensed music from well-known artists, and that those artists can also get revenues. Meta's technology will track usage and both video creators and music artists themselves will share in the revenue, as will Meta of course.
Why is this significant?
This is a significant development in the management of music revenue sharing rights - one that has the potential to benefit individual content creators, music rightsholders and audiences. Certain criteria need to be met, including the length of video; that the music itself is in the Meta eligible library; and that the music itself cannot be the primary purpose of the video.
For years and on many platforms, content creators have been unable to use popular music without either incurring high license costs or potential litigation. Equally, licensed music creators have been unable to access a potentially huge market in user-generated content.
However, the move is not without controversy or challenges. How will the primary purpose of a piece of video/music content be determined? Which is driving the audience engagement or advertising impact? What controls do music rights holders have over what images their music is associated with? Is this ultimately a way to legitimise what is illegitimate copyright infringement today, and who is to say whether this is better or worse for rights holders?
What to look for in 2023?
Given the unprecedented nature of Meta's new revenue-sharing model, a critical question is how rivals like TikTok, Spotify, YouTube will react, and specifically whether they can be expected to introduce a similar model to the market.
Swiftly following the announcement, both Warner Music and Universal Music Group announced deals to include their libraries in the new revenue sharing model; both expressing a positive attitude to the new revenue opportunities available. Kobalt Music took an opposite stance, pulling its catalogue.
So how will this play out? Will major music rights owners or artists be happy to have their content available in the Meta licensed music library? Is the incremental share of the video pie going to offset the potential loss of core revenues or control? Keep your eyes and ears open.
In August, the compound effect of rising prices and economic uncertainty was being widely reported as a cost-of-living crisis, with many journalists picking up and amplifying stories of the squeeze. One major story focused on the video streaming providers who, in the earlier part of 2022, saw subscriptions fall significantly, in the case of key players such as Having had a boom in viewing over lockdown, predictions of a 'great unsubscribe' or a shake-out of costly streaming services became rife.
What makes it significant?
Well, the picture is mixed. Paramount+ gained subscribers and launched into new markets, while Disney+ grew in the UK. However, the ripples of declining subscriptions set in motion something the industry had suspected anyway – namely that multiple competing streaming services all with incremental monthly costs for households would start to become more challenging at some point. What followed were business model reviews and significant cost cutting – for many services for the first time, following years of growth.
The big and obvious shift was towards advertising-supported product tiers. Such services launched on Netflix, Disney + and others, with these 'AVOD' products offering cheaper services for the consumer if they were happy to accept advertising that could not be skipped. Surveys on how likely people are to switch to advertising-supported services, and their ultimate tolerance of advertising on streaming platforms, have been mixed and the true product results closely guarded. If 2022 was a 'test and learn' year, 2023 will be when we may see if the tests were successful.
What to look for in 2023?
A lot may depend on economic recovery prospects, but keep any eye on messaging (or even the explicit absence of) around the success of 'hybrid' streaming models or products – part paid for, part advertising supported. Will viewers be willing to subscribe to multiple services anymore? Will renewed terrestrial experiences from BBC iPlayer or ITVX feel more attractive? Can the streamers afford to keep investing such significant sums in content, or will they just double-down on spend in a battle for audiences? Keep your eyes peeled… except, of course, when they are glued to that next series of exciting, streamed content.
While appearing on the Today programme in September, Culture Secretary Michelle Donelan said that she would re-examine the business case for privatising Channel 4, the UK's commercially-funded public service broadcaster. Immediately, rumours began that the sale of the corporation, announced only the previous April by then Culture Secretary, Nadine Dorries, could be scrapped. That original proposal contended that a sale was necessary to safeguard Channel 4's long-term sustainability and allow it to compete with streaming giants. So what's going on?
What makes it significant?
As a public service broadcaster (PSB), Channel 4 is required to meet specific license obligations including, for instance, the delivery of high-quality news and current affairs. It also has a unique remit which requires it to take risks and be innovative, to appeal to younger audiences and to commission programming from independent UK production companies. The proposed sale created fears that these elements would be diluted or lost altogether because of the pressures any new owner may have to generate returns that may run counter to the unique remits that Channel 4 has historically held. The apparent change of strategy towards retaining Channel 4 as a PSB has heartened many inside the corporation and the industry who valued protecting Channel 4's unique and contrasting PSB role.
However, the fundamental challenges for Channel 4 remain. Advocates for more radical change argue that Channel 4 is sub-scale for a world of streamed or digital content, and that the young audiences and true innovation has moved into this world away from terrestrial TV. That without creating its own content, the corporation lacks access to investment levels and downstream returns that can keep it competitive. That between a more global BBC and a modernising ITV, its role is squeezed as 'neither fish nor fowl.' For these voices, the opportunity to radically rethink Channel 4 in a digital or global context will be missed, and that the status quo is kicking the proverbial can down the road to another day and another government.
What to look for in 2023?
As we went to press, it was indeed confirmed that the prospective sale of Channel 4 will not go ahead, putting an end to the debate over the corporation's future ownership and ability to meet its public service requirements. Rather than proceed with the privatisation, the government will allow it to borrow more money and enable it to make programmes in house. In response, Channel 4 has said that it will invest more in skills training, spend more in its regional bases and double the number of staff based outside of London.
Keep a keen eye on the plans to deliver these new commitments and how Channel 4 both builds and harnesses its greater freedoms to invest. We would see danger if the spotlight shone brightest on doing the same things but bigger, whereas perhaps the smartest moves of all will be doing different things altogether. As Channel 4 was always created to do, of course.
In October Elon Musk finally acquired Twitter. At times it looked like he wanted it, then it looked like he didn't. Well, it happened. In the short six weeks that followed, key execs including CEO Parag Agrawal had left, layoffs of some 3,700 of Twitter's 7,500 staff were announced, and advertisers expressed uncertainty about the developments. A new subscription revenue channel 'Twitter Blue' launched for $7.99 a month, and employees were asked to commit to 'long hours at high intensity' or else 'receive three months of severance'. To call it a whirlwind would be an understatement.
What makes this significant?
Twitter has been and remains a phenomenon. Perhaps more than any other platform, it has defined a social media generation and enabled the frenzied exchange of views, news and reactions that has come to characterise so much of what is amazing and also concerning about social media technology. How much of Twitter is real - either in terms of actual human beings or in terms of what those human beings really think? What controls and freedoms are appropriate, or are coming anyway from regulators and politicians? Will new generations see Twitter in the same way or will Snap and TikTok make Twitter less relevant?
So to where does Twitter evolve? All fascinating and important questions. Then you add the Elon Musk factor into the mix. It would be foolhardy to predict the next chapter, but if the questions are fascinating for observers, then the answers may well be profound for both today and for the HBR case studies of the future.
What to look for in 2023?
Given the rollercoaster we've seen Twitter ride in 2022, the only guarantee is that 2023 will hold further twists and turns in the story. Look out for any CEO announcement after Musk's most recent poll on his own future, leaving the people of the internet to vote him out of his role. At the time of writing, Musk has not yet announced his plan.
Also keep an eye on the US Federal Trade Commission who may choose to step in on anti-trust and consumer protection grounds, following fresh concerns about Twitter's security practices. And if they do, or even if they don't – there is surely a scenario in which Twitter ends the year heading for even choppier waters. Watch this space but don't bet against the house.
In November, we saw multiple large media companies call out their 'worst' stock market performance year. Warner Bros. Discovery share price was down by 61% and Disney, Paramount and Netflix all saw over 45% drops in value, compared to a c.21% fall in the overall S&P 500 average for the year. Without doubt, the 2023 results were creating headaches for many senior leaders in global media firms.
However, one does need to unpick the reasons behind a seemingly industry-wide decline. This trend marks a culmination of poor performance in an industry where no single company has yet demonstrated a clear solution to the problem.
What makes it significant?
Although a drop in share prices does not necessarily reflect core fundamentals or spell disaster, the breadth and scale of decline in media stocks does signal some important alarm bells ringing.
One key factor for the decline was regarded as the rapid decline of Pay-TV and OTT streaming platforms. Although cord-cutting (from traditional cable or digital TV to streaming over IP) is not a new trend, the explosion in viewing over the pandemic led to increasing provider saturation and fragmentation of viewing. As the lockdowns eased and the economic recovery stalled, so viewing started to moderate and subscribers started to switch or cut down their bills. Subscriber losses reported by Netflix in early 2022triggered general investor concerns in the market (particularly because Netflix is still widely viewed by investors as the kingpin of streaming).
This sounds like a boost for traditional free-to-air broadcasters. Perhaps it is, but it would likely only be temporary. The streaming platforms are responding - turning to viewer pay and advertising-supported models and charging distributors higher fees – and a rebound in viewing will come, as the economy rebounds and as investments in content make their way to the platform.
However, in a world where Netflix is still barely breaking even and all other streamers are operating at a loss, and where Pay-TV is in freefall, it wouldn't be surprising to see several companies look for further opportunities for partnership and consolidation, while also looking to diversify revenue through more aggressive ad-funded offerings like AVOD.
What to look for in 2023?
The long-term trend to streaming isn't halting. Shows like Disney's The Mandalorian and Netflix's Wednesday broke several streaming records in 2022. But business models will change. Netflix are expected to launch a fully-fledged AVOD offering – one which many will be looking closely at, no doubt to replicate should they see the early shoots of audience success.
Expect 2023 to be a year with no clear winners. Expect intense competition for audiences, moderated investment in content (albeit hits will be jumped upon to copycat or renew), and ultimately partnerships and consolidation in the market.
With many potential highlights in December, we decided to recognise the team that put this all together. Over mince pies we gathered our TMT team for a fun share of highlights, reflections and predictions. The energy, ideas and insight was so infectious that we resolved there and then to share it. The result is what you have been reading and thank you for making it to December.
What makes it significant?
We all share a passion for an amazing industry and care about its health and future. Making a contribution through our words and deeds is important, which we strive to do alongside our clients and in our everyday. Engaging in the debate matters, no matter what your perspective.
With special thanks to our key contributors and compilers, and happy 2023!
Ingrid Bahnemann
Justin Beese
Ibrahim Butt
Chris Coleman
Amber Cottam
Nikhil Desai
Matt Gray
Keya Hormati
Jon Jenner
Lizzie Moir
John Petevinos
Kirsty Robinson
Jordan Stefanov
Lucy Stuart
Nick Varney
Haimini Vencatasawmy
What to look for in 2023?
Look out for us at Baringa. Say hi. Get in touch. Challenge us.
Related Insights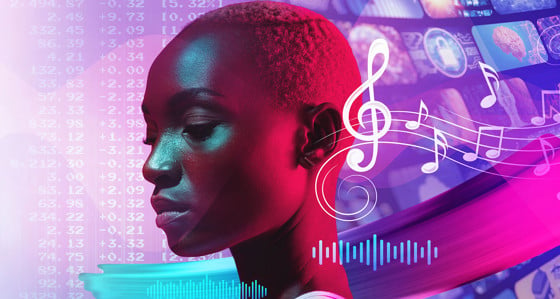 Remodelling Rights and Royalties in Media
How can media companies transform their IP rights and royalties capabilities into a powerful competitive differentiator? Our media team share their insights.
Read more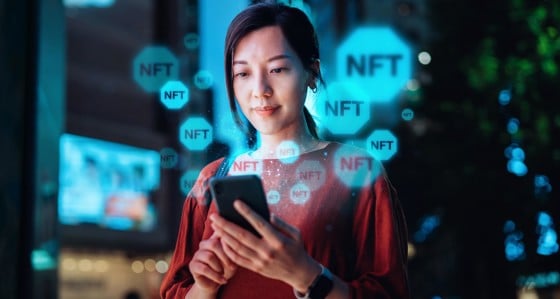 Talkin' bout a rights and royalties revolution
We explore how emerging blockchain and non-fungible token (NFT) applications are shaking up contracts and rights and royalties' models.
Read more