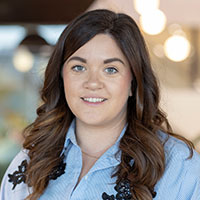 27 November 2021 was the greatest moment of my life but also the day my life changed forever.
Often, we are led to believe that the birth of your first child is life changing, however most of the time we do not realise what life changing actually means. For me, it was not until 13 months after the birth of my first child, when I realised a dark shadow had been following me for all these months.
My name is Katie, I'm a daughter, a sister, a friend, a partner and now, a mum struggling to navigate my way in life. It is not until I look back, that I realise I was functioning on auto-pilot for so long. A lot of my memories of my new born are curated from pictures. I was just fixated on providing care for my son, I became possessive, unable to leave him with others and getting out of the house would cause me to breakdown. I began to withdraw from those closest to me, I stopped seeing and speaking to friends and I pushed my partner away.
The time came when I needed to start thinking about returning to work and what that would look like. Having agreed my working pattern, Baringa gave me the option to attend some return-to-work coaching. I grabbed at this with both hands as I really did not know how I was going to find this new chapter in my life. After speaking with two different coaches, I settled on someone who I felt I could openly talk to. The objective of these sessions was figuring out how work and home life could come together, how I could remain a successful Executive Assistant, be a mum and get fulfilment from both.
During the return-to-work coaching we spoke about the mundane home tasks e.g., who is going to do the washing, food shopping and general household chores. The thought of it all was so overwhelming I broke down and was inconsolable. The words "a great mum" were now triggering for me. That was the moment I knew I was not coping and that I needed to do something about it. I could not carry on living this way because, in all honesty, I was not living - I was just surviving. I wanted to be better for my son, my family and for myself. This beautiful baby boy should be the light of my life, but I was not allowing the light through.
After my breakdown during that coaching session, I went straight to Google, looking into local therapists and was soon sat in a chair ready to begin my first session. Tears rolled down my face for an hour talking about the last year or so of my life, ending with a diagnosis: "depression with complex trauma". I have never felt such relief, being seen, heard, and having my feelings finally validated. Being able to understand that there was a real reason as to why I was having these negative feelings felt like such a weight had been lifted. Finally allowing myself to accept my feelings was a turning point for me. Three months of weekly therapy sessions helped me open so many doors I did not even know needed opening. I still have a long way to go, and the journey is not over yet, however, I already feel so much more positive.
Sitting here now, as a mum to my gorgeous 18-month-old son I reflect on my journey. Childbirth is a massive life event, some are gifted with a positive experience and others, like me, get it a little harder. We should acknowledge that life is not always smooth sailing and feel empowered to seek support when we need it. I can finally say, with pride, that I am a great mum, present and living in the moment. I am finding my way back into friendship circles, building relationships with colleagues and enjoying spending time with my son. I can tell you - soaking up these toddler giggles is truly healing.
Mental health awareness is talked about a lot, however, I still think there is much more work to be done, encouraging people to share their personal stories. I feel incredibly lucky that Baringa provides opportunities like this for me to share my story in the hope it can help others.
Let's remove the stigma. I'm Katie and I'm in therapy.
May recognises Mental Health Awareness week. Approximately one in four people in the UK will experience a mental health problem each year. In England specifically, one in six people report experiencing a common mental health problem (such as anxiety and depression) in any given week. Please take this opportunity to check in on your colleagues, family, and friends. Always remember to be kind to yourself and never be afraid to reach out for help.
Mental health services - NHS: www.nhs.uk
About the author
Katie is an EA with over eight years' experience and has been working within Baringa Enablement for two years supporting four Partners in our Energy and Resources Sector.