Whilst we are in the middle of a crisis and our immediate attention is on dealing with the impact of Covid-19 on our economy and society, we must not lose sight of other long-term challenges, such as climate change and the UK's mission to transition to net-zero greenhouse gas emissions by 2050.
As the UK energy system plots its pathway towards net-zero, there are many challenges to overcome and multiple potential solutions to be explored and developed. Achieving net-zero in the power sector may prove one of the more straightforward tasks, with the UK currently a world leader in renewable energy generation, enabled by a dramatic fall in the cost of renewable technologies over the past decade.
However, other sectors are likely to be harder nuts to crack because there is no cost-effective replacement fuel source for traditional fossil fuels readily available, and alternative forms of decarbonisation are more difficult due to cost or lack of technological replacement. This is the case in industry (responsible for 18% of total UK greenhouse gas emissions), heat in buildings and industrial processes (15% of total emissions) and maritime transport (2% of total emissions). Hydrogen could play a key part in the solution, but the determining factor is whether it can be produced at scale, in a low-carbon manner and at a sufficiently low cost to be competitive.
Baringa analysis for the UK shows that hydrogen can play a material role in a net-zero economy. It suggests that, across all sectors of the economy, hydrogen could meet around 20% of the UK's final energy demand by 2050.
Our analysis considers a wide range of uncertainties around future costs of production, the costs of hydrogen end-use technologies such as fuel cell vehicles, the level of energy service demand driven by changing rates of population and economic growth, and is based on cost optimisation at whole system level to meet net-zero. This means we take into account avoided costs of reducing emissions in other sectors, as opposed to just looking at the cost of hydrogen at production level.
Even when taking these uncertainties into account, a hierarchy of production pathways emerges: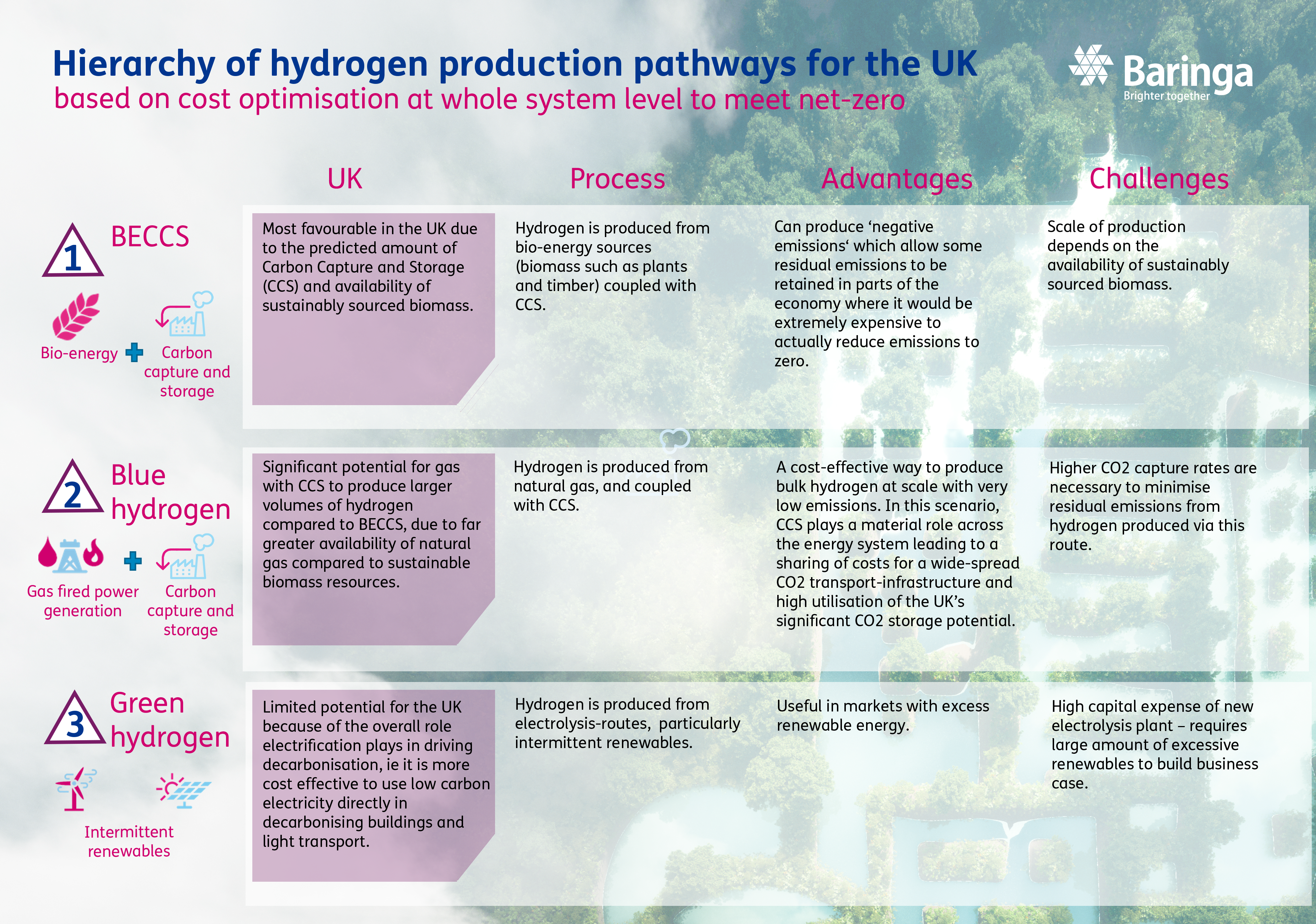 Figure: Hierarchy of hydrogen production pathways for the UK, based on cost optimisation at whole system level to meet net-zero
It is important to note that the above prioritisation is a function of UK conditions.
Wide-spread use of hydrogen is key for the UK's transition to net-zero in the medium and long-term. Action is needed from Government and policy makers, as well as the private sector, to avoid delays in kicking off projects to make this a reality:
UK Government and policy makers — it is vital that the UK Government places more emphasis on integrating hydrogen into the energy system in order to meet the country's net-zero target. To do this, strategies for hydrogen, CCS and bioenergy need to be aligned, ie bioenergy and CCS technology need to be evaluated in the context of a wider drive towards the most cost-effective method of producing hydrogen, which in turn drives decarbonisation in other areas of the economy. The Government's support for large-scale projects that demonstrate key parts of these value chains in the near term is critical to ensure that associated technologies are available over the longer term.

The private sector — should invest in smaller-scale, strategic projects across the hydrogen value chain to gain first-hand experience, and be prepared to move quickly once the market gathers momentum. Businesses could, for example, transition a small number of their fleet to hydrogen, combining multiple aspects of the hydrogen value chain – production, distribution and end-use – in a depot or hub refuelling environment to improve utilisation and reduce unit costs.
Like many other novel technologies and new asset classes, hydrogen provides opportunities that have the potential to generate reasonable commercial returns, even in the near-term. However, given the limited nature and scale of the investment opportunities, these are being pursued by many. As a result, there will be an advantage for those parties that can identify and pursue those opportunities sooner.
Baringa helps businesses scope and understand the economics of such opportunities, possible routes to market, and their overall fit with longer-term strategic ambitions.
Please contact us for more information.