Texas could supply up to 16 Mt of hydrogen by 20501, over half of which will be exported out of state, bringing game-changing opportunities for companies that pivot quickly to face into this opportunity. The state is positioning itself as a global leader in hydrogen exports, which offers transformative opportunities to repurpose existing storage, transport and export infrastructure throughout the state, and in particular on the Gulf Coast.
The excellent renewables resources of West Texas and the Panhandle, coupled with the existing infrastructure to transport hydrogen to the Gulf Coast and supportive tax credit framework created by the Inflation Reduction Act, provides export focused developers with a competitive advantage in the global market.
Baringa has been collaborating with the Hydrogen Council to understand the role and benefits of hydrogen in Texas's energy system. If Texas were to produce 16 Mt of hydrogen annually, we estimate there could be up to $225 bn investment into hydrogen infrastructure developed. This will primarily be deployed into new renewable power and hydrogen production facilities, although significant investment in pipeline and storage infrastructure will also be required​. There are crucial roles for energy sector players in this new energy system, repurposing their existing skills and infrastructure for new exciting opportunities in hydrogen and related chemicals such as low carbon kerosene, ammonia and methanol.
1 Hydrogen Council Global Hydrogen Flows (2022)
The future Texas energy system​
Texas' future energy system will continue to involve the bulk transfer of energy from remote, resource-abundant areas in West Texas and the Panhandle into the Texas (where more than 75% of economic output is concentrated) and the Gulf Coast, but growing demand for renewable hydrogen will require a hydrogen network to do this alongside the power and gas grid.
In this scenario the energy system will benefit from significant cost advantages associated with coupling the power and gas systems through hydrogen production and hydrogen-fired power generation.​
Key features of such a system are: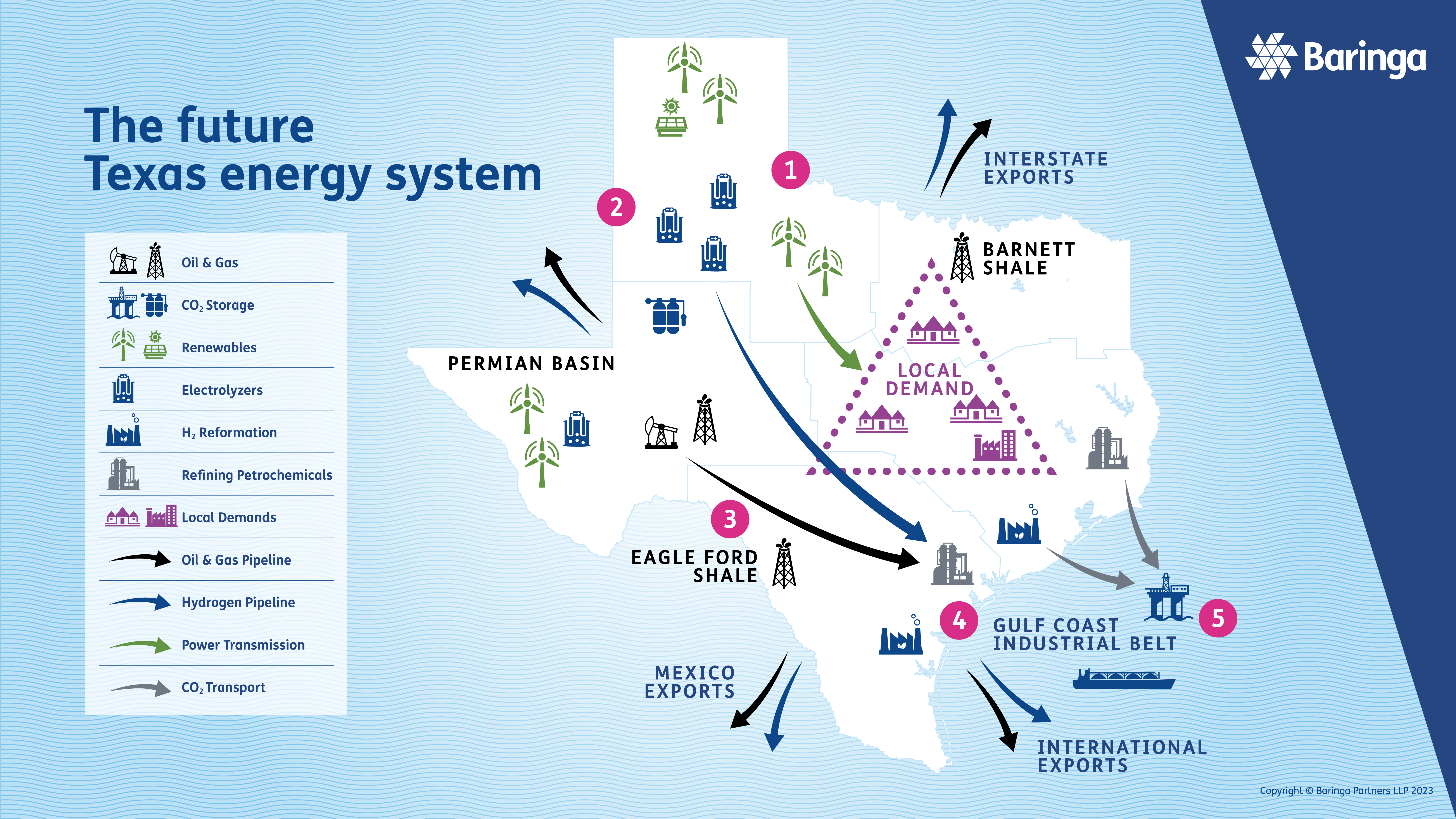 Abundant but remote: Renewable transmission capacity from remote, wind- and solar-abundant regions to demand centres will expand as electrification of heat and transport develops​.
On-site electrolyzers: Baringa modelling shows that it is more economic to produce hydrogen in close proximity to cheap renewables generation and transport it to demand centres through pipelines, compared with transporting electricity which will then be converted to hydrogen at the point of demand.
Leveraging gas infrastructure: If natural gas demand were to ever decrease, gas pipelines could be repurposed to move hydrogen from production fields to demand centres along the Gulf Coast.
Hydrogen derivatives: Production facilities for low carbon products such as kerosene and ammonia will replace existing refineries along the Gulf Coast as global demand for petroleum product declines. Existing export facilities will be repurposed for hydrogen and related products.
CO2 transport & storage: The capabilities and network for will grow to capture carbon produced from hydrogen production and industrial processes.
A combination of renewable and low-carbon hydrogen production​
There is a key role for producers of both renewable and low-carbon hydrogen in Texas over the next 10 years. The initial build out will likely be weighted toward low-carbon hydrogen, offering opportunities for large scale industrial production facilities by existing oil and gas players. Renewable hydrogen production will catch up in the 2040s and could reach nearly half of Texas' hydrogen production by 2050.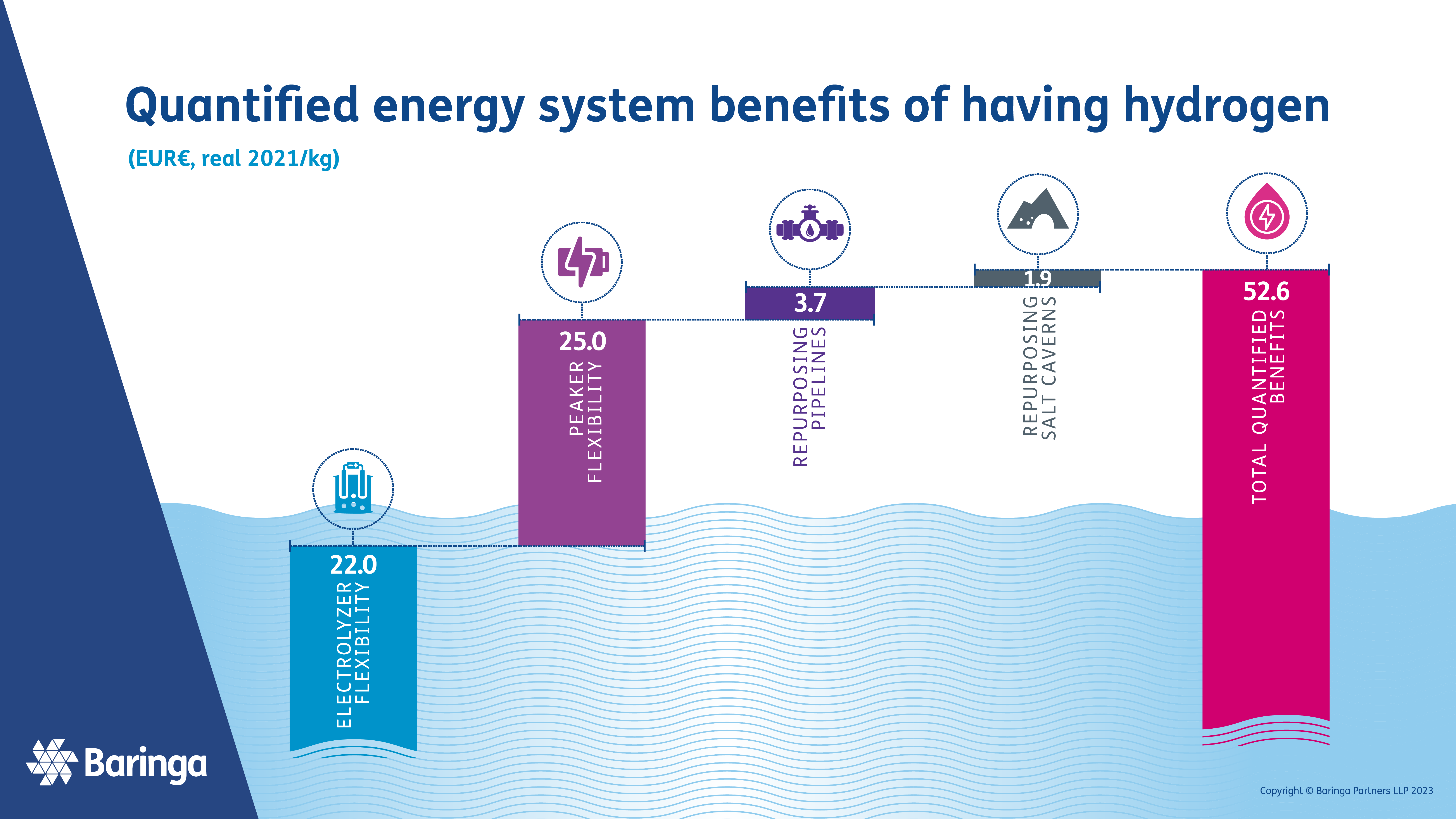 System benefits of hydrogen to Texas​
Decarbonisation​
Hydrogen is critical for decarbonising industry, long-range ground transport, international travel, heating applications and power generation. ​
Flexibility of power demand​
Electrolyzers and hydrogen-to-power help stabilise the power system, requiring proportionally less batteries and natural gas firing to offer flexibility for every unit of intermittent wind and solar. Our analysis shows that in scenario where if Texas moves towards a highly decarbonised grid and produces about half of its 16 Mt potential from renewable hydrogen, this could be worth up to $53bn cumulatively to the Texas power system2.​
In addition, accessing this value will require allowing electrolyzers to run when it is best for the system to do so, when prices are low and there is high renewable output, but without the constraint of strict temporal correlation rules that lock electrolysers to individual wind and solar projects.
2 System benefit in this case is defined as the reduction in the unit cost of energy produced in the system. inframarginal rents accruing to specific asset classes due to market pricing structure are not considered in this number
Infrastructure repurposing
Low-carbon hydrogen production offers insurance against the decline of natural gas demand as a result of decarbonization. Specifically, it reduces the risk of stranded gas assets by offering the opportunity to repurpose infrastructure. Hydrogen could support up to 3.4 bcf/d of gas production in 2050 and secure the future of 9 bcf/d of gas pipeline capacity, as well as gas storage that may be discontinued if global gas demand drops off. Putting this into context, Tex the US consumed 85 bcf/d in 2022.
What about Europe?​
The scale of the Inflation Reduction Act (IRA) tax credits contrasts with the EU's focus on developing regulation at EU level through the Delegated Act. The region remains ambitious through the European Commission's REpowerEU plan.​
While areas of high demand in Europe such as Germany and Netherlands lack the resource abundance, land availability and existing oil and gas infrastructure compared to Texas, they face the same challenges in choosing the right infrastructure at the right time to deliver hydrogen at the lowest cost to the overall economy.
While there are strong opportunities for hydrogen developers and supply chain on both sides of the Atlantic, Europe will need to act decisively to counteract the shift in focus of multinationals towards the USA.
Register your interest for our upcoming Low Carbon Futures Webinars and subscribe to our energy & resources newsletter to get access to Baringa's latest hydrogen insights and our analysis of the role of hydrogen in Europe.
To find out more, please contact Molly Iliffe or Shane Heffernan.
Baringa undertook this work in partnership with the global Hydrogen Council, a CEO-led initiative of more than 130 companies with a united vision and long-term ambition for hydrogen to foster the clean energy transition. The full report, including analysis of Europe and Japan, will be released later this year.