In our first two articles of this series, we set the scene for why having rigorous emissions measurement and reporting processes in place is no longer a nice to have, but a necessity for resources producers and traders to embark on their decarbonisation journey.
Driving factors for this shift include both risks - increasingly strict regulation and greater scrutiny from investors, lenders and other stakeholders, and opportunities - cost avoidance, product differentiation, preferential finance terms and talent retention. Without a clear understanding of the scale and source of your emissions across your value chains, the ultimate goal –emissions reduction – will remain beyond reach. You cannot manage what you cannot measure.
While the Greenhouse Gas (GHG) Protocol and various other reporting standards and guidelines exist, many lack industry specific context, and are open to interpretation. As a result, significant challenges arise when applying the GHG protocol to measure Scope 3 emissions across integrated businesses operating across complex commodity value chains.
It can seem like a daunting task, but by adopting a robust emissions measurement and reporting strategy, your business can move up the curve quickly and effectively, help to shape industry reporting standards, and reap the commercial rewards from being an industry leader.
Through helping major energy and resources clients develop and implement emissions measurement and reporting solutions, we've gained insights on best practices and the pitfalls to avoid. Here we'll run you through the key insights from our work with sector leaders.
ONE | Clarify your vision
Before launching into your measurement and reporting strategy, it is vital to take a step back and consider your vision and ambition. What does your company want to achieve – more attestable emissions disclosure, more granular measurement to guide and track reduction initiatives, and/or differentiation of your products and services in the market?
When developing your emissions measurement and reporting ambition there are a few fundamental questions to consider:
How will new regulations apply to your activities and do they determine which areas you should focus on first?
What are your stakeholders, investors and the market looking for today and in the future?
Where are the emerging commercial opportunities that better emissions data can enable you to pursue?
What data do you require to connect your top-down long-term targets to bottom-up short- and medium-term reduction initiatives?
This is an opportunity to engage and gather input across your organisation – from front-line operators to trade analysts and sustainability teams and make them part of the solution.
TWO | Understand your maturity
Our clients are often unaware of on-going emissions related projects and initiatives across their operations, led by passionate people who want to be fast movers and gain a competitive advantage. However, these projects are often defined and developed in isolation, resulting in inefficiencies, missed opportunities, and sometimes even unmanaged risk.
To gain oversight, review your current emissions measurement and management activities.
What initiatives and activities are already underway?
What stage of maturity are they at?
Are these initiatives running with consistent measurement methodologies?
Having understood the existing capabilities within your business and mapped the live projects, you can identify which initiatives to adapt, and which to accelerate and scale. At this stage, you will need to tread a fine line between exerting some control and stifling the drive and enthusiasm of the people who have taken the initiative – their buy-in will be important to your transformation.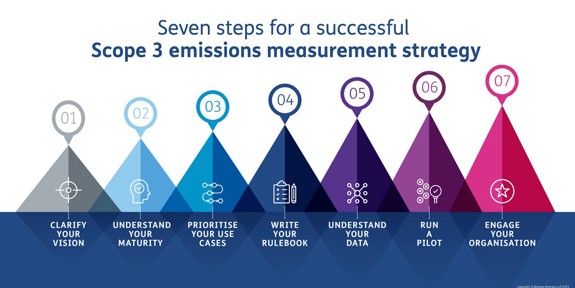 THREE | Prioritise your use cases
Based on your vision and ambition, define which use cases you want to tackle first e.g. a more robust climate disclosure in your next annual report, or a more accurate carbon footprint to differentiate a product. What is the business value that each use case will deliver and what are the associated organisational, process, systems, and data requirements?
Consider the commercial and practical dimensions when prioritising use cases and defining your roadmap, connecting the dots between your emissions measurement strategy and climate targets.
Ensure to bring your organisation on the journey by clearly communicating your ambition and target use cases. In our experience, people are eager to learn and be part of the climate solution.
FOUR | Write your rulebook
Regardless of your use case, a standardised and robust emissions calculation methodology is required. We recommend developing a rulebook that is specific to your organisational activities, clearly outlines your organisational and operational boundaries, and defines the emissions calculation methodology appropriate to each material source of emissions.
This will enable teams across your business to apply a consistent approach to measuring and accounting for emissions across all assets and value chains, supporting the consolidation of emissions for group wide reporting.
FIVE | Understand your data
Reliable and consistent data is the foundation for rigorous emissions measurement, but data may bring considerable challenges.
Internal data may be siloed across disparate legacy IT systems and applications. It might be incomplete for emissions accounting, poor in quality or vary hugely according to geographies or departments due to regional or industry specific regulations.
Consider the frequency, data granularity, and accuracy that is required to support your use cases. How accessible is the data and what are the quality requirements?
External emissions data sources also need to be evaluated and selected. Many emission factor databases exist which adopt different calculation approaches and depending on the diversity of your operations, one single database will most likely not cover your requirements.
Running a pilot is crucial to identifying the data requirements and overcoming these system and data challenges.
SIX | Run a Pilot
Now's the time to test your methodology end-to-end, design your emissions data model and develop an emissions reporting protype.
Start small with a pilot. Choose a target department, region, or business unit and prove value prior to scaling across your entire organisation. Pilot deployment should be iterative - be sure to engage and get feedback from end users regularly throughout the process.
Not only will the pilot deliver tangible outputs, such as, an improved emissions dataset and reporting prototype, but it will also surface process pain points and highlight the data and system limitations. It's a great low risk learning opportunity.
Run a comprehensive review of the outcomes:
Did the pilot meet your user needs?
Was the required data available and of sufficient quality to gain the business insight needed to satisfy the use case requirements?
Prior to rolling-out your emissions measurement solution, you will need to consider the operating model and organisational changes to support adoption. You will also need to evaluate the technology required to scale. Can you buy something off the shelf or is a bespoke solution required? It is crucial to select a solution that is fit-for-purpose for your current use cases but also have the flexibility to adapt to support the evolving regulatory requirements and data landscape.
SEVEN | Engage your organisation
A robust and practical emissions measurement and reporting strategy is the first step on the path to becoming more sustainable and more profitable. It will require a shift in the way your organisation operates, with emissions measurement and reporting becoming business as usual, and the data is being routinely used to inform operational and commercial decision making.
The associated organisational changes may be motivating and challenging for your people. Be sure to engage your organisation, reiterate your vision and ambition, and communicate you're the progress of your decarbonisation journey. Use the successes of your pilot to harness momentum and rally your teams behind a renewed sense of purpose that promises both business and climate benefits.
Leading the industry in emissions measurement and reduction shows both your old hands and your new hires that your business is a force for good.
What's next?
Industry leaders are already making headway and shaping how the sector responds to demands for more accurate emissions measurement and reduction. First movers will gain competitive advantage, using better data to spot new ways to reduce their emissions and differentiate themselves and their products in a commoditised marketplace. While the task may seem complex and regulations are evolving, the time to act is now.
With industry specific experts in emissions measurement, market-leading methodologies and tools, and experience running programmes for industry leaders, Baringa is on hand to help you deliver on your emissions measurement strategy and confidently define your reduction targets.
Find out how we help clients unlock a low carbon world of opportunity
Our Experts