Australia is the newest global player in the offshore wind industry. Here, we're well positioned to take advantage of a total technical potential of 5TW of offshore wind resource off the coast of the continent.
Momentum has been building ever since the Commonwealth Government established the offshore electricity infrastructure licencing regime in 2021. Since then, the Victorian Government has attracted international attention by announcing offshore wind targets of 2GW by 2032, 4GW by 2035 and 9GW by 2040.
But leveraging this massive opportunity will require collaboration, coordination and support. This has been a clear message from proponents and governments alike at recent industry events, such as the Australian Clean Energy Summit. At Baringa, we are advising clients across the offshore wind value chain globally, leveraging projections from our quarterly reference case reports (the NEM and WEM for Australia). In this article, we draw on these insights to explore what it will take to enable the build out of Australia's offshore wind industry to inform developers, investors, and governments in this space.
Why has the case for offshore wind only been made recently in Australia?
Simply put: Australia's vast continent and high-quality onshore resources mean that to date, the cheapest power generation sources – renewables and non-renewables alike – have been found onshore.
This is why we have not seen offshore wind being built on a purely commercial (or 'economic') basis over the next three decades in our NEM Reference Case, despite projected improvements in technology costs towards 2050 – particularly in future scenarios of strong decarbonisation, as shown below.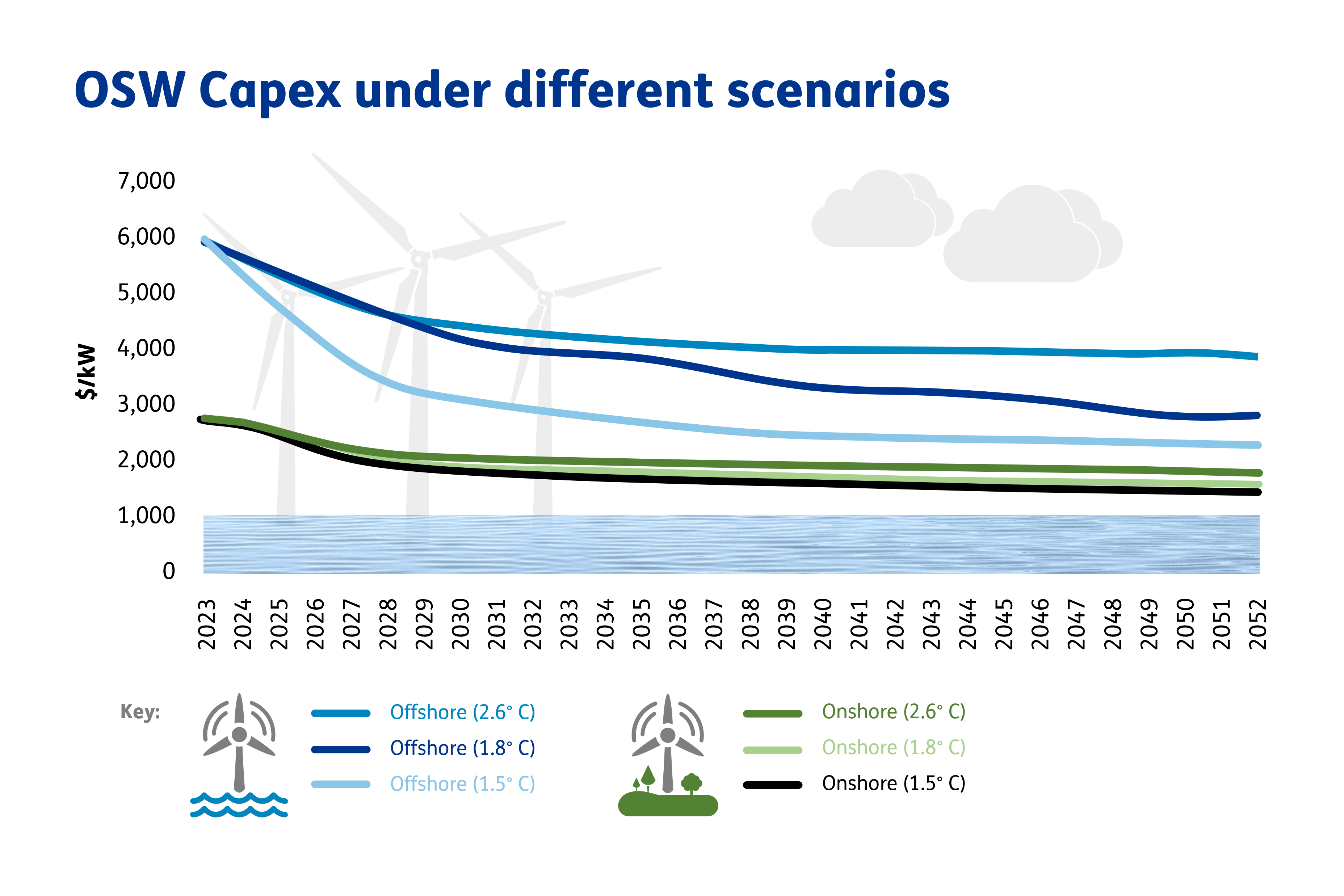 Source: AEMO
Because of the relatively high costs associated with offshore wind, particularly in comparison to other renewables, significant government support is needed to achieve strong growth in this area, which we're starting to see signs off. Policy support underpins at least 50GW of announced projects at varying stages of development across Australia. These announcements include the Hunter and Gippsland offshore wind areas declared by the Commonwealth Government and a large number of project announcements within these zones. The Victorian offshore wind targets are another example of this support and provide much needed certainty around the development of the industry.

It's clear then that strong government policy is critical to the continued economic development of offshore wind. Echoing this policy commitment, our NEM Reference Case reflects the first two tranches of the Victorian Government's OSW targets, delivering 4GW of OSW capacity off the Gippsland coast from the mid-2030s, despite this capacity being uneconomic as discussed above. However, even with this commitment, at this point in time we are projecting that OSW will remain a small proportion of onshore wind and all other sources in the capacity mix for the NEM, as shown below.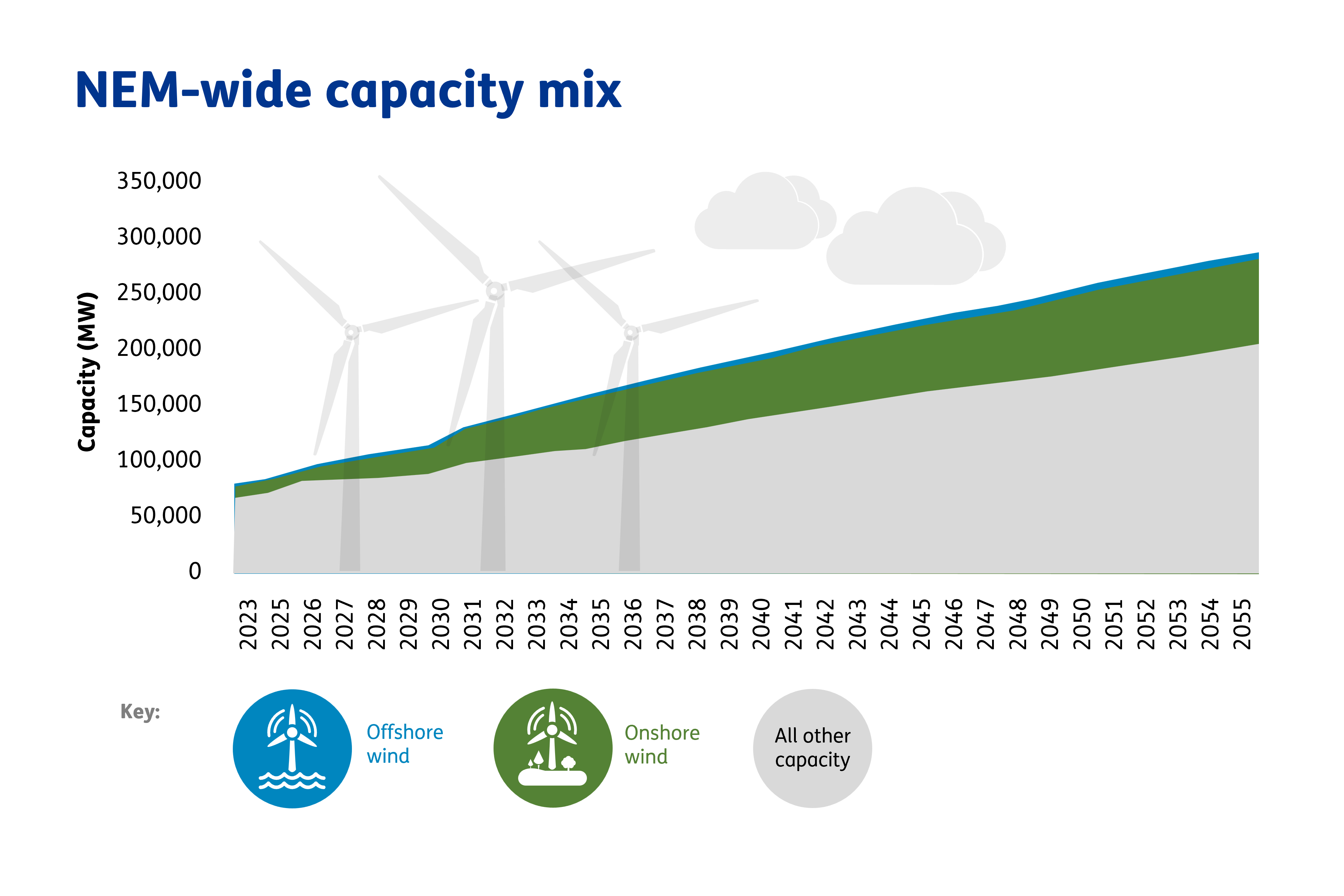 Source: Baringa NEM reference case

Source: Baringa NEM reference case
What needs to change to build offshore wind infrastructure on an 'economic basis'?
All this raises the question: What would need to happen for investors to see an economic case for offshore wind over onshore opportunities? Based on our market advisory work for wind developers and policymakers, we see three key enablers that would tip the scales closer to offshore wind:
1. Rapid cost reduction for offshore wind
A faster reduction in offshore wind's costs than is current envisaged would make a big difference and could be achieved through faster reductions in technology costs, seen when there is greater global capability and deployment of the technology. Cost reductions could also be driven by lower financing costs, which could be achieved through highly credit-rated government entities providing long-term offtakes or underwriting (which has been flagged as an option by the Victorian Government).
2. Restrictions to the speed and scale of onshore development
Tempering of onshore electricity infrastructure buildout, for example due to genuine social licence for development becoming harder and more expensive to obtain, would influence investors to consider alternative projects. For instance, the community near the Victorian-NSW Interconnector has made their concerns well known, delaying this transmission project and impacting existing and planned generation projects. While offshore wind developers will need to engage with, and meet the expectations of, communities and local stakeholders, the potential for OSW to be "out of sight out of mind" might make social licence for OSW development somewhat easier to obtain than for onshore development.
3. A doubling-down of decarbonisation ambitions
Strong decarbonisation ambitions have underpinned global offshore wind development, and Australia is no exception. A sharp electrification-driven increase in demand would help to accelerate offshore development and likely result in additional technology cost reductions. This enabler could be driven by a strengthened government commitment to achieve a 1.5°C aligned trajectory for the power sector (the recently announced Sectoral Decarbonisation Plan may help guide outline this path). Whether through subsequent additional support for offshore wind from government, or the increased demand from societal electrification and renewable hydrogen production, offshore wind would benefit from greater deployment and cheaper technology costs (as outlined in the Capex projections above) under this trajectory.
Our market advisory work has revealed that all three enablers would need to play out for OSW to be built on an economic basis. Individually, each driver is unlikely to see offshore wind being built on an economic basis.
We constantly monitor trends in onshore and OSW technology costs and infrastructure deployment, reflecting changes in these trends in our quarterly reference cases.
Considerations for offshore wind developers and investors
In each of the three areas noted above, government has an important role to play. As such, for an OSW sector in Australia to develop and be sustained, OSW developers and investors need to work with Federal and State Governments.
Governments need to be in this for the long haul.
Persistent support over multiple decades will provide the industry with the long-term certainty needed to decrease technology and financing costs and build a resilient supply chain. This will require a coordinated approach to deploy the physical, financial and human capital required across project developers, State and Federal Governments and agencies. If this is achieved, it will deliver the pace and scale of industry development needed to contribute to Australia's 2050 decarbonisation targets. From our work in the design of offshore wind transmission and the seabed auction process in the UK across many decades, we understand the long-term nature of offshore wind development.
Effective and sustained collaboration between government and industry is required.
Stakeholders across the OSW supply chain, including suppliers, developers, vessel operators and ports must work together to coordinate development on projects, offshore wind zones and on an industry-wide scale. This co-ordination is critical to the sector achieving scale and in turn cost reductions, especially in the context of our (much larger) trading partners seeking to decarbonise their power systems at the same time. Developing local supply chains, where feasible and cost-effective, can augment our reliance on imports, improve our energy security, and increase our ability to achieve timely decarbonisation of our power system and our broader economy consistent with our net zero commitments.

The development of Australia's offshore wind industry is an emerging and rapidly evolving space, providing opportunities for investors and developers, and also for governments seeking to achieve decarbonisation. To discuss how Baringa can help you navigate the Australian offshore wind industry or associated policy development, please contact Alan Rai.