You've briefed your board on why the Consumer Duty is critical and defined what 'good' looks like for customers. Now it's time to judge what 'good' looks like for you as a business. Do you just want to meet expectations or could you turn the Consumer Duty into a compelling market differentiator?
To help guide you, we look at what the different stages in the 'maturity curve' look like in practice, the benefits of taking your ambitions to the next level and the steps you need to take now to get where you want to be.
Speaking to leadership and project teams in the wake of October's submissions, it's clear that many board members were surprised about just how much of a step-up in expectations the Consumer Duty is - not just in delivering good outcomes but also demonstrating them.
In turn, ongoing gap analysis is highlighting the scale of the work needed to meet the FCA implementation deadline in July 2023. The priorities don't just include upgrading systems and data, but also mobilising frontline teams and reshaping cultures and ways of working.
So it's little wonder how many financial services organisations are coming to us to ask "how can we secure the payback from all this effort and investment?" The answer starts with looking beyond the mechanics of compliance to what you could achieve on the back of the Consumer Duty. This is an opportunity to boost loyalty, advocacy and returns. It can also reinforce your purpose as a business that puts customers and their real needs first.
Moving up the Consumer Duty maturity curve
Building a meaningful plan to implement the Consumer Duty required a clear understanding of your starting point and a vision of what you want to achieve.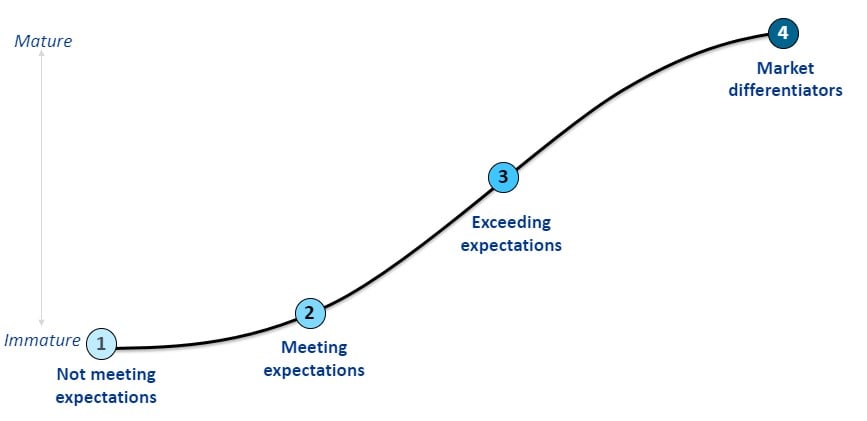 To help you move forward and make the most of the opportunities, we've developed a four-stage maturity curve. The framework provides a useful basis for determining where you are now and where you might want to be.
Not meeting expectations
The 'not meeting expectations' stage is characterised by a lack of understanding of how much the Consumer Duty will impact on the organisation's business model and ability to compete.
In this scenario staff are still uncertain about what they should be delivering for customers under the new regime. This may result in the pursuit of narrow sales targets without properly considering the product's suitability, how it might perform over time or means of checking up on this.
These problems are compounded by patchy and inconsistent customer and performance data. The result is a high risk of failing customers, with all the regulatory and reputational risks this entails. And it's not just customers who'll vote with their feet when they see they can get a better deal elsewhere, but investors as well.
Meeting expectations
'Meeting expectations' might sound like a reasonable aim. But it too comes with drawbacks and risks. For example, key components of the Consumer Duty may be in place, such as a definition of good outcomes. But the approach can often be piecemeal and reactive. In particular, commercial and Consumer Duty objectives are pursued separately and teams 'do their bit' in isolation. This makes it hard to drive better outcomes across the board and identify the openings to innovate, differentiate and grow.
While data and analysis may be reasonably comprehensive, reliance on time-consuming manual input means most of the analysis is based on lagging rather than lead indicators. This means that problems may already have escalated before they're detected.
Further issues include the limited tie-in between the Consumer Duty and closely related areas, such as care for vulnerable customers and support for people dealing with the cost-of-living crisis.
Exceeding expectations
The businesses 'exceeding expectations' do so through the integration of Consumer Duty into their commercial strategy. This is underpinned by a culture that recognises the intrinsic links between value creation and customer care.
Operationally, product design, pricing and risk work closely together to determine and deliver day-to-day Consumer Duty objectives. For example, through data automation, training and incentives, all geared to delivering good outcomes right through the product life cycle.
This is supported by analysis of lead indicators and an integrated approach to decision-making, governance and oversight. Crucially, this comprehensive view brings in related priorities such as vulnerable customers.
Market differentiator
A determination to exceed expectations and the infrastructure to support this can lay the foundations for turning the Consumer Duty into a clear source of competitive advantage.
These businesses are constantly looking for ways to improve outcomes. Management information provides key insights in areas such as changing customer demand and the openings this creates. As part of a fully automated and interactive Consumer Duty management dashboard, it's also possible to set thresholds which automatically trigger necessary intervention.
Standing out as a force for good
Many of the businesses we're working with are targeting the higher stages of the maturity curve. But others are asking "do we really need to work towards the 'gold standard' when the Consumer Duty is a regulatory rather than market-driven development?"
To a large degree, the answer depends on your wider strategic ambitions. At the very least, your investment in advanced customer profiling and experience should take account of the Consumer Duty. Ideally, good and improving outcomes should be the key aim. Rather than calling for extra investment, this is about making sure that the money and effort directed at Consumer Duty and next generation customer engagement are mutually supportive.
This is also a question of purpose. How you support customers during these challenging times will shape your brand – good and bad – for many years to come. Meeting your responsibility to vulnerable customers is a litmus test. But the Consumer Duty will put the outcomes you deliver across your customer base under a new and more intense spotlight.
Realising your ambitions
Whatever point on the maturity curve you aspire to be, it's important to clarify this now, so you can set out the roadmap and milestones for getting there. Many of the key systems decisions will need to be made now. The FCA is also keeping a close eye on progress. Two immediate priorities stand out:
1. Draw up your road map
Compare where you are now with where you want to be at each key milestone along the implementation journey. Under the direction of your executive sponsor, you can then work out detailed action plans and mobilise teams across your organisation.
2. See how you compare
It helps to have an independent assessment of the viability of your plans, where you are on the journey and how this compares to your peers. Some may be ahead of you and may therefore have to raise your game to keep pace.
Eyes on the prize
Consumer Duty is a significant compliance challenge. But it's also a competitive opportunity. It's important to be clear about your destination and get your business behind the cultural as well as technological shifts ahead. Determining your ambitions and comparing this against where you are now will bring clarity and energy to your implementation plans. Without this sense of direction, you not only risk compliance lapses, but also failing customers.
If you'd like to learn more about how the Consumer Duty can help you gain a competitive advantage, please contact us.
Our Experts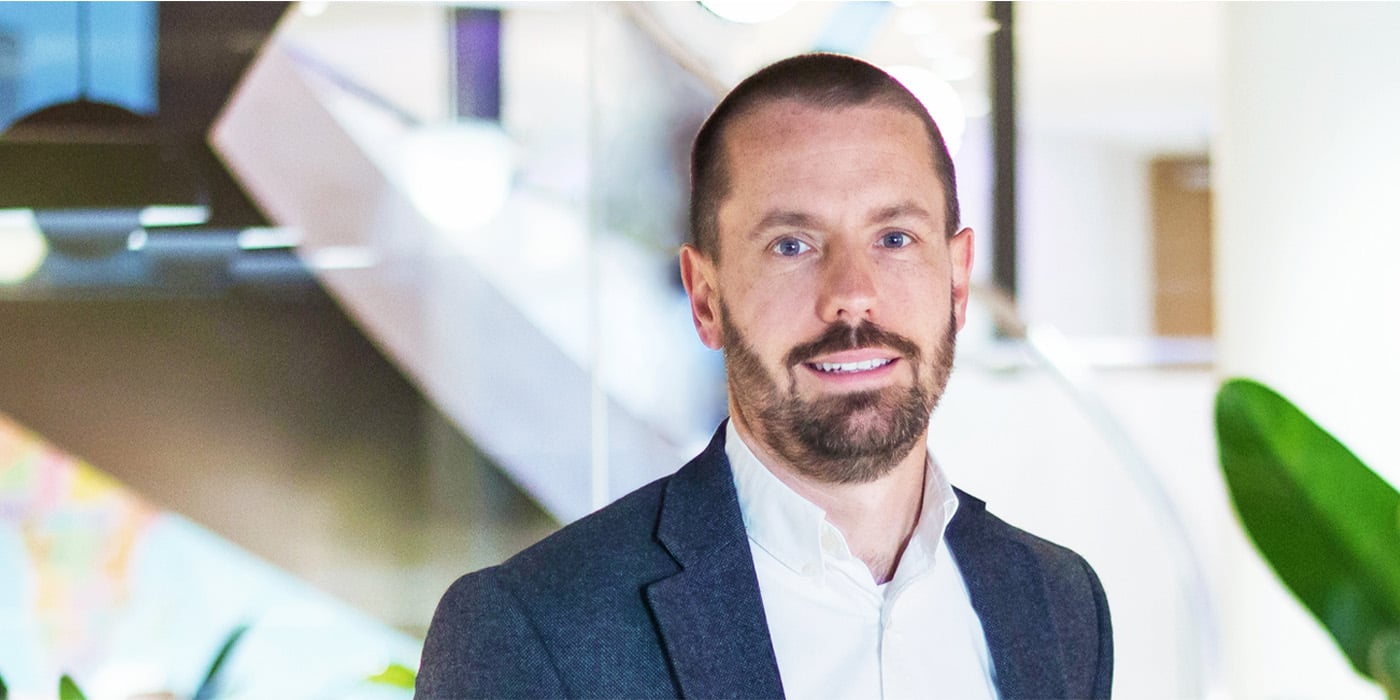 Guy Munton
Partner, expert in Regulatory Compliance
Contact Guy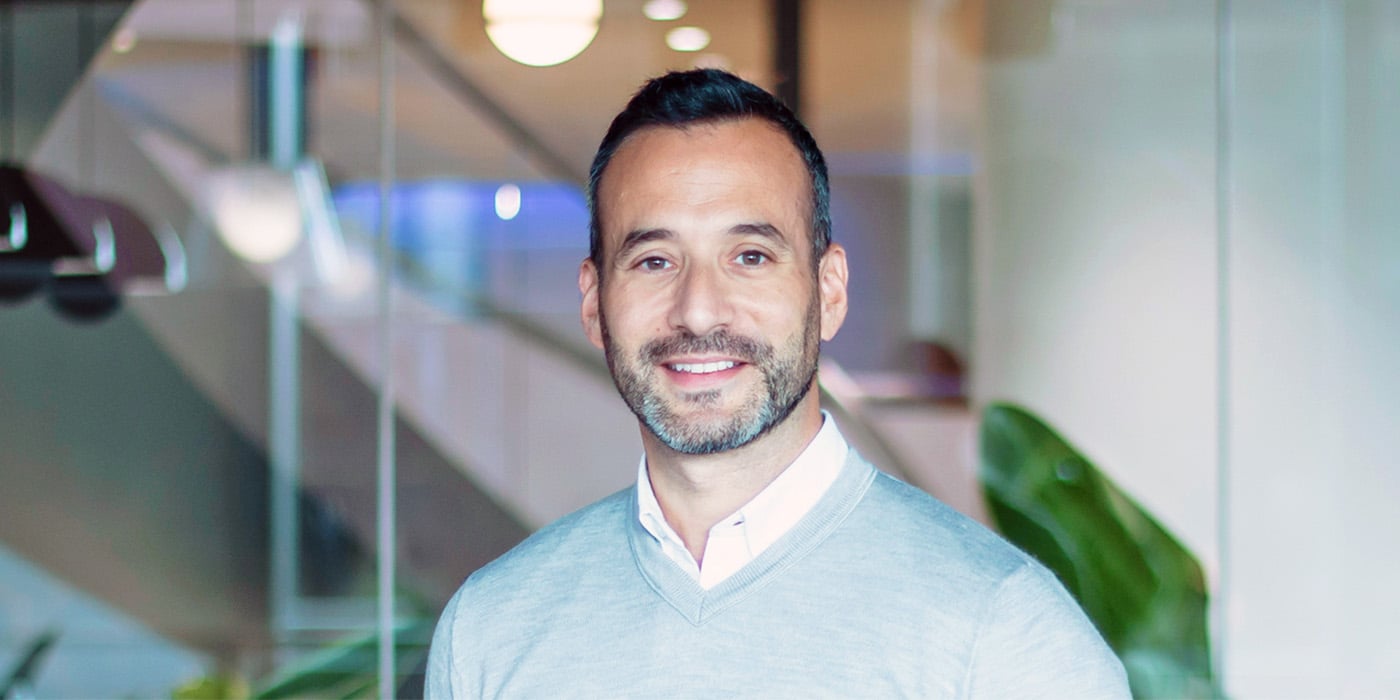 Daniel Golding
Partner, expert in Finance, Risk and Compliance
Contact Daniel