In this series of blogs, we share our insights on how climate change and the response to it will affect the oil and gas industry. And we'll recommend how companies can analyse their risks, cut their operational emissions, and create low-carbon businesses so they can thrive through the energy transition.
In the previous blog, we looked at how companies can measure and report on their current risk and future targets. Now we set our sights on how they can lower emissions.
Now that the IPCC's Sixth Assessment Report has shown that burning coal, oil, and gas directly causes climate change, companies in every industry sector are under pressure to reduce their Scope 1 and 2 operational emissions.
In September 2021, members of the Oil and Gas Climate Initiative, a group of 12 leading IOCs and NOCs that produce 30% of the world's oil and gas, pledged to address operational Scope 1 and 2 emissions from the operations under their control. They committed to doing this within the timeframe of the Paris Agreement. But, only a handful of IOCs, mainly majors, have a clear plan for how to get to net zero.
Baringa's Oil and Gas Emissions Management Accelerator makes lowering emissions easy
Cutting down emissions at the scale needed to make a difference can't be done with small haphazard changes. Instead, companies need to implement a whole host of measures to see meaningful drops in emissions.
Baringa brings a comprehensive approach to emissions reduction, including integrating emissions management into operational management systems, electrification, and carbon capture, utilisation and storage.
Our Oil and Gas Emissions Management Accelerator is a proven five-step methodology for integrating emissions management into operational management. This means we account for the carbon in every barrel:
1. First, the accelerator establishes the minimum emissions potential (MEP) for each asset. It determines how well each asset could do if it were operating with the most efficient, brand-new equipment in perfect conditions – the best-case scenario.
2. The second step is monitoring, managing, and optimising – measuring performance and adjusting to reduce emissions daily.
3. Where emissions exceed targets, the third step is to carry out a root cause analysis on breach events.
4. This analysis helps to identify opportunities and threats, creating a hopper of ideas that can be ranked with a margin cost abatement curve.
5. The final step is to take actions to prevent breach events and reduce the MEP further.
Fig. 1: Baringa's Oil and Gas Emissions Management Accelerator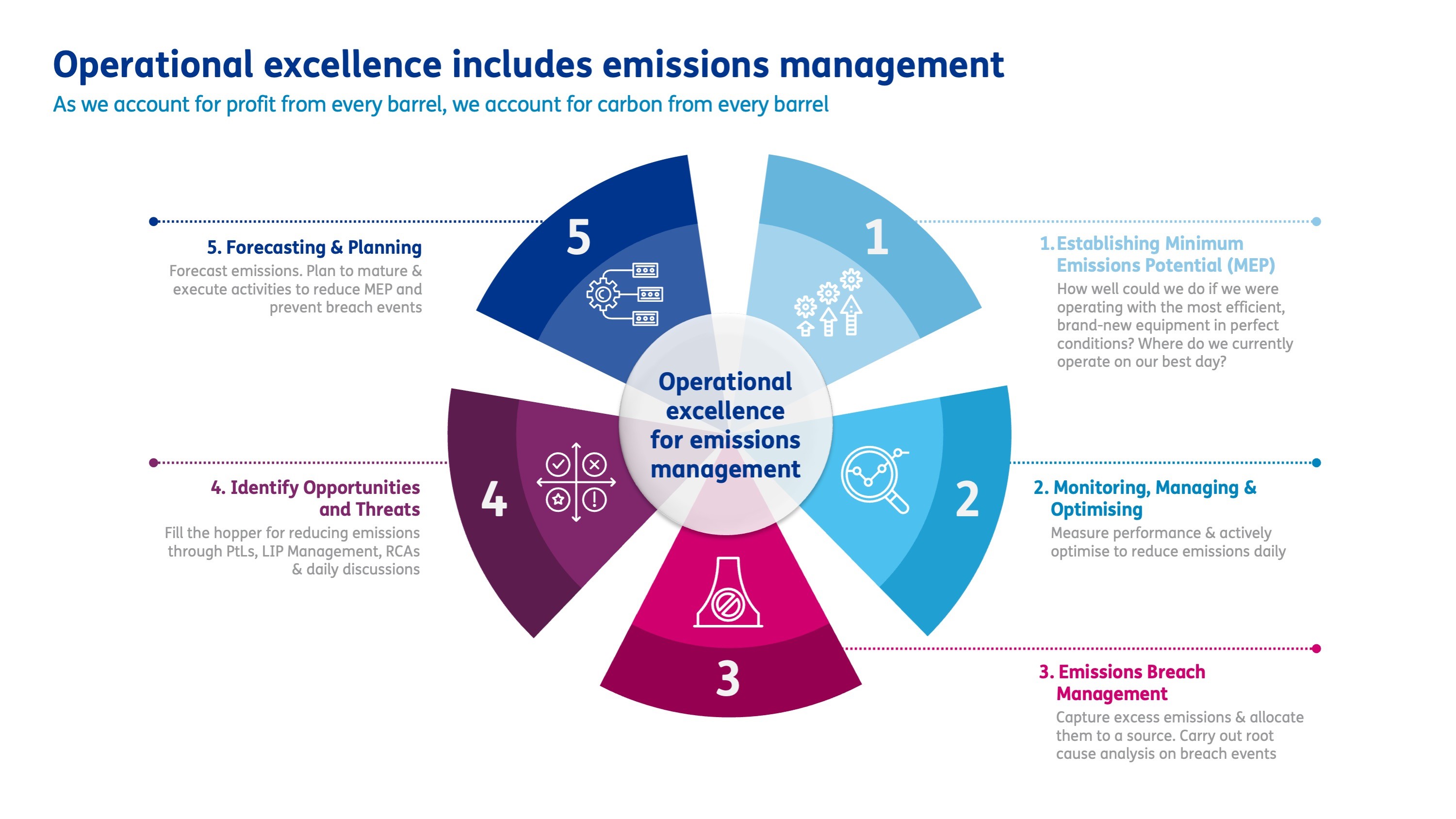 These kinds of operational excellence programmes can have a big impact. For example, Equinor used infrared cameras to identify higher emitting sources and also eliminated leaks. As a result, they lowered their US onshore emissions by 80% between 2014 and 2018, to a class-leading methane intensity of 0.046 kgCH4/boe, or 0.07% of production.
The IEA estimates that the oil and gas sector emitted 82 Mt of methane (around 2.5 GtCO2-eq) in 2019. Cutting methane emissions by half in this decade could stave off nearly 0.3°C of warming by the 2040s. Plus, every molecule no longer emitted can be sold, so minimizing emissions is not only good for the environment – it's also good for business.
Electrification and power from shore can lower emissions
A big part of operational emissions for the industry comes from combusting gas or diesel to power oil and gas assets. Low-carbon electricity, generated from the grid or 'behind the meter' solar or wind, lowers emissions. With a sufficiently high carbon price, it is also economically attractive.
Equinor have begun to power Norwegian offshore assets from shore, reducing annual emissions by an estimated 460,000 tonnes of CO2 for their giant field, Johan Sverdrup. When the Norwegian carbon price reaches $237 per tonne, Equinor will be saving >$100m in carbon taxes per year.
Carbon capture, use, and storage can add to the bottom line
Carbon capture, utilisation, and storage (CCUS) is another major opportunity for oil and gas companies. Combined with power generation, CCUS provides a way to monetise gas assets – on top of helping to meet decarbonisation targets. With government support offsetting costs and a regulated revenue stream, CCUS projects can generate a stable return for decades to come.
Oil and gas companies are already experts at delivering subsurface, engineering, and major capital projects. So, they are ideally placed to bring innovations into the growing market for CCUS solutions. In the UK alone, 70–180 MtCO2 of capture per year is needed to meet the national net-zero commitment.
With government support, these projects can bring returns of 9%–10% per year. Most advantageous locations are near carbon emitters, supplies of natural gas, and reservoirs for carbon storage. In the UK, these are the industrial clusters in Teesside, South Humber, and Liverpool. We believe support is most likely to come from areas with the strongest commitment to decarbonisation (UK, Europe) or those with the strongest incentives to retain natural gas economies (US, the Middle East).
Leveraging our deep understanding of climate change and power markets, Baringa is advising governments and companies to develop business cases to decarbonise industry at the lowest cost.
Join us next time when we look at opportunities for companies to shift to renewable energy and make similar returns as from oil and gas – and with less risk.