The Financial Services sector is going through a phase of strategic redefinition, powered by evolving customer needs, emerging technologies and a growing number of more nimble and agile FinTechs and BigTechs. To remain competitive and find new sources of profitable growth, banks can no longer manage the degree of change required on their own.
How can banks make the most of the potential?
The concept of financial services institutions evolving to construct a more holistic ecosystem of both bank and non-bank players has been very topical over the past few years. This has significantly picked up pace as banks try to tackle key market trends and deliver greater competitive advantage.
From online marketplaces to collaborative innovation, ecosystems enable multiple partners to pool their capabilities and offer more choice and better outcomes, in a more customised way.
Part of the reason that ecosystems are forcing their way up the strategic agenda is the need to step up the pace of digital transformation. Modernising the systems architecture of a large financial institution is a difficult task and progress has been mixed. The challenge is made harder by the speed with which
technology is advancing - and as the competitive bar keeps rising.
Harnessing the innovative tech applications and data analytics techniques developed by FinTechs could be cheaper and easier than doing this on their own by overhauling legacy systems and building data-enabled insights and decision-making.
Reshaping business models
Application programme interfaces (API) and open architecture allow partners to patch into each other's services virtually at will. This means that financial institutions can concentrate limited resources on core strengths while using partnerships to meet non-core demands. With many of the potential partners being
smaller FinTechs, they in turn can tap into larger institutions' customer bases and brand recognition while building up consumer trust.
By extending the breadth and relevance of the offering, ecosystems are an opportunity to shift from developing and marketing products to creating a compelling customer journey and a genuinely customer-centric set of solutions.
The role of the financial institution will also evolve. Within banking, for example, FinTechs and BigTechs are capturing more and more of the value chain, providing services such as payments, cash management and other aspects of the trade lifecycle. The bank of the future will need to combine internal capabilities with external innovations to be a value aggregator.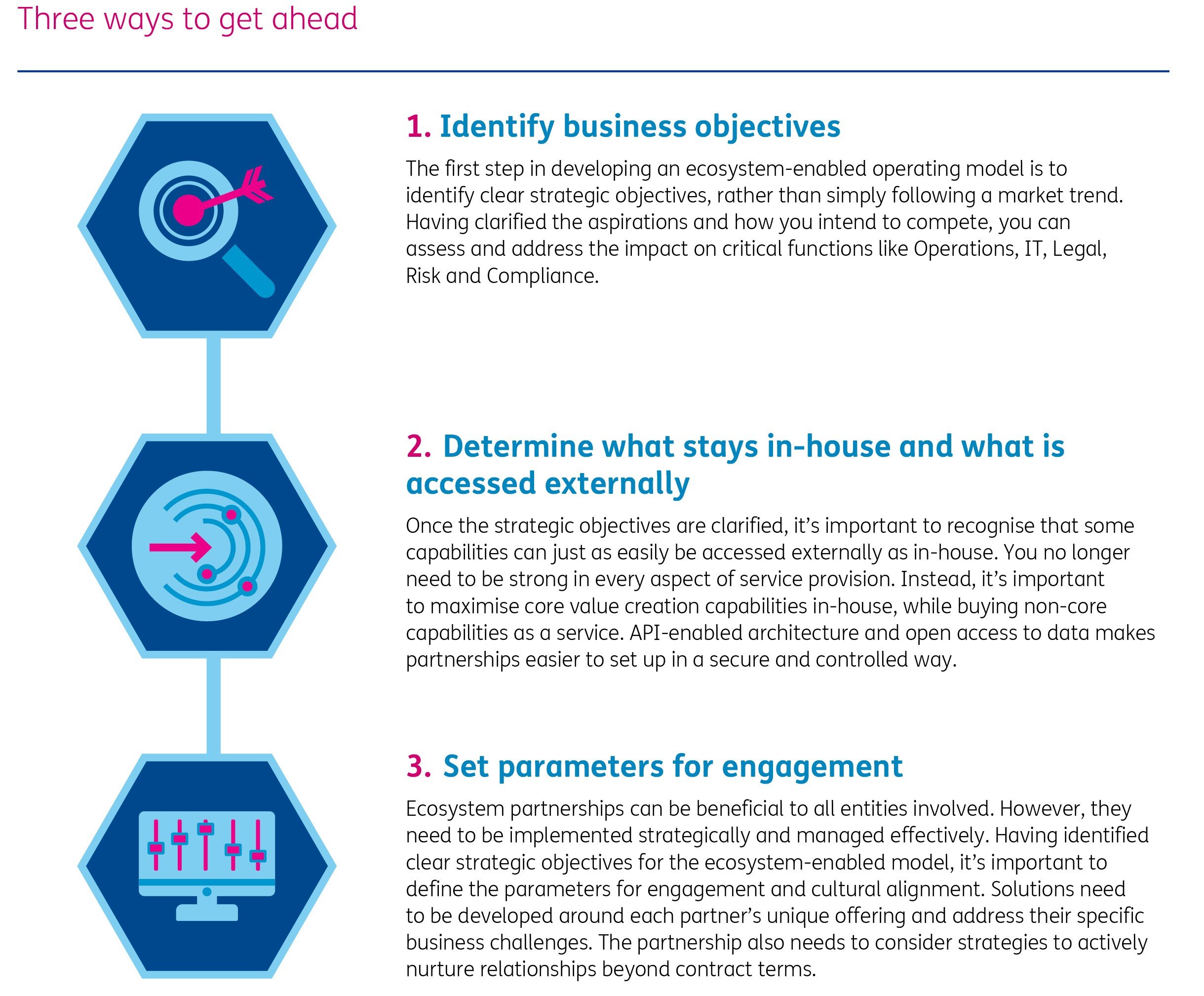 (Click Image to Enlarge)
Ecosystems in action
Ecosystems have significant potential, but how you operate and go to market are fundamental. Each partnership is different, with a unique set of considerations to be identified and assessed to ensure success. This is a complex and crowded landscape but, if done right, a partnership can provide significant value to all parties. Choosing how to participate based on the strengths of the partner, the existing operating model and the wider digital transformation objectives will be the defining factor.
If you would like to find out more about how we can help you, please contact Lucine Tatulian