Reimagining the branch
Digital is now the primary engagement channel within financial services. But a significant proportion of customers still value human interaction. The resulting need to maintain a physical presence could still include a branch network, but maybe not as we've known it. What might this 'contact centre 2.0' model look like? How can you ensure it meets customers' varied and changing demands, while controlling your cost-to-serve?
For a lot of us, using cash is now rare. Visiting a branch is even rarer. But demand for the personal touch and the physical presence that goes with it haven't gone away.
In a survey of 2000 consumers we carried out this year, 17% said that a branch was still the channel they used to interact with their bank most often, and 12% the telephone. Even more cited the branch (29%) and the telephone (19%) as one of their three preferred options. Undeniably, far from footfall falling away entirely, these findings suggest that more customers would use these channels if they could. But closing so many neighbourhood branches, as well as the time it often takes to get through to a call centre, might preclude this.
The optimal channel mix
Why are the branches and the telephone still so popular when online, mobile and other digital channels are generally more convenient?
As our survey highlights, age is a factor – preference for physical channels is highest among people over 55. But online websites are still the most common form of bank interaction among older customers. This indicates that what they and others want is a selection of channels, rather than a binary choice between physical and digital. The value of a broad omnichannel mix is further reflected in the fact that demand for the branch and telephone increases when the needs become more complex – taking out savings and investment products, for example.
Further reasons to maintain at least some physical presence include the need to project your brand when new apps and FinTech competition are creating an ever more crowded digital marketplace.
If we look beyond financial services, it's noticeable that scions of digital commerce such as Amazon are now developing a visible high street presence, though the user experience at Amazon Fresh is a long way from a conventional grocery store.
Ultimately, the ability to speak to a real person is an important part of your social responsibility, especially when serving vulnerable customers. However sophisticated the chatbot, a customer who's lost their job and is behind with their mortgage payments is likely to feel more comfortable speaking to a human being who can empathise with their situation.
The financial institutions leading the way in the move to contact centre 2.0 are not just rationalising, but revolutionising their physical presence. Three priorities stand out to lead the way: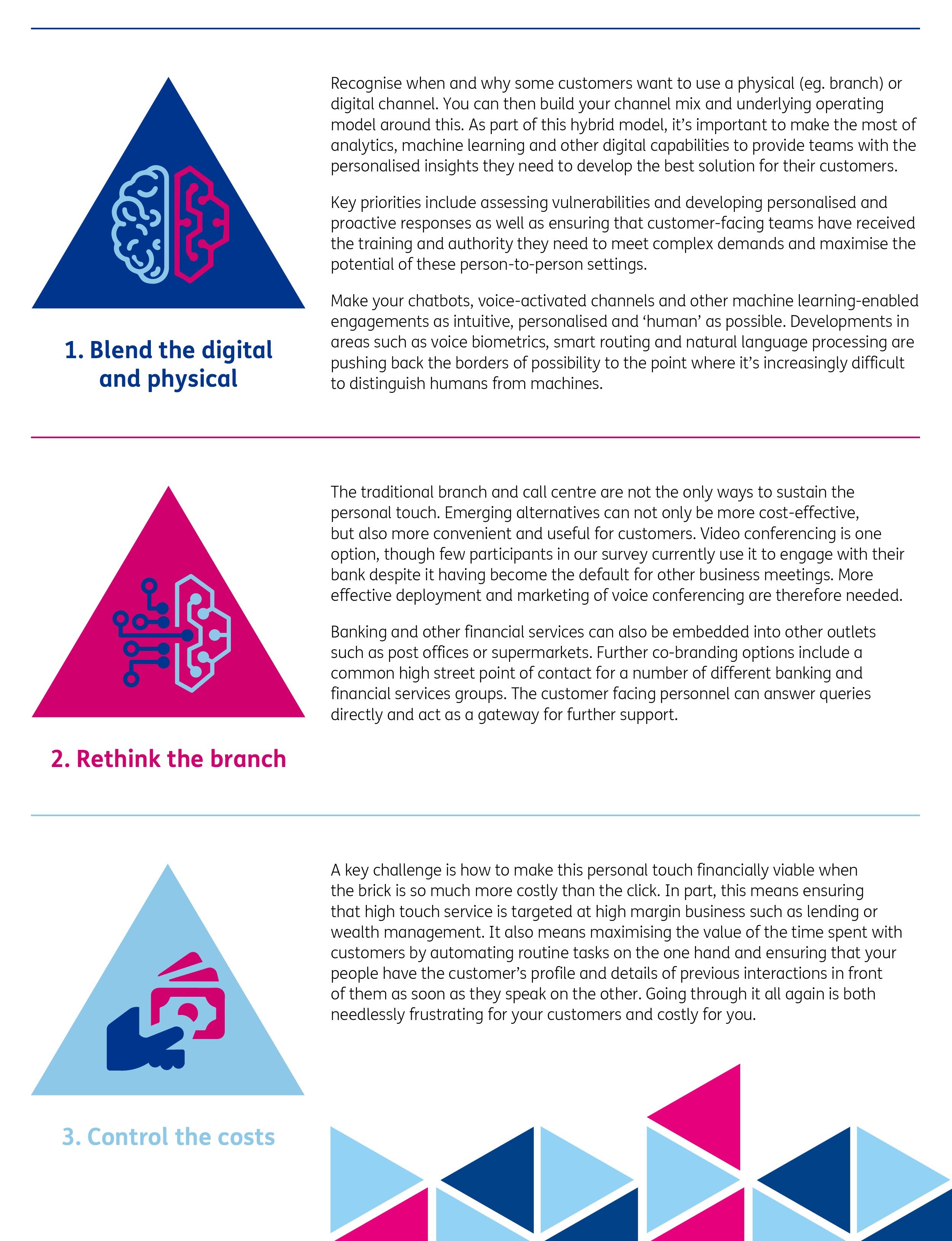 (click to enlarge)
The perfect mix of bricks and clicks
Rather than bricks replacing clicks, the emergence of the contact centre 2.0 forms part of the wider evolution of the customer journey within financial services. The overriding priority isn't how small a physical footprint you can maintain, but how to maximise the value from it through the perfect physical and digital blend. To be a true leader, your business needs to be agile and able to respond quickly to these shifts in customer expectations and associated ways of engagement.
If you would like to find out more about how we can help with your digital journey, please contact us.