"For businesses to succeed, they need to be the best they can be for their customers, and to be on top of their game in their internal organisation. True connection across strategy, experience and technology is a massive growth and efficiency enabler and these days an absolute necessity."
At a glance:
Joined Baringa in
2019
Works across
Customer and Digital transformation
Favourite places
Enjoying a cold Singha beer on a Thai beach, or sauntering the 7th arrondissement in Paris
In detail:
Studying French and Law at university, Tom found the threads that would wind through his career – communication and problem solving. Recognising that consulting combined these passions, Tom joined a large consultancy advising media and entertainment clients during the dotcom boom. Seeing how digital technology could revolutionise industries was a revelation. Since then, he's been harnessing digital to run large transformation projects both in-house – helping Camelot to win and roll out its lottery license, and as an advisor to clients. Tom joined Baringa as a partner in 2019 to build our customer and digital team.
Tom leads our marketing and sales transformation team, advising both B2B and B2C clients on how to use data and digital tools to sell more effectively. Tom guides clients through the entire digital transformation process - from initial concept and strategy phases through to complex programme execution. Equally at home articulating new strategies as tackling technical delivery, Tom is a creative, hands-on leader who thinks laterally to uncover solutions for clients. He's helped global media companies to transform their ad sales model, telecoms companies to improve their sales and service, and data companies to launch e-commerce platforms.
Tom is a challenging – but kind – critic to clients. A trusted sounding board, he believes the strongest, most enduring client relationships are forged during a project's toughest times. He prides himself on his ability to form relationships in which his clients feel confident to challenge themselves and go on to achieve the best possible outcomes. He is a firm believer in creating a supportive environment that enables people to grow and to overcome the challenges that projects inevitably throw up. Driven by detail, Tom executes well-designed,
elegant solutions for clients that deliver integrity and improvements beyond the numbers.
Tom is married to Vicki, with two young children. Tom is an ice hockey super fan, having played for 10 years growing up. He's now part owner of his local team, running marketing for them, and supporting from the side- lines 30 weekends a year. When he's not by the ice, Tom loves nothing more than a long leisurely walk with his wife, son and daughter, pulled along by their two lively dogs.
Insights from Tom Roberts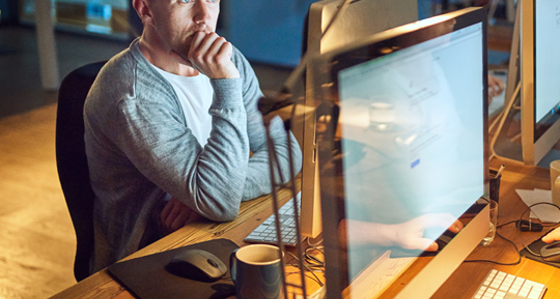 Shift 11: Organisational alignment - method
We investigate what it takes to move at the rapid pace of the market, and embrace experimentation and rapid pathfinding.
Read more