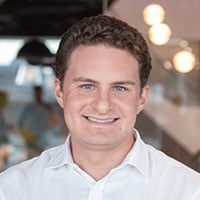 Jordan Winter's journey of becoming an EA at Baringa and his aspirations for the year to come.
A bit about me...
My name is Jordan and I'm a relatively new Executive Assistant (EA) here at Baringa. My background is in professional administration and my biggest career achievement to date is working for the Ministry of Defence under the First Sea Lord. Excitingly and more recently, I was a temp EA to the CEO at the Philharmonia Orchestra. This tends to really interest people and I'm not surprised! I'd never heard an Orchestra live before and was somewhat mesmerised during my first audience at the Royal Festival Hall.
Two brief things about my personal life...
One of my favourite hobbies is watching crime dramas, I like settling in and diving fully into one of these in the evenings. Secondly, I'm a huge animal lover which is proven by my weekly commitment to visiting a local RSPCA cattery to socialise the cats before dishing out their evening meal!
Why Baringa?
Let me tell you why I applied for the role at Baringa. I was looking for a long-term opportunity in a diverse consultancy where I would be supporting partners with their hectic schedules. I loved the look of Baringa's website and got a real feel for the people led culture which instantly appealed to me, I definitely got what I was searching for! Since joining Baringa in October 2022, I've certainly hit the ground running supporting four partners, including a very busy Business Unit Lead and I am loving every minute of it!
My aspirations for 2023...
At the start of a New Year, I like to reflect on how I can move forward. Let me share with you three aspirations, for my personal and professional development. I'm excited to start putting the strategy into practice!
Resolution 1 – Overcome barriers and develop strong relationships with my Partners.

Resolution 2 – Become an integral part of the EA Team.

Resolution 3 – Establish new connections, hobbies and networks.

Reflecting on my aspirations for the year, it's clear that my most important goal focusses on building new meaningful relationships, whilst developing the existing ones I have at Baringa. I've found that self-reflection is key to growth and promoting positive change, and there's no better time for it than at the start of a new year. So, what are your aspirations for 2023?
About the author and this series:  
Jordan is an EA within Baringa's Business Enablement Team. He has been in professional administration for nearly 10 years and is passionate about providing first-class support and being a valued member of the team.
Follow Baringa to make sure you don't miss the next feature, our first EA Things Vlog where we talk about the journey from Executive Assistant to Management.