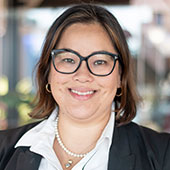 Introducing Cindra Maharaj, Partner at Baringa's USA office
Growing up in British-influenced Trinidad, with a Chinese mother and an East Indian father, diversity was my entire early existence, but I did not know it right away. My parents worked hard to create opportunities for me that they had not had themselves and supported me in developing a successful international tennis career, that included playing at the Junior Olympics in Moscow 1999.
My father ran his own business, alongside being my primary caregiver, tournament support and homemaker. My mother reached a senior level at Shell, first in Trinidad and then as an expat in Latin America and in USA, which meant that I spent many an hour plonked in the corner of a boardroom, watching her excel as a capable, powerful player in the corporate world. I saw from an early age that it was possible, normal even (to me at least), to be successful as a woman in business.
Feeling like the odd one out
After completing my A-levels in Trinidad, I was offered a business scholarship to Georgetown University, one of the few students from the Caribbean. For the first time ever, I felt I didn't really fit in anywhere. I didn't feel Chinese enough, Indian enough, professional enough, American enough, Caribbean enough – I was not enough of any one 'identity' to fit in. It was an unsettling time, and my first identity crisis. I still face them today, but as I've grown older and more experienced, I've learnt to meld these various parts of me to create a whole.
I've discovered how important it is to find your tribe - how important it is to open up, be vulnerable and bring your authentic self to situations so others can better know you and understand you. This does not mean I do not have to flex the different aspects of my personality – in actuality, I am flexing myself very often to pull my extroverted side to the fore when needed. In short, I'm much more comfortable with who I am, and I now have the emotional intelligence to read and adapt for people and situations grounded in my own self-identity.
Creating safe spaces to celebrate our differences
Just as my own experiences and background have shaped me, they have also helped inform my work in Diversity and Inclusion. I joined Baringa four years ago, one of the US office's first hires in a team that is proud to be 50 percent female and continues to be extremely diverse today.
2020 was a difficult time for the New York office, overshadowed by both Covid and the racial tensions in the country. My husband, a black man from the Caribbean, and I felt the shockwaves personally, constantly thinking "what if". Anxiety levels were high at work too, not helped by the fact that the team could not be together due to the pandemic. There was a palpable sense that this was a turning point, a monumental shift in society that we had to reflect. And so, D&I was given parity with the rest of our People agenda within our US business, and we began to take real steps forward, together.
Mutual understanding and respect
We created a three-staged approach, starting with the creation of safe spaces built on mutual understanding. I remember a particularly enlightening session with our partners and directors facilitated by one of our junior consultants. She asked us all to name various branches of our own 'identity tree'. She prioritised her own as black, woman and immigrant. Mine weren't far off - immigrant, woman, mixed race. It was an eye-opening moment for everyone to better understand each other's underlying drivers and motivators, recognize intersectionality, leading us start to think about how we can work together better as a team.
My amazing D&I team (led by Nicole Morris and Ravi Mehta) followed up with a programme of events and speakers to engage the community, increase awareness and influence our talent acquisition and retention strategies.
Diversity and inclusion are not binary
There are nuances and layers to D&I and an individual journey for most people. Beauty lies in being different. I would tell my younger self to treat experiences as lessons. Sure, there will be bumps along the way. But, being uncomfortable is ok. Use these as opportunities to create your tribe, amplify your voice to create your space – and be heard.
Every moment of our existence has shaped the people we are today. Those moments will then intertwine with our next experiences to form the people we are becoming. Beyond transforming ourselves, these moments, if shared, create a butterfly effect that can transform other people too. By telling the stories of the path we've walked, we have an opportunity to create change all around us.
We are running a series of reflective pieces, where brilliant people from within Baringa will share their journeys as individuals or members of our company and community. Their stories will reflect the diverse lived experiences we have had and consequently, the diverse individuals we are becoming. We also bring light to Baringa's wider journey to weave diversity and inclusion into the fabric of our people and our firm.
We hope amongst these stories, you will find wisdom and community. That they will be another moment of existence for us all that shape the people and organisations we are becoming. Creating change, if we might be so bold, to more diverse and inclusive ends.