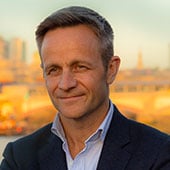 Adrian Bettridge is Managing Partner at Baringa. Here he tells his personal 'back story' and what it's taught him about diversity and inclusion.
When Diversity and Inclusion (D&I) became a buzz term in the noughties, it kind of took me by surprise that it was actually 'a thing'. The concept seemed strange to me, born not so much out of ignorance, but more from a place of growing up with a deep, intrinsic awareness of the wide variety of people in the world.
Since I was a child, I simply saw people as being 'different, but the same'. We've all been handed a kaleidoscope of social circumstances, and yet, underneath it all, we humans have the same innate fears and desires.
At an early age, my parents were involved with our local church, and I was exposed to people from all walks of life. Those who were homeless and those who were well off, carers and those needing care, immigrants and locals, young and old, disabled and able-bodied. It opened my eyes to the broad spectrum of situations that are thrust on individuals. And so, having sampled most types of humanity in my early years I saw that everyone carries their own 'bag of rocks'. Or put another way, everyone has their own 'back story'.
Becoming the author of my own story
My own back story began fairly modestly in a council house in Rickmansworth. Educated at the local comprehensive, I was a sports-mad kid, who idolised Kenny Dalglish and had dreams of becoming a footballing legend for Liverpool FC.
My mum was a school lunch attendant and cleaner, then went on to work for British Gas. My dad was a postman then became an instructor, training new postal workers. They were no strangers to hard graft, and we largely lived hand-to-mouth. There was no shortage of love at home, but my brother and I quickly learnt that if we wanted the little extras in life, we needed to work for it – and so I got my first taste of the daily grind age 12 as a newspaper delivery boy.
Having a less affluent start might spell a future with limited options for some. But I believed the opposite was true. My humble beginnings gave me the drive and grit to propel myself. I knew if I wanted my life to take a certain path, then it was down to me to make the difference. I couldn't change my back story, but I could be the author of my 'forward story.'
So, inspired by the career success of some of my friends' parents, and after a two-year stint doing voluntary missionary work - that reinforced my curiosity of and acceptance for all people - I took myself off to university. Bucking the trend in my family to enter the workforce at a young age, I was the first in generations to reach the previously unimaginable heights of higher education.
Supporting each other with kindness and curiosity
This early journey stoked a fire in my belly, helping me to see that between circumstances and the things that happen in your life, there's a choice. And the choices I made, ultimately led me to where I am today as a Partner at Baringa.
The development of my own back story has shaped my approach to Diversity & Inclusion (D&I) in the workplace, too. It's important to recognise that because of our inherent diversity, everyone has a different back story. If we're guided by our organisation's ethos of being kind and curious – using curiosity to understand everyone's back story and being able to listen with kindness – then together, as colleagues and advisers, we can support each other along the way. And have the freedom to bring our best and true selves to work. Simultaneously enriching our working lives and the enhancing the service we provide to our clients.
Great power comes from truly being heard
Since my initial misunderstandings around D&I in the 1990s – when I admit I was slightly naive and cocooned to recognise what others were facing in the workplace – I've grown to see the many inequalities and injustices in the world. As my career progressed, negative biases and marginalisation became apparent, and it was clear that there was much to be done to create a more level playing field. By that, I mean become genuinely more inclusive – not only in the consulting world, but in society at large.
At Baringa, I'm proud of the work we're doing to bring D&I to the fore. We're consciously building more diverse teams, which in turn challenges our thinking and provides better solutions for our clients. Our internal Reverse Mentoring scheme has been a real eye-opener for many, helping us to dispel the clumsiness and awkwardness around diversity through direct conversations between our leaders and our up-and-coming future stars. Also, this year we electively published our first Ethnicity Pay Gap Report alongside our Gender Pay Gap Report – initiating further challenging conversation and action to really be a business that is known for putting people first.
There is by no means a one-size-fits-all answer and we're fooling ourselves if we think we can try and fix everything, at once. And yet, there's so much power in allowing people to be heard and their circumstances to be understood. The simple act of listening and learning with curiosity and kindness can change us, one person at a time, and we are all better off for it.
The next chapter
Our ambition is to make our business the most inclusive, diverse and accepting place for people to bring their best selves to work and perform excellently. Our D&I path at Baringa is only in its infancy. Even so, I think we've made a solid start. To me, the beginning of any journey is recognising we all have a back story. We all have a set of circumstances, which may be inconvenient or even downright wrong, yet we still have a choice. Accepting that responsibility is both daunting and empowering, but it gives us all the choice to create the most audacious forward story we can dare to imagine.
Every moment of our existence has shaped the people we are today. Those moments will then intertwine with our next experiences to form the people we are becoming. Beyond transforming ourselves, these moments, if shared, create a butterfly effect that can transform other people too. By telling the stories of the path we've walked, we have an opportunity to create change all around us.
We are beginning a series of reflective pieces, where brilliant people from within Baringa will share their personal journeys as individuals and members of our company. Their stories will reflect the diverse lived experiences we have had and consequently, the diverse individuals we are becoming. We will also bring light to Baringa's wider journey to weave diversity and inclusion into the fabric of our people and our firm.
We hope amongst these stories, you will find wisdom and community. That they will be another moment of existence for us all that shape the people and organisations we are becoming. Creating change, if we might be so bold, to more diverse and inclusive ends.