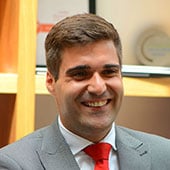 Jordan Stefanov, Expert in Telecoms, Media & Technology
I love being part of the Lesbian, Gay, Bisexual, Transgender (LGBT) community. Although it's taken me many years to come to terms with that. But, my story isn't just about being gay. It's about the journey to not only accepting myself, but also to recognising and celebrating diversity in others and learning that one size definitely doesn't fit all.
Democratic beginnings mixed with traditional values
Going back to my childhood, I was born in a small town in central Bulgaria two years before the birth of democracy.
With democracy in its infancy and with the country only starting to open up to the rest of the world, traditional views were still strongly held, with an expectation to live within a certain mould. So, as a young boy coming to terms with his sexuality, I started to resent and consciously hide that part of me, fearing I wouldn't be accepted. I was hoping I would somehow 'outgrow' this stage. But in my early teens, I realised that wasn't going to happen.
Unlearning deeply held 'truths'
At 18, I went to the United States to complete my higher education. And there my eyes were truly opened to the diverse nature of humanity. It was a melting pot of races, religions and backgrounds. Even within the LGBT community, there was such a mix and intersection of people – across racial, social and ethnic background... Seeing that diversity was something to not just be accepted, but also celebrated, my own viewpoints were challenged. And truth be told, I had to 'unlearn' a lot of things I'd held as axioms growing up – about myself and others, and learn how to keep an open mind.
Now as an advisor in the UK, I'm much more comfortable in my own skin. And yet, the 'learning' and 'unlearning' process continues every day. It requires constantly recognising that each person lives their own truth and challenging beliefs I might hold – consciously or subconsciously. But I have loved every single step of this journey – it has enriched my life immensely, and it has led me to meeting and getting to know some incredible individuals.
Freedom of mind
For me, having that freedom of expression has led to 'freedom of mind'. Freedom of mind has meant three things for me:
It helps me get the space I need to focus on my work and career and bringing my best self out into the open. Don't get me wrong - I still have to 'come out' to new clients and colleagues on a daily basis. It is not something I want to do, but rather have to do – to allow me to bring my authentic self to work. And whilst the Baringa culture and the support of my team make the process easier, my everyday experiences outside of work lead to fear that I might be judged by colleagues or clients. Luckily most of the time these fears are not realised.
It makes fitting in at work somewhat easier. Despite identifying as a cis-male, I don't always share the interests, the personal journeys or the privilege of many of my straight, cis-male colleagues. But my journey to accepting being comfortable in my own skin has made me confident enough to know I don't need to fit in anyone's mould.
It is leading me to become happier, more confident, outspoken and engaged – both at work and in my personal life. It has also made me a better manager and an adviser to my teams – both because I can build rapport with them and because it has given me the headspace to focus helping them grow.
Be bold and be happy
My journey to accepting myself and being comfortable in my own skin is not unique. It's one of many. And if I had one piece of advice to give, I'd say: be brave, be kind – to yourself and to others, and be curious. Only then, can you be great at work.