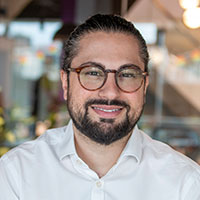 Yusuf Ahmet, our Interfaith Network Lead
My background
My grandparents emigrated here from Cyprus in the 1960s, arriving with nothing but an empty suitcase. They worked hard to provide our family with the opportunities they had never had and their legacy is still a huge inspiration to me. I was born in the UK and, although my family was not particularly religious, I attended a Christian primary school where I'd sing hymns during assembly and go to church on specific occasions throughout the year.
My journey through faith
My real interest in faith was triggered during my teens, when we were all given a copy of the King James Version of the Bible during Secondary school – which isn't the easiest version to read! That week, I distinctly remember hearing a news story claiming that the Harry Potter books were voted more popular than the Bible. Taken aback by this news, I decided to read the Bible over the next few weeks – from Genesis through to Revelation. As a young teen, there was a great deal I didn't understand, but there were some great teachings and parables that continue to inspire me to this day. This sparked my interest in exploring other faiths such as Judaism, Hinduism and Buddhism, all of which provided me with valuable insights into life and have helped shape my understanding of the world.
I then began to examine the Islamic faith, despite the many misconceptions associated with the faith. I downloaded an application which translated the Qur'an into English; I found it completely mind-blowing, stimulating and thought provoking. There was so much that resonated with me and I found myself really attracted to the core principles pertaining to justice, compassion, love and peace. Whilst I consider myself more spiritual rather than religious, being Muslim, has in no way lessened my fascination for other faiths.
A network to unite and connect
When I joined Baringa, I was pleased to see a variety of different diversity and inclusion networks, but there was nothing centred around faith at the time. What I love about Baringa is how easy it is to improve and shape the firm. Hence, I decided to set up an Interfaith network with Fahad – a colleague of mine that works in the Energy sector. It was important to me that the network should be an interfaith network rather than separate networks for each faith, as I believe that faith should unite and connect people. Whatever faith you are, there are those golden principles which are shared, and our network draws upon those values and brings people together - allowing people from one faith to understand the world through the lens of another.
Uncomfortable questions are better than ignorance
Our Interfaith Network is a group where our people can talk openly and freely to ensure we are a faith-friendly workplace, helping our people bring their full selves to work. It's a safe space where questions can be asked without fear of retribution or discrimination. We have a reflection room where people can pray, meditate or simply take time out of their busy day for some peace and quiet. The network helps unlock the power of our faith traditions through educating our people, improving our understanding of one another, whilst bringing us all together to celebrate our diversity. We enjoy celebrating the different festivals and faith events throughout the year - such as Eid, Diwali, Christmas, Easter, Vaisakhi and Hanukkah to name a few.
Everyone is welcome
Our network is as much for people who aren't of faith as for those who are, perhaps even more so. We deliver training on different faiths to all areas of the company and raise awareness of the various beliefs and practices associated with each faith. We encourage everyone to get involved in the events we hold throughout the year; last Ramadan we held a fasting event where employees across the firm were encouraged to fast for a day. It was lovely to see how many people participated and found themselves enriched by the experience, taking away with them a new perspective. As an interfaith network we also look at key festivals from different lenses, such as our event on 'What does Christmas mean to me?' hearing perspectives from people from different denominations within Christianity as well as other faiths.
Learning to celebrate diversity
Whether it's faith, gender, ethnicity, background or any other aspect of our lives, diversity is to be celebrated. A young person coming into the workplace for the first time may have this false perception that everyone is the same and could end up feeling like an outsider. However, by talking to different people and getting involved in various initiatives, they'll soon realise that diversity is something we should embrace. It's what makes us who we are and distinctively different.
A voyage of self-discovery
Faith is often the forgotten diversity and inclusion lens, but it is important to the lives of billions of people around the world. It concerns our core beliefs, values, and principles. Just as firms should think carefully about the values they wish to uphold, it is also vital that they take the time to understand the values of the people within the firm; so the people that make up the firm can be authentic and not feel as though they have to compromise on what they stand for in order to be successful. At Baringa we put people first, which can only be done effectively if we first understand what is important to our people. Our networks all play a crucial role in building those bridges of understanding.
Whilst faith is something which is important for me, I believe we should not think about the different lenses of diversity in isolation. I was raised by a single mother and went to one of the worst schools in the UK – and my sixth form was no better where the security team had to wear bulletproof vests! Against all the odds, I was fortunate enough to go on to university, opening doors of opportunities. Part of what I do now is to visit schools and deliver presentations to students about all the opportunities that are available to them. It is not just my faith that shapes who I am today, but my background and life experiences.
My sincere advice to all people is to empty their teacup; be curious and engage with others. When we engage with people who are different from ourselves, we see the world differently. And the more we learn about the world and the people in it, the more we learn about ourselves.