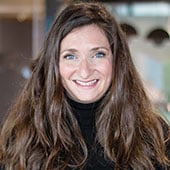 Danielle Calabrese
Staying true to who I am and my own personal values has been a guiding principle in my life. I have always believed in creating a space, whether professionally or personally, where others feel safe, seen and heard. When I first started my career, my mentors would encourage me to not let certain environments alter who I am, as a woman in a male-dominated field. I took note of that, and it's served me well, but it hasn't always been an easy road. That is why being an advocate for Gender Diversity is so deeply ingrained in me.
Diversity is all around us
I was born to first generation Americans from Irish and Italian immigrants and grew up in New Jersey, where I was immersed in a diverse experience of cultural, ethnic and religious backgrounds. Consequently, diversity and inclusion is something I have always been surrounded by. Where I was raised, we say things like "Happy Holidays", rather than a faith-based greeting, to ensure we recognise and celebrate the many different religions and celebrations that abound in our community.
Added to that, the women in my life, especially my two grandmothers, who moved to the US to forge a different life path for themselves and their families, have been epic role models. They've given me a deep appreciation of the power of grit, resilience and self-belief that women possess, which then sparked my involvement in various women leadership communities at university and beyond.
Opening doors for the next generation
And now, being both a Director and Gender Diversity Network lead at Baringa, I'm passionate about opening doors for the next generation of women. As a woman in the world of STEM (science, technology, engineering, and mathematics), I know all too well how one can feel more of an outsider the higher up the ranks you go. Using my influence, I have a deep, intrinsic need to play my part in giving back - supporting and raising up women and creating an environment for us to thrive in.
I spend a lot of my time, as a lead of the network, listening to women around our organisation, as well as in my personal and professional networks. Despite the corporate world and society having come so far in addressing the challenges that women face in the workplace, through these networks, we're able to recognise we have many shared experiences and continued struggles. But, by working together as a community, we are a powerful resource for change.
One of my favourite times of the year is the celebration of International Women's Day, for which at Baringa we encourage all of our people to make pledges, celebrate women's history, and spark conversations around women's topics. We held our first-ever global watch party event over the pandemic to enjoy the film "On the Basis of Sex", with an engaging discussion on the legal and societal challenges to women's rights.
To share, a few other great initiatives that Baringa has going on;
We held a panel with some of our amazing colleagues to talk about the biases of intersectionality across gender, sexuality, ethnicity, neurodiversity, and faith,
We curated a list of inspirational women across the globe to share their stories on overcoming adversity that engaged colleagues using augmented reality,
Our female Partners at Baringa are rolling out our Female Leadership Programme, supported by our network and our Learning & Development team, with the aim to develop our rising talent and giving them the tools needed to succeed,
We have been actively monitoring our gender pay gap, in keeping with our UK requirements, and are now taking action on the data, being acutely aware of the rate we promote and hire women, so as we grow our business at Baringa, we don't leave women behind.
All of these aren't solely "women's issues". We want everyone to lean in and make this a collaborative effort for all. We work hard to seek male allies to help answer important questions. How do we work better together? How do we create environments where we celebrate and exhibit the strengths of our differences? How do we create teams that bring different perspectives from individual experiences?
And there is always more to do.
A network for all
The gender diversity network is so much more than a 'women-only' network. Our work is broad, dynamic and aims to make sure that everyone has a safe space at Baringa. We're doing a whole range of initiatives to educate our Baringa teams on Gender Identity and how best to talk with their colleagues about it. We're collaborating with Embrace, our LGBTQ+ network, to design a gender identity learning module, to observe Transgender Day of Remembrance, and our offices have gender neutral bathrooms.
Annually, we celebrate International Men's Day, with a recent focus being on men's mental health, having the co-founder of Movember talk to a couple of our male colleagues on an insightful podcast. This year we're looking to become a White Ribbon UK accredited organisation to help end violence against women led by and with a cohort of male colleague ambassadors.
It's not always easy to make these things a priority within an organisation, but Baringa is strongly dedicated to bringing people on this journey.
A space to stay true to who we are
And ultimately, that's what it's about – raising awareness. Around the unconscious and natural affinity biases within us, that are, unfortunately, still rife in corporate life. We need to recognise when somebody might feel like an outsider and do our part to make sure everyone in the room feels comfortable.
Unless we actively create a diverse environment in our offices where individuals aren't expected to change – instead, we meet each other in the middle - then we'll never create that safe space. The space we each need to thrive and stay true to who we are.
Every moment of our existence has shaped the people we are today. Those moments will then intertwine with our next experiences to form the people we are becoming. Beyond transforming ourselves, these moments, if shared, create a butterfly effect that can transform other people too. By telling the stories of the path we've walked, we have an opportunity to create change all around us.
We are running a series of reflective pieces, where brilliant people from within Baringa will share their journeys as individuals or members of our company and community. Their stories will reflect the diverse lived experiences we have had and consequently, the diverse individuals we are becoming. We also bring light to Baringa's wider journey to weave diversity and inclusion into the fabric of our people and our firm.
We hope amongst these stories, you will find wisdom and community. That they will be another moment of existence for us all that shape the people and organisations we are becoming. Creating change, if we might be so bold, to more diverse and inclusive ends.
Read our Personal Journeys Blog Series