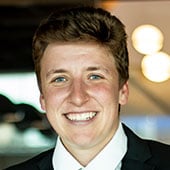 Jen Atherton, Expert in Pharmaceuticals
If there was a magic button I could press, and instantly have the body of the guy I feel I am on the inside, then I'd press it in a heartbeat. But that's not how life works. And the reality is, the journey is an arduous one.
So, the question is: How much hardship am I willing to face to simply be myself?
From feeling 'not right' to Eureka!
As a child I knew that something just didn't 'feel right.' I'd cry if I had to wear a skirt and couldn't face looking at myself in the mirror or having my photograph taken. I felt much more at ease playing sports with my brothers and dad, than sitting around gossiping with girls. And as for make-up, it was a mystery to me. At school kids could sense I was different. Whispering went on behind my back, rumours were rife, and I was horribly bullied.
Then at age 17, I had an epiphany. I found videos on YouTube of transgender people sharing their experiences. People who were feeling these exact same things. And it just clicked – this was me. It was an unbelievable Eureka moment. But this realisation was just the beginning of my journey. What followed was a tumultuous path to become the happy, smiley, confident guy you see today.
Suppressing the guy inside
After starting to get a sense of who I was in sixth form, I gained a soccer scholarship at a university in the States in an area with strong, traditional Christian values. And that's when life got more challenging. I knew to survive I had to supress everything about the person I was starting to become. I grew my hair long, wore dresses, and put on make-up. On the soccer pitch and in class I was happy, but otherwise I was wearing a mask to fit in.
For a while I slipped 'under the radar,' but after being discovered that I was dating a girl from the football team, the university gave me an ultimatum – either have therapy to 'fix' this or we cancel your scholarship and you're out. I went through the 'therapy' and stuck the year out. It was a harrowing time and a defining moment in my life.
Returning to the UK was something of a relief. I didn't immediately identify with he/him pronouns, but I cut my hair and wore what I wanted. I was being myself again; myself with a renewed sense of freedom.
Swimming against the tide
I'm at a point now where I identify as male. Yet even though I've come a long way, I'm still learning so much about where I stand in society, and I encounter pushback every day. I've been thrown out of clubs after being screamed at by women for using female toilets and subjected to abuse or complaints when using male changing rooms at the gym with my non-medically transitioned body. There are few safe spaces for me.
Life would be so much easier if I could be happy in the body I have. I think that's why more people don't transition because you're always having to explain yourself. Always swimming against the tide. And when you make that decision to change the gender you identify with, when you publicly change your pronouns, it's a 'line in the sand' moment. Once you've gone over it, it's very difficult to go back. You can't experiment in the way that you can with your sexuality.
I've come to see that there are three ways I can approach my life in our current society. 1. I can be open and honest about my journey, providing people with the personal details required to overcome assumptions 2. I can try to 'pass' as being physiologically male or 3. I can just grit my teeth and face the judgement. I shouldn't have to do any of those things, but that's how it is.
The path to systemic inclusion
That's why I'm on a quest to make the culture at Baringa systemically inclusive rather than responsively inclusive. Meaning everyone feels welcome, de facto. No one should have to find 'their people.' Everyone just fits in.
We're far from the final destination here at Baringa, but as employees, we're being empowered to drive the journey. With four other colleagues, I've recently developed a learning module called 'Gender Identity 101'. It's a no-judgement, no-prior-knowledge-needed introduction to all things gender and sexuality. It is designed to open colleagues' eyes and invite them to be curious and empathetic, ultimately aiming to foster a more inclusive, aware environment.
People need to do better
For me, the future holds some sort of medical surgery as part of the next stage to become fully myself. I'd particularly like to have top surgery so I no longer have to bind, then I can freely wear clothes that don't hide my chest.
Having to overcome the physical aspect is one thing, and that's always going to be something transgender and non-binary people face. But dealing daily with society's narrow views and behaviour – even careless slip-ups on my pronouns – shouldn't have to be tolerated. People need to do better. It's the average person that needs to step up.
And it starts by not making assumptions about people who aren't the same as you. And being empathetic to others' points of view. We can't tread another's path, but we can listen and give them space to tell us what it's like to tread that path. We all have a shared responsibility to create the space people need to simply be themselves.