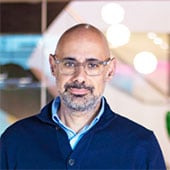 Abdi Azimi, Ethnic Diversity Network leader.
Arriving in West London in 1978, aged just one, I was too young to bring any memories of life back home in Tehran with me. As our stay was meant to be a temporary refuge from the war brewing in Iran, my parents continued to speak exclusively Farsi to me. Playdates – such as the ones my kids have in abundance – were not a thing, nor was socialising out of school with children from other cultures. I went through school feeling somewhat of an outsider. And yet, I was sustained by the warm embrace of the Iranian culture, and am still in West London 44 years later!
Bringing outsiders in
I don't think of myself as only British, or Iranian, more as a human being driven to do good for my family and those around me. My Scottish wife is a practising Christian and while our children have been baptised, they also benefit from the Iranian influences my parents share and are always keen to learn about other cultures and spiritualities.
The principles and values I try to demonstrate to my children do not come from any particular religion, or culture, or nationality. They can't be defined as Iranian, or British, or Christian – rather they are founded in my belief that everyone deserves the right to be heard, regardless of their background or current circumstances. It's simply about doing the right thing.
Having felt an outsider for most of my formative years, at university I loved being part of a hugely diverse peer group. I always gravitated towards those who were 'different', forming a group of people who otherwise would have been on their own. Celebrating my own differences and seeking out others who felt the same. Feeling like an outsider gave me a valuable perspective. The challenges I've faced have given me the resilience and confidence that I can overcome any obstacle.
Joining Baringa, everything switched on
This might explain my love of problem-solving – a central element of my engineering studies. Whilst I no longer need to apply my skills to the practical considerations of material selection and construction design, I am still channelling that passion in the world of consulting. It drives me in every aspect of my work at Baringa, including as the partner sponsor of our Ethnic Diversity Network.
Looking back, I've always had the drive to help shape a more diverse society, celebrating our differences, while ensuring that they don't ever limit our potential. There's been no one pivotal moment that led to me becoming an ethnic diversity champion as such, but arriving at Baringa in 2019 and meeting people who are genuinely interested in equality for all, it just felt like opportunity, capability and passion were finally aligned.
I now spend time with colleagues throughout Baringa, supporting opportunities for improved diversity, inclusivity and pledges such as Baringa's commitment to anti-racism. However, for any organisation, making commitments is just the first step of a hundred yet to come. Building awareness is key, but we must all acknowledge our personal and collective responsibilities. Good intentions can sometimes get mislaid.
Daily actions trump big gestures
When it comes to anti-racism, and diversity and inclusion in general, it's not enough to just not contribute to negativity; we all have a role to play in actively standing up when people are lonely or are unfairly treated. Small, but important, things like seeking out contributions from everyone in meetings and not letting the same three or four voices dominate. Amplifying the voices of those who are not always heard. Acknowledging that the work isn't done and dusted when we reach pay parity. Equality in all its shapes, sizes and nuances is an evolving phenomenon.
To become a better ally yourself, remember that people are kinder than we give them credit for; seek them out, and look out for those you can be kind to, too.
We've made a great start at Baringa, but there is always more to be done. There will always be people who feel they are outsiders, and once we take our eyes off the ball, regression starts. The minute that I feel I'm no longer making a difference is the day I step away.
Every moment of our existence has shaped the people we are today. Those moments will then intertwine with our next experiences to form the people we are becoming. Beyond transforming ourselves, these moments, if shared, create a butterfly effect that can transform other people too. By telling the stories of the path we've walked, we have an opportunity to create change all around us.
We are running a series of reflective pieces, where brilliant people from within Baringa will share their journeys as individuals or members of our company and community. Their stories will reflect the diverse lived experiences we have had and consequently, the diverse individuals we are becoming. We also bring light to Baringa's wider journey to weave diversity and inclusion into the fabric of our people and our firm.
We hope amongst these stories, you will find wisdom and community. That they will be another moment of existence for us all that shape the people and organisations we are becoming. Creating change, if we might be so bold, to more diverse and inclusive ends.