So much has happened since I last shared some thoughts on the status of the UK Energy Retail sector - the country has woken up to the harsh reality of how unstable the retail energy sector really is, government has met with Industry leaders and the regulator and we've all become a bit unsettled about the risk of soaring energy bills and shortages across a range of different products we rely on.
The rise and fall of energy suppliers
While we watch the Italian and Spanish governments make bold moves to insulate customers from increases to energy bills, our government holds firm on the message that the price cap is sufficient to protect customers. Perhaps true, for now, but in the meantime, smaller suppliers continue to fold – more have failed this year already than the last 5 years combined, 12 have folded this year and 9 in the last month alone.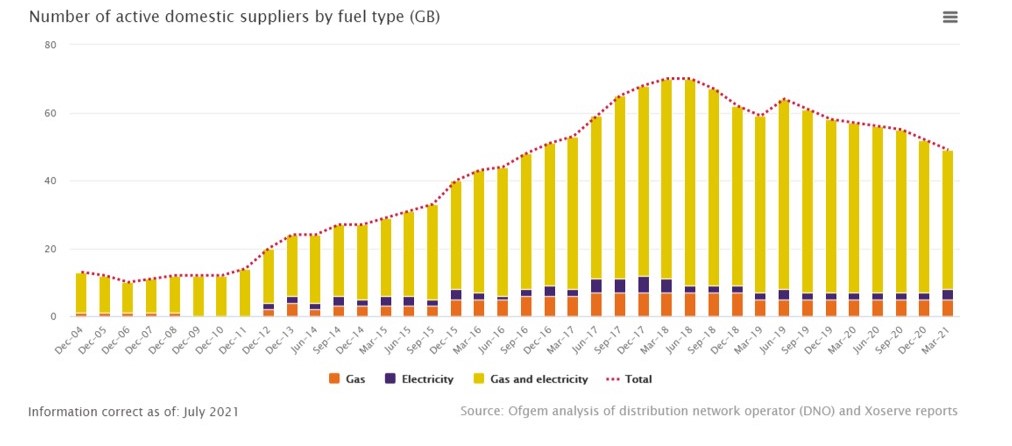 Source: Ofgem data portal
In the process, hundreds of £m of cost has been added to the Supplier of Last Resort (SoLR) levy, and hundreds of jobs in the sector have been lost – both in energy suppliers directly and through the supply chain that supports them.
For sure, some suppliers entered the market opportunistically and have left themselves deeply exposed through a lack of understanding of the market or a lack of funds. But not all. A market with no small players doesn't foster a sense of innovation and progress, reverting back to a market dominated by the bigger suppliers certainly won't help build customer trust in a troubled sector. Facing forwards, to drive competition and restore trust, we need to understand how well-run small suppliers can safely enter the market and thrive.
The need to reset
So where now? Helpfully, what has become very clear to all is the need to fundamentally reset the sector. That needs to start with a clear statement of intent around the role of the supplier as we move to a net zero economy.
The ability to innovate by developing and testing new propositions, products and bundles. The ability to partner with others to become increasingly creative; and the ability to forecast, with accuracy, how payment for these new offerings will cover costs and make a reasonable margin without either being 'regulated away' will allow the remaining suppliers, of whatever shape and size partner with all types of customers, to decarbonise their homes and drive country wide progress towards achieving our national net zero ambitions.
As I said in the last article, to support a competitive market with stable suppliers who can play a key in decarbonising our homes, a fair margin must become politically acceptable, and supported by both public and press.
The storm before the calm
There are very stormy waters to navigate before we get to the end game described above. I still hold firm that as few as 10 suppliers may be left in the market by the time we've come through winter – we started this year with 52 suppliers, we have already reduced that number down to 38 with 8% of UK customers impacted by SoLR - and we haven't even entered 'Renewable Obligation payment season' which will push yet more under.
And the huge SoLR cost burden – which some industry insiders suggest could be over £5bn – will hit customer bills next year at a time when energy bills should be dropping to reflect the lower wholesale prices we expect to see by then. Surely some level of smoothing is needed to soften the immediate impact of the SoLR levy and support customers with the inevitable affordability and fuel poverty challenges.
Ofgem, as owners of the cap, will have to land the message but suppliers will inevitably be seen as the bad guys - irrespective of their actions to bail out the broader market.
But the market will bounce back – somehow. It's just so painful to watch it hit the bottom before it gets there.
To understand the impact in more detail or to find out more about our work in the energy retail sector, contact Ellen Fraser.