For decades, businesses have needed to transform. Be it in response to new customer demands, a changing economic climate or geopolitical shifts. So why do so many struggle to deliver their intended outcomes?
All too often, the intent and ambition at the start of a transformation are not reflected in the end-result. Why? It's often hard to balance strategic intent vs tactical demands, and design and delivery decisions are often not made within the context of the desired outcomes. Over time, change fatigue creeps in and focus on the overall ambition is lost.
Baringa's Transformation Framework integrates four critical pillars to deliver purposeful outcomes with rigour and provide lasting impacts for the business and its people. Let's take a closer look at what this means.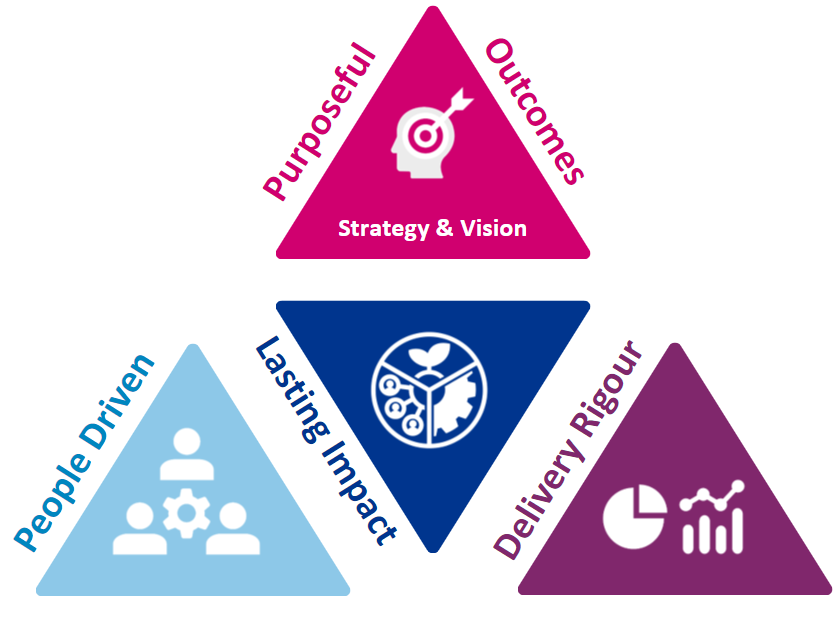 Find out about our Business Transformation consulting services
1. Define purposeful outcomes
First, define your purpose – whether it's profit, people, planet, or a blend of all three. Ensure this purpose is clearly articulated from the outset, and that senior leaders have all bought into it.
Set a clear North Star – All members of the transformation (from leadership to front line) should be fully aligned and committed to achieving the vision. Ensure that leadership live and breathe this vision , and are committed to the outcomes required to achieve it.
Remain laser-focused – It can be hard to focus on long-term goals when there's so much short-term noise. So make sure you've set up the transformation programme to protect the targeted outcomes, rather than simply solving immediate challenges. This means embedding those outcomes into leadership objectives, governance and ways of working and assess risk against the delivery of outcomes.
Being purposeful – The programme should never be an 'island', on its own, so make sure you bring the whole organisation on the transformation journey with you. The change being driven needs to have purpose and meaning for everyone. Ensure this is achieved through meaningful change interventions with people across the business.
2. Be people-driven
People deliver capability and culture. Without your people's engagement and commitment, you won't achieve your targeted outcomes. No matter how good your new technology, operating model, processes (and whatever else), success will be impossible without their buy-in. And remember to keep stock of the 'people cost' – is it a positive experience for your team, including any future leaders?
Recognise your biggest enablers – People execute and operationalise the transformation. They have to understand it, be committed to it, and aligned behind its goals. Ensure that people within and who are impacted by the transformation understand the outcomes, and there is focus on ensuring people are educated, given the right tools and knowledge to be successful in the delivery and in the new world post Transformation
Know your culture – A people-centric approach integrates cultural values that you need to promote to transform the business throughout the transformation. The transformation should be synonymous with the desired culture of the organisation. As a part of transforming the business, understand the counter-cultural values that will prevent you from achieving your transformational goals and promote the enforcing values you want to keep.
Create sustainable capability – Engaging with and investing in people upfront will maximise change adoption and ensure buy-in for new ways of working. Involving employees at all levels in the Transformation will foster a positive culture and improve adoption – they should feel a part of shaping the change, not a recipient. Most importantly, leadership need to actively support, champion and model the desired behaviours for the new ways of working.
3. Be rigorous, but creative too
Successful transformation teams are rigorous about how they deliver – from ensuring alignment to standard ways of working, to promoting empowered teams with the right mix of skills. But make sure excessive governance does not stifle adaptability and creativity. Remember the transformation approach is there to enable, not to block.
Establish an Intelligent Transformation Office – This should prioritise smart, lightweight governance, with data-led decision-making made by the right people at the right time.
Empower to challenge – Protect the transformation's key interests (outcomes, benefits, scope) by ensuring your TMO function is empowered to challenge, coach and course-correct – not just report .
Don't confuse rigour with roadblocks – Be rigorous when it comes to protecting the transformation's outcomes and critical path. But trust and empower teams to deliver within the guardrails. Promote empowerment, innovation and adaptability.
4. Make a lasting impact
When you mobilise, you should have a clear set of objectives, benefits and outcomes agreed with the leadership team. All of these need to be woven into the fabric of the transformation programme. Anything that causes deviation from them should be challenged.
Set, and commit to outcomes and benefits – Quantify these where possible and ensure accountability across the leaders of the business. Where they are softer (ie behavioural or about capability building) make sure you identify ways to measure them, and treat them the same way as hard benefits.
Bring the business on the journey – Communicate these benefits to the whole business and make sure their realisation is recognised. By celebrating progress as you deliver, you'll make transition to BAU much smoother.
Meaningful benefits – The improvements being delivered need to have meaning and purpose for those impacted. Ensure the transformation is constantly engaging the business and seeking their feedback. They should feel a part of shaping the change and new way of working
Four pillars for transformation success
'Purpose' is a hard thing to define, and even harder to bring to life for most organisations. Focus on these four key areas from the outset. By creating the right supporting structures to keep people, and decision making, anchored to those purposeful outcomes, delivering a sustainable transformation might not be as hard to achieve as it seems.
Our Experts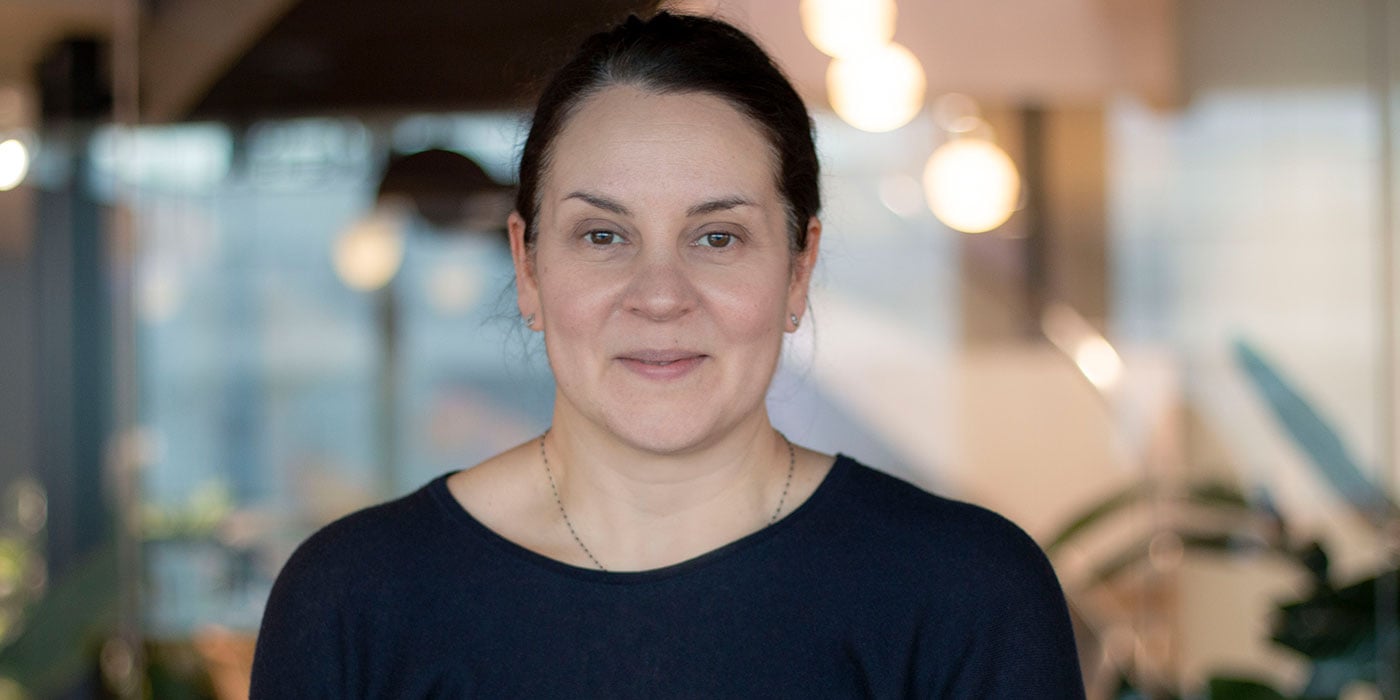 Bernice McNaught
Expert in Transformation Design and Delivery
Contact Bernice
Matt Adams
Partner, expert in Business Transformation
Contact Matt