Fleet vehicles account for circa 20-55%[1] of all vehicle sales in the UK. Because of the size of the operational fleet segment, it is the most important one to win as an early adopter and kick-starter on our journey to decarbonise transportation. Adoption rates in this segment are a leading indicator for the speed and success of the UK's journey to electric.
Fleet managers base their investment decisions on the Total Cost of Ownership (TCO) rather than the purchase price of their fleet. To electrify a fleet is a challenging undertaking and needs to take the diverse and unique nature of different fleet types into consideration, and they come in all shapes and sizes: from taxis companies to last mile delivery fleets and energy utilities to rental fleets – each with their own vehicle types, footprint, duty cycles and physical requirements.
The chart below shows the vehicle-composition of the UK's 100 [2] largest operational fleet operators, and the sectors to which they belong. Most fleets have a diverse composition of cars, vans (and in some instances trucks), which can be owned or leased, making 'fleet' a very small word to cover a very large range of diverse vehicles with varied uses and duty cycles.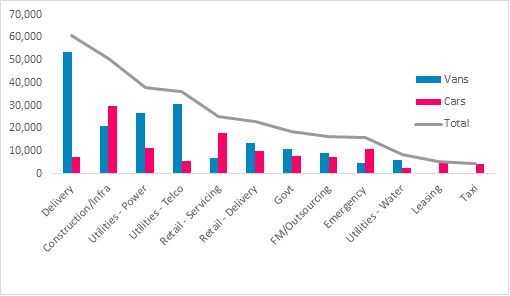 Figure 1: Fleet 100 consists of 120k cars, 180k vans and 16k trucks
In this article, we explore key questions a fleet manager must address to tackle the electrification jigsaw, we introduce a simple self-assessment tool that can quickly highlight opportunities and challenges for a fleet manager, and suggest four steps that can be taken today to start the journey.
The future of fleet is electric
The electrification of the UK fleet segment has been receiving a lot of attention recently, and research indicates that the majority of fleet managers have started to explore fleet electrification at scale. 360 media for example identified that ~58% of car and van fleets operate in areas that have – or are planning to – introduce emissions regulations, and Geotab reports that 78% of fleet managers plan to electrify up to half of their fleets by 2025 [2].
Another indicator is the long list of UK-based companies that have recently signed up to EV100 [3], a global initiative aiming to accelerate the transition to electric vehicles (EVs) and making electric transport the new normal by 2030. Indeed, this summer has seen many large companies begin their respective electrification journeys with the likes of John Lewis Partnership [4] declaring that their 1,750 light vans and 1,300 cars will be zero emission by 2030, British Gas [5] ordering 1,000 e-vans initially starting to be delivered soon, and DPD [6] announcing in July that – with 700 EVs on the road – it had already surpassed its 2020 target.
While we expect the majority of car and van fleets to go electric, some larger mixed fleets may turn to bio-methane (bio-gas) for their MGVs or HGVs, which is more suitable for vehicles with long mileage and heavier payloads.
Solving the electrification jigsaw
Electrifying an operational fleet is no mean feat; fleet managers face higher upfront costs for low emission vehicles, technology-nascency and associated risks, they need to consider requirements for new infrastructure, and will need to become an expert in kW and kWh's as they look to optimise their energy consumption. Every fleet transition has five elements that fleet managers will need to address:
Vehicle suitability: the right vehicle choice for your load, range and uptime
The choice is inherently dependent on the designs, specifications and volumes that are on offer in the market. Telematics can help identify easy wins by analysing current routes and daily mileage to determine which vehicles in your fleet are well suited to electrify first. Further, a heads up to manufactures and lessors on required vehicle specifications (e.g. private hire vehicle vs high roof LCV) and advance pipelines can be key to source supply of electric models in time.
Supporting infrastructure: location, type and on-going operations
Supporting infrastructure is a critical component for fleet-electrification and will comprise considerations regarding the location of charging infrastructure (home charging, hub charging, on-street charging - especially for drivers returning home with their fleet vehicles with no access to off-street parking and needing to charge overnight); the type of infrastructure (fast chargers, rapid chargers, ultra-fast chargers); the installation of the charging infrastructure and any ongoing operations requirements (such as transitioning from fuel cards to charge cards). Based on the decisions across each, fleet managers will need to develop an optimal charging infrastructure strategy based on fleet type, sites, grid constraints per site, and overall energy requirements. Working with third party charging infrastructure and advisory partner will often be the most convenient way to deliver against requirements.
Energy / power sourcing: optimising demand and supply
Introducing electric vehicles into the fleet will lead to an increase in electricity consumption (often by as much as a third), and will require a review of current energy/power sourcing strategies. Without network upgrades, workplace charging and back-to-base depos could run into potential capacity issues that limit the ability to install further charging infrastructure. A cost-effective way to alleviate grid constraints and match demand with supply could include smart charging, on-site generation or on-site batteries.
An increase in electricity demand should also trigger negotiations with energy suppliers about tailored tariff structures and new revenue streams from flexibility with onsite solar and battery storage. Understanding how to optimise charging and power can turn into a competitive advantage and an upside opportunity for fleets. Energy advisors, energy suppliers, charge point operators (CPOs) and distributed network operators (DNOs) can be key to help fleet managers navigate these opportunities
Economics: factoring in capital outlays and operational upsides
At present, many electric cars and vans come at a high upfront cost, but achieve Total Cost of Ownership (TCO)-parity (or even exceed parity) due to their lower operational costs. The investment into charging infrastructure however will need to be considered as an additional Capex requirement. And while overall power costs increase, flexible and tailored energy sourcing can generate long term value for fleets. Understanding all capital outlays vs operational upsides over a five to 10-year horizon is key to developing the right investment strategy.
Change management: adapting systems and drivers
Traditional fleet management systems are not equipped to handle EV data. To efficiently manage and operate an electric fleet, EV-specific data must be gathered, and EV dashboards need to be integrated into existing fleet management systems. Some data and telematics providers have started to ensure that fleets are able to track all necessary metrics to enable continued operations of the fleet in an efficient manner.
Drivers are of course key to run an electric fleet effectively. Their buy-in is essential to minimise any potential impact that 'going electric' might have on operational performance in the short term. They need to be aware of the differences between their previous combustion-engine vehicle and the electric equivalent, charging locations and rhythm, and the impact of driving style on battery performance and vehicle range.
Fleet managers can't do it alone
Electrification of a fleet involves detailed investment and transition planning, and often involves multiple external stakeholders (OEMs, funders/lessors, charging infrastructure providers/ charge point operators (CPOs), energy suppliers, network companies, data and telematics service providers). The same is true for internal coordination across multiple departments. As a result, the number of key stakeholders that a traditional fleet manager manages will increase significantly as a fleet begins its decarbonisation journey. Fleet managers should not be shy to engage these stakeholders early on as this complex journey cannot be delivered single-handedly.

Where do you start: a self-assessment
The starting point for transitioning a fleet to electric is to understand how it fairs against the above dimensions, to identify quick wins, and areas that require additional effort and problem-solving. Baringa's "Quick Wins vs Challenges" scorecard helps to assess the starting point:
Illustrative "Quick wins vs Challenges" scorecard

The results of the scorecard are likely to vary significantly between sectors; last mile delivery fleets for example have different needs to taxi fleets or utility fleets. For the last mile fleet, per the illustrated example above, vehicles/vans may be suited to electrification, and drivers may have good awareness of their carbon impact – both can be quick wins for the fleet to get started on its electrification journey. However, because the fleet partially returns to home and has some grid-constrained depos, fleet managers may have to investigate the charging infrastructure and energy requirements – both at drivers' homes as well as depos. It's worth noting that there can be significant variation within a mixed fleet e.g. for a delivery fleet, the needs of its last mile vehicles are very different to those of its long haul vehicles.
While the above is a simplistic example, it illustrates the importance of detailed requirement-planning and roadmaps upfront. Without them, fleet managers will find it difficult to scale their electric fleet effectively beyond trials and the quick wins-phase.
Four steps to take now to electrify a fleet
Whilst fleet managers are the catalyst and starting point of electrification, this transition requires extensive internal and external coordination:
Creating a fleet transition strategy that brings together this puzzle into a coherent roadmap and guiding document, from where the investment case can be developed. This is the foundation to create the necessary buy-in, and can be used to engage with external parties on the key requirements.

Engaging internal stakeholders and collaborating to achieve the cross-department buy-in that is necessary to drive the transition to green fleets. From Finance and Procurement through to Sustainability, Estates, HR and the Unions, and – importantly – drivers; all must be on board to execute a successful decarbonisation strategy.

Engaging externally with OEMs, funders and lessors on vehicle suitability and availability, CPOs and infrastructure providers on charging infrastructure, energy and gas suppliers and distribution network companies, on site-energy-usage and refuelling access. For certain fleet types, local authorities may need to be involved too.

Start, learn, and adapt: the best way to decarbonise the fleet is by starting the journey. Understanding key barriers upfront (for instance through a 'quick wins vs challenges' assessment) can help make the transition as smooth as possible and be better prepared for a scaled transition. Starting with easy wins and simple vehicles, and working towards more complex duty cycles builds experience and confidence.
Fleet electrification is by no means a straightforward undertaking. The complexity however doesn't have to limit ambition and progress. A holistic approach towards vehicles, infrastructure, energy, business case and change management can prepare fleet managers to better understand the quick wins vs the longer term challenges. Early engagement with key stakeholders means that fleet managers don't then need to solve those challenges alone. And once a fleet starts its transition-journey in this way, the future will indeed be electric!
[1] 55% of all sales are fleet sales per SMMT, however 20% of new car finance is for business leasing
[2] https://www.geotab.com/white-paper/fleet-2020-uk/
[3] https://www.theclimategroup.org/ev100-members
[4] https://www.thegrocer.co.uk/supply-chain/john-lewis-partnership-to-ditch-fossil-fuels-in-fleet-by-2030/645428.article
[5] https://www.commercialfleet.org/news/van-news/2020/07/07/british-gas-orders-1-000-electric-vans-from-vauxhall
[6] https://airqualitynews.com/2020/07/23/dpd-smashes-ev-target-five-months-early/
About the authors:
Natasha Patel is a Director in Baringa's E-mobility and Energy sector, George Batts is a Consultant in our Energy practice.