The pathway to Regulated Liability Network (RLN)
With the benefits understood, the next step must be to refine the end state architecture and the roadmap required to achieve it.
Background and context for RLN
The rise of technologies in digital finance such as distributed ledgers, tokenisation and crypto-assets pose a challenge to our current financial ecosystem and the concept of sovereign money.
The "always-on", multi-asset and programmable attributes of these new technologies appeals to the increasingly digital world in which we live. However, there are significant risks to financial market stability and consumer safety posed by some initiatives, meaning regulators have been closely monitoring them.
The RLN concept provides an alternative approach to progress the financial market ecosystem, by proposing new capabilities and technologies in a regulated and controlled space. The RLN whitepaper and research to date highlights key benefits of RLN, considering the market needs first, rather than the technology that underpins it
Against this backdrop, two key questions remain:
What is the best way to introduce Central Bank money to any future Financial Market Infrastructure (FMI) proposal?

International FMI standards highlight a pre-requisite of settling in Central Bank money wherever possible for systemically important systems. Central Bank money can also provide a key benefit in mitigating settlement risk to encourage the commercial sector to adopt.

Central Bank money initiatives are running the world over and the RLN will need to align with these networks if it is to succeed in global adoption. Any design of RLN for the UK should consider future global interoperability, and therefore be in conjunction with the Digital Pound consultation on retail Central Bank Digital Currency (rCBDCs).


Once the RLN approach is defined, what does the journey look like to achieve the aims of the RLN concept?

Whilst the destination of an RLN structure has been defined, the journey to get there is not yet clear.

Industry-wide consideration, collaboration and coordination is required to plot that path, aligning on the technologies and use cases to achieve the benefit.
High level observations on the pathway to RLN in the UK:
RLN has the potential to offer significant benefit - promoting safety, competition and innovation whilst removing disintermediation risk from Central Bank Digital Currency (CBDC) programmes and enabling 24/7 transfer of liabilities.
There are multiple ways to achieve this benefit - the upcoming experimentation phase led by UK Finance with cross-industry participants is essential to confirm the architectural design of RLN and validate the use cases.
The regulator has an important role to play - balancing public and private collaboration globally and promoting innovation whilst ensuring ongoing financial market stability is essential for the success of RLN.
What is it seeking to achieve?
Building a new future FMI will help to solve many of the issues facing financial markets today.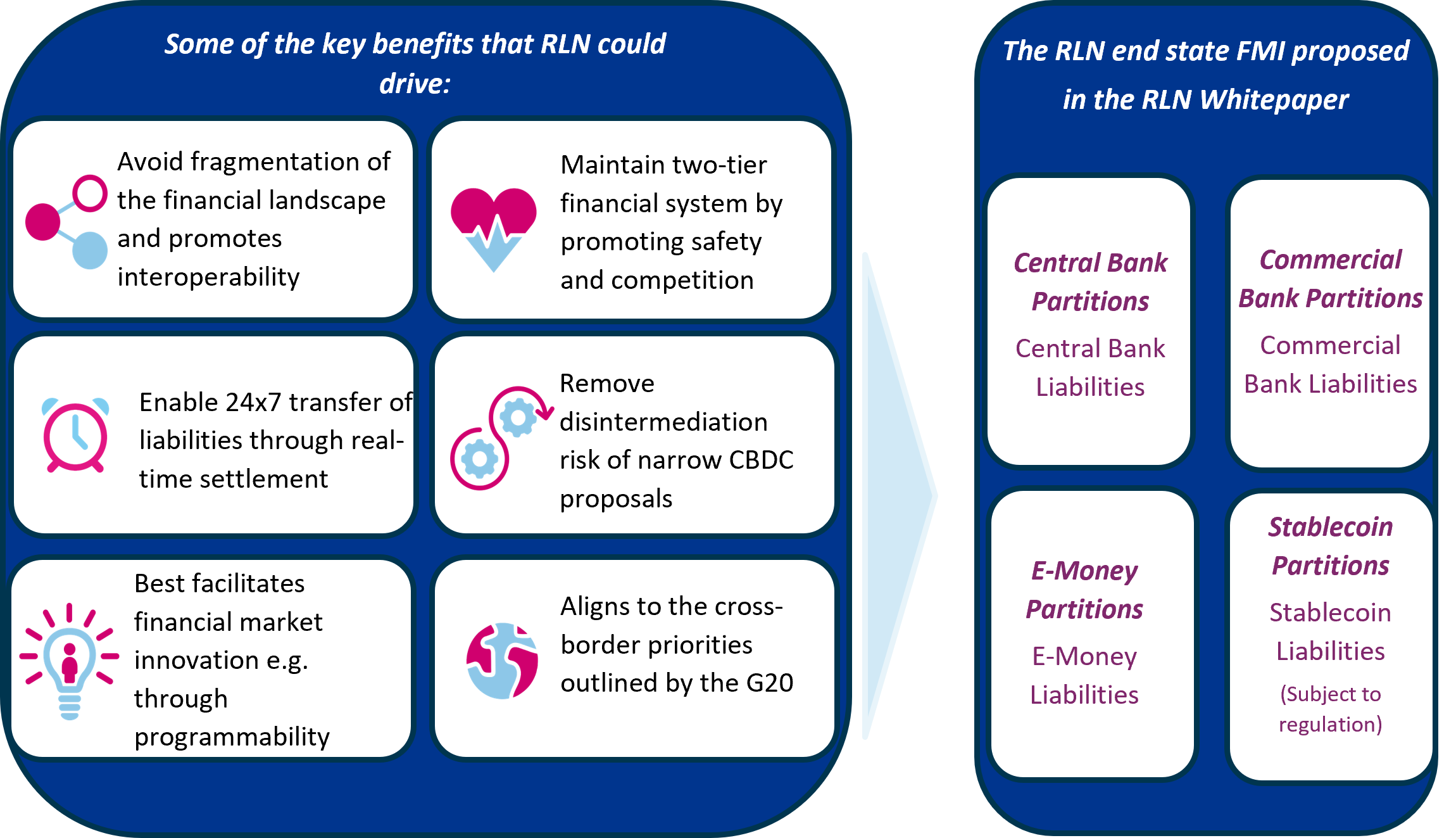 The RLN concept is being explored globally
RLN has multiple benefits. The proposed infrastructure may solve issues currently facing Financial Markets such as delayed settlement times, challenges with cross border payments and settlement flows.
Crucially, it looks to do so in a way that protects the current financial ecosystem of public/private enterprise and sovereign monies.
Several initiatives including the RLN, SNB/SIX collaboration, the Brazilian central bank and BIS have put forward proposals of future FMIs that leverage the potential of new technologies. RLN is an FMI proposal that is regulated, token-based, multi-asset, programmable, global and based on Distributed Ledger Technology (DLT).
RLN is an FMI proposal that is regulated, token-based, multi-asset, programmable, global and based on DLT
The RLN proposes an FMI that achieves the above qualities with partitions for each regulated entity – segregated areas enabling both public and private permission levels to approve payments prior to processing. The objective is to maintain the financial ecosystem, promoting competition and safety.
Several architectures have been proposed during the UK Discovery Phase that align to this concept. Scalability has also been tested with a SETL architecture, involving a single ledger where payments are proposed and a network layer routes those payments to all relevant partitions, each of which approves before processing.
These architectural proposals need to be refined and their feasibility assessed in the journey to any future FMI.
Central Bank Money integration
A regulatory requirement of systemically important FMI's is to facilitate settlement in Central Bank currency. How the RLN architecture supports Central Bank money integration will therefore be key to adoption.
The UK Finance Discovery paper looked at several architectural proposals for the RLN with a view that whilst a shared ledger is preferred, architectures that involve RLN as an orchestration layer (option 0) or only with a commercial bank retail partition (option 1-B) are a reasonable first step.
How can regulators protect the market whilst fostering innovation?
For RLN to be successful, the regulator needs to be comfortable that RLN will maintain the stability of financial markets and play a key part in enabling innovation.
Regulators are putting DLT and tokenisation in the context of future FMIs under the microscope
Public and market opinion of the implementation of novel technologies can be divided and may in turn become a significant barrier to any future FMI's adoption. With this context, the RLN model rightly emphasises the importance of the public and private partnership in the infrastructure development. Financial institutions will need to understand how future FMIs may impact their unique businesses and technology stacks to enable a safe transition and effective design.
Regulators need to react to multiple challenges
Providing a regulatory framework that balances financial market safety whilst enabling progress.
Setting FMI standards that allow new technologies to be utilised alongside existing platforms whilst promoting competition.
Fostering innovation across the market through promoting collaboration when exploring the possibilities of RLN.
Central Bank and government participation needs to be cross-border, to respond to the challenge of global interoperability long term.
Responses vary across geographies
Jurisdiction
Approach

Investigating a Digital Pound (rCBDC) and Real-Time Gross Settlement (RTGS) renewal programme.
Aiming to clarify regulation through a crypto-asset consultation.
UK FMI sandbox provides a platform to innovate and collaborate on dFMIs.

Investigating rCBDCs with several member countries involved in research projects including Italy and France.
EU pilot scheme provides exemptions from certain regulations to allow experimentation with DLT.

Initiated public discussion on CBDC development.
Recently released FEDNow for wholesale RTGS.
Private novel technology experimentation is subject to regulatory assurance.

Singapore and Switzerland are notably encouraging innovation in dFMIs. They have not yet issued their own wCBDC but frameworks have been investigated for interoperability e.g. Project Mariana between France, Singapore and Switzerland.
Brazil and China have initiatives with Central Bank and government involvement.
Market collaboration will enable benefits of new technology to be realised whilst maintaining stability
The more experimentative countries in this space such as the SGP, SWZ, BRA, the UK and EU countries are encouraging participation and collaboration via sandboxes whilst working on regulatory clarity.
The findings from these collaborative exercises will be crucial in developing a successful FMI design, mitigating any risks to individual institutions on how proposals may impact their own unique businesses and technology stacks.
Wide participation in these schemes and initiatives such as RLN will be critical in a successful design and journey to a future state.
Prioritising retail CBDCs: how will RLN work in practice in the UK?
The UK RLN Discovery Phase concluded that domestic retail use cases should be the priority for experimentation in 2024. This aligns with the focus of the BoE's Digital Pound consultation showing a clear direction of travel in the UK.
Any future RLN approach will need to be compatible with the two-tier model that is expected to be adopted within the UK for rCBDCs
We expect the approach for the UK to be aligned to 2a, or potentially 2b in the below table; however, the Digital Pound pathway will be refined following the 2023 consultation process.
Not every jurisdiction has aligned to this approach and may take either "direct" or "stablecoin-like" approaches (options 1 and 3 of the below table), meaning integration becomes complex.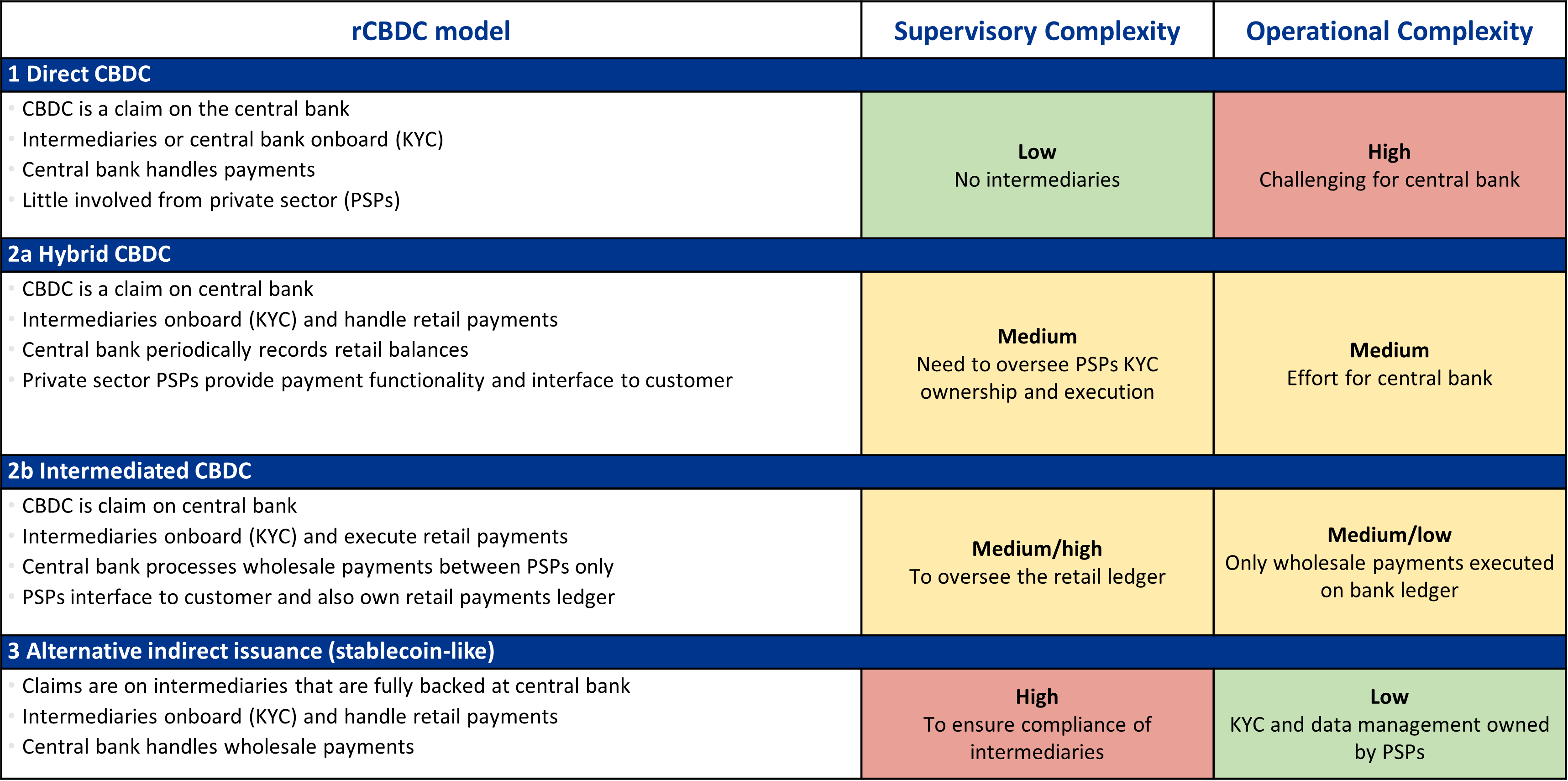 We expect significant progress to be seen throughout 2024 in defining the future design and roadmap for implementing RLN in the UK. Our expectations are:
rCBDCs will allow the RLN to achieve public and private buy in – governments cite the benefits of digital money to combat declining cash use, promote financial inclusion and facilitate innovative new use cases. We therefore expect that incorporating a rCBDC into the overall FMI, whether through an orchestration layer or its own RLN partition, will help to obtain the necessary public and private support for RLN.
There is an opportunity to think holistically – the market and regulators can work together to build on prior research through Project Rosalind, the Digital Pound consultation and RLN Whitepaper. This can inform how a two-tier model with an API layer could work in a future financial ecosystem.
Whilst domestic use cases are the priority, international payments should not be forgotten – there is a risk of being too insular in prioritising effort into domestic payments only and building according to these use cases. One of the key principles of RLN is that it should be global so this should be kept in mind, even if for future focus.
Looking forward and next steps - rCBDCs and the path for RLN
Clarity is needed on the architectural pathway to integrate UK retail payments to the RLN. This architecture will need to preserve the benefits of the current Digital Pound proposal in two-tier design whilst looking to facilitate the RLN benefits. We see this as one of the priorities for future research.
Our experts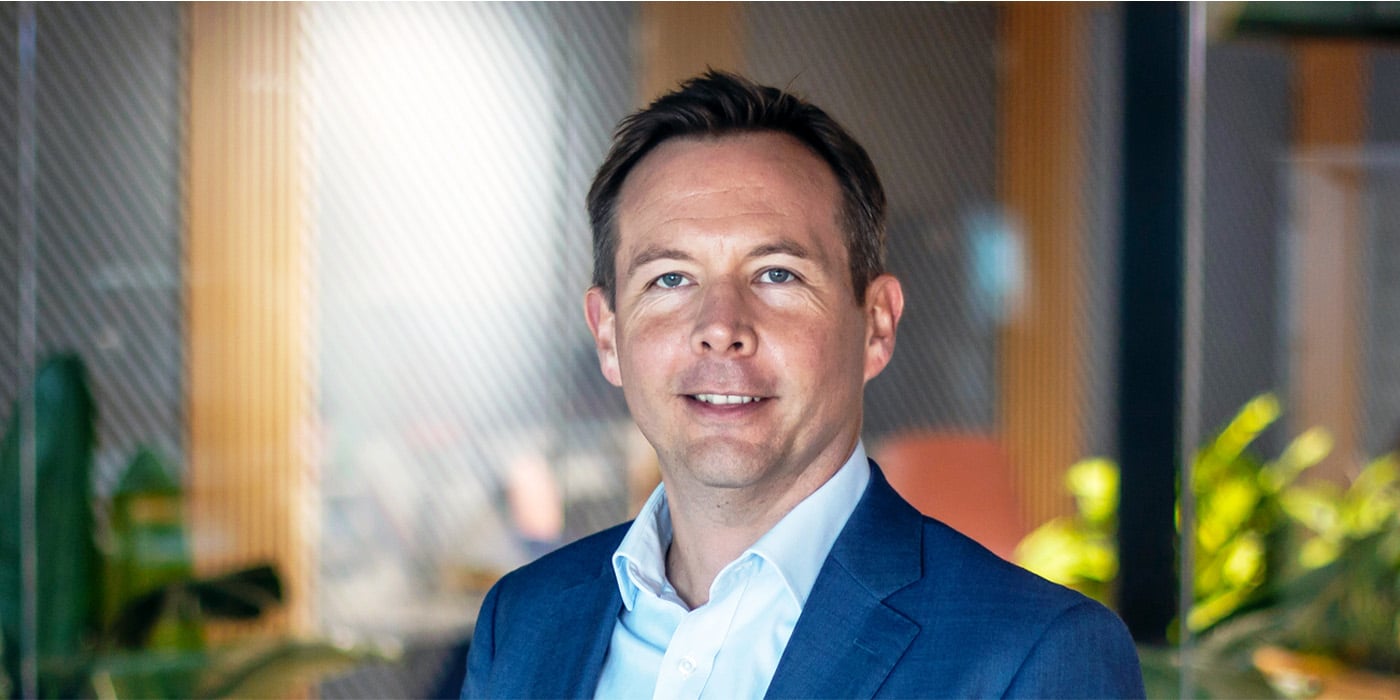 Ben Matthews
Partner, expert in Financial Services
Contact Ben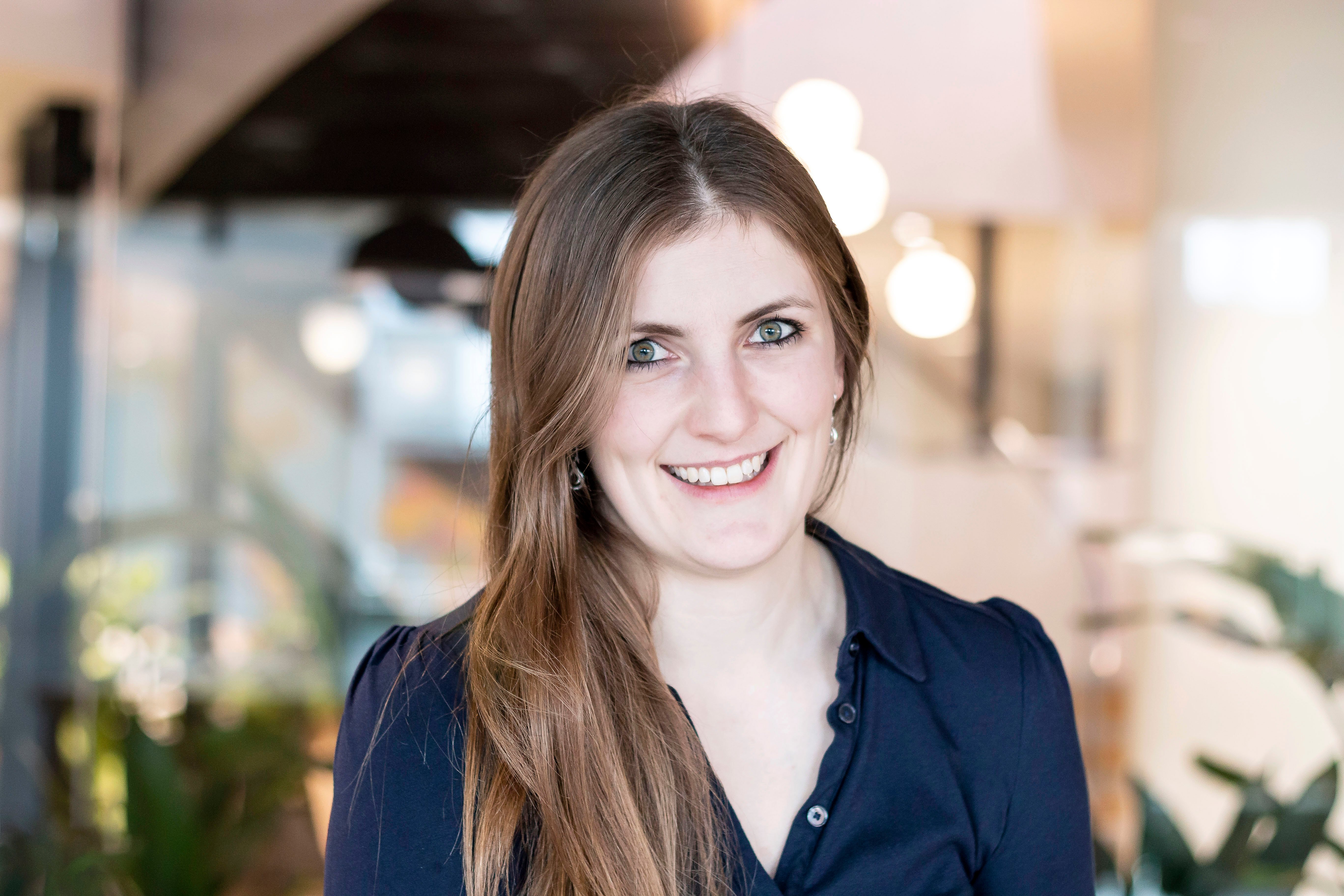 Anna Orriss-Baxter
Expert in Global Payments Transformation
Contact Anna