The power of digital twins
Companies in the UK oil & gas sector that can understand the interdependencies of their assets in the context of the whole energy system will be best placed to navigate the transition. Their best bet is the use of digital twin strategies adapted to a complex, dynamic environment.
Digital twins are a virtual representation of a physical asset or system of assets. They allow innovators to assess the impact of making changes to active and productive assets in a simulated environment. Such strategies provide the ultimate sandbox – an avatar for complex systems where you can try things out without the risk of physical and financial loss. By connecting with and mirroring the actual assets, digital twins can provide realistic and dynamic insights.
However, they are not straight forward to set up. There is a perception that they require high-quality data. And their main applications grew from relatively 'controlled' environments – such as testing technological devices and manufacturing processes. By contrast, the oil and gas industry operates in a non-stationary, uncertain environment, with poor quality data.
Despite this, digital twins are gaining traction in the UK energy sector. We believe their use will only grow, as they show their value in helping the oil and gas industry prepare for the UK's energy transition.
UK's transition context
The UK has ambitious energy transition targets for the oil and gas sectors, with the North Sea Transition deal aiming to reduce greenhouse gas emissions by 60Mt. Meanwhile some £15 billion has been earmarked for investment in new technologies by 2030, to enable carbon capture and storage, as well as hydrogen production, at scale.
Opportunities for optimised energy systems exist across offshore UK with a number of planned or in current developments: Zero-carbon Humber, Net Zero Teesside, Acorn, Shetland Energy Hub, Aberdeen Energy Transition Zone, platform electrification and other plans. A large proportion of these developments includes existing, brownfield infrastructure which has, without exception, operated outside its original design and comes with the inherent integrity and operational challenges of connecting old to new.
The digital twin has an important role to play here, by mapping the real world into the virtual realm, with advanced systems and assets mirrored virtually and in real-time.
The investment case
While there are some industry frameworks and recommended practices for the development and assurance of digital twins, there are a vast array of definitions and approaches for evaluating viable design, implementation and integration options – not to mention methods of integrating digital twins across a new interconnected energy system.
This is not helpful to mid-tier oil and gas companies and for many, this lack of clarity merely compounds the question of whether it is worth the effort of building and maintaining a digital world: assembling contextualised plant data, integrating systems, developing monitoring and analysis tools. It can all feel like a hypothetical exercise, while your real-world assets are demanding constant operational attention, and any investment needs to be justified vis a vis any planned cessation date.
The result can be an array of limited-asset digital representations and flow assurance models. But it doesn't have to be this way.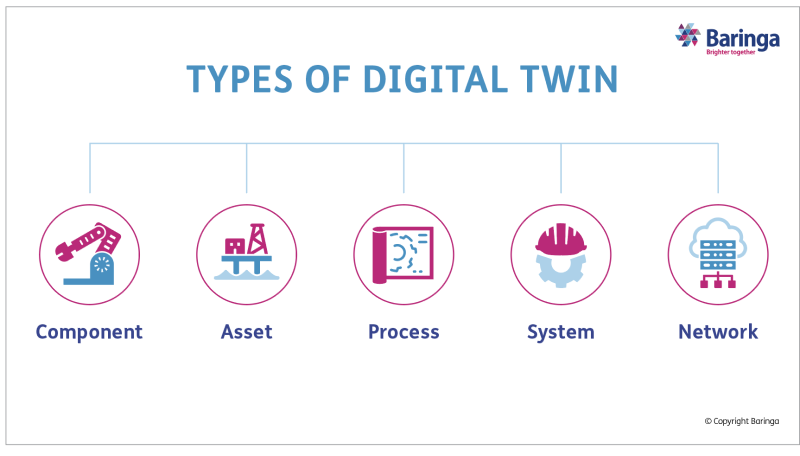 Systems not assets
Traditionally, digital twins rely heavily on the existence of good quality, well governed data from within the business. In oil and gas, this often proves to be an early stumbling block. However, when it comes to the oil and gas energy system, the lack of an ideal dataset is less of an obstacle than it may first appear.
Energy systems, and even individual oil and gas assets, operate in highly uncertain, dynamic environments, and this makes the creation of digital twins for existing assets a sophisticated undertaking. Even at an individual asset level, the end-to-end production system is rarely adequately twinned. There are no off-the-shelf answers for the right design, implementation, maintenance or governance strategy. Once in place, it is likely to be challenged by cultural barriers between the digital and operational teams. On top of this, many emerging oil & gas companies own or plan energy assets across the energy spectrum.
However, an appropriately adapted digital twin that encompasses the energy system itself, and the interconnected nature of assets within it, will contribute greatly to better decision-making around extension, cessation, decommissioning and optimisation options. Only digital twins have the sophistication to dynamically model and integrate the various components of this energy system and provide actionable insight around production optimisation, emissions reduction and energy security.
This will give operators the opportunity to analyse how existing infrastructure could play a role in emissions reduction and energy transition commitments, and to demonstrate this progress to shareholders and lenders.
Dynamic, multivariate
We believe that applying digital twins to the overall energy system in this way, rather than at an asset or component level, will be a game-changer. As an example, if we were able to model how hard the turbine and compressor was working under current conditions, including a high sea line injection and low atmospheric pressure, we could establish how much more carbon was emitted than if the equipment was performing at ideal efficiency.
There are several examples emerging where a combination of existing, reconfigured plants and new plants will form part of an interconnected energy system.
The Zero-Carbon Humber initiative includes modifications at two power stations including Drax, carbon capture and storage infrastructure, as well as hydrogen and renewables production. Each component in this system delivers energy at different levels of efficiency and reliability, and the investment required to digitally model and analyse each component varies. The ability to model and track the system's behaviour around energy supply, demand, pricing, competitive sources in the context of rules and regulation, at hourly intervals in a distributed system, is an extremely complex endeavour, and a physical-asset point-cloud laser-scan and 3D model will not make the grade. On top of this, there is a growing demand for modelling of the physical and financial risk under various climate scenarios, with real-world data on actual emissions, as input and optimisation parameters for the energy system.
For such complex problems, there really is no better substitute for the careful construction and implementation of a digital twin strategy. Then, connecting digital twins across the emerging components of the local or extended energy system, which includes oil & gas, renewables, hydrogen and CCUS, will provide much-needed insights to solve energy and emissions balance challenges.
Monitor – analyse – model
The level of granularity at which digital twins are created and then connected to form a "platform of twins" is driven by the requirement of the system in question. We are familiar with the application of digital twins in operations, where simulation twins facilitate asset performance optimization by predicting future operating parameters across a range of conditions or scenarios. Simulation and predictions of future asset states or behaviours, use algorithms which are either:
Physics based – such as computational fluid dynamic modelling of emissions or the behaviour of gas dispersion cloud.
Analytics based – where algorithm types can be combined with physics-based engines, in conjunction with machine learning/AI.
The need to monitor, analyse and model a system of which current production assets is a single component, means that a more nuanced approach can be taken to developing the digital twin. This requires a deliberate strategy for the system involved. It is significantly easier to develop complete digital twins for new plants during construction, but for older plants, the minimum level of detail to model and analyse the whole system requires a more strategic determination.
Solving this, together
We face the challenge of developing digital twins in an environment where it is both difficult and expensive, and if production efficiency was the solitary, stand-alone concern, they might seem overkill. But production efficiency competes with emission constraints within an increasingly complex energy system. With rising carbon levies, the paradox of more production vs lower emissions becomes more complex, and the ability to accurately model this is crucial. For example, the break-even point shifts for energy-efficiency modifications and for offshore electrification, so companies must be able to model this accurately, in response to changing carbon taxes.
How must we, as an industry, work together and evolve in order to meet these demands and expectations?
First of all, we need to agree a clearer set of standards and strategies around the development of integrated digital models. This will require close interaction between a broader group of technology and experts – covering everything from systems dynamics, modelling, analytics, machine learning and data architecture capabilities.
Secondly, companies must embark on a journey of development and refinement of flexible solutions and data infrastructure.
Thirdly, technology vendors should continue to develop efficient approaches to establish the "minimum viable twin" for the intended purpose and accept that a one size all model is not required.
Most importantly, by taking a 'whole energy system' view, rather than just a component or asset approach, digital twins become a powerful tool that can help to optimise at a systems-level, in a way that contextualises and considers each component in the wider context of a company's journey to profitable business through the UK's energy transition.