International Women's Day (IWD) is celebrated on 8 March each year in more than 100 countries around the world. It is a day to reflect on and celebrate the social, political, academic, economic and cultural achievements of women.
It also marks a day for acknowledging the challenges faced by women and is a call to action to continue to press for gender parity. This year's theme for IWD is Embrace Equity, which aims to raise awareness of why equal opportunities aren't enough.
The difference between equity and equality
Central to this year's theme is understanding that equity and equality are inherently different concepts. While equality focuses on giving individuals or groups the same resources or opportunities, equity allocates the specific resources and opportunities that an individual might need to reach an equal outcome by recognising their different circumstances. Equity is therefore defined by its ability to give everyone what they need to be successful.
Our #EmbraceEquity pledges
To celebrate IWD 2023, Baringa employees are making their own personal pledges on how they will take action to embrace equity in their personal and professional lives. We have created Baringa's Wall of Pledges to highlight some of the steps we are taking to create an equal workplace and world.
Imagine a gender equal world. A world free of bias, stereotypes and discrimination. A world that's diverse, equitable, and inclusive. A world where difference is valued and celebrated. Together we can forge women's equality. Collectively we can all #EmbraceEquity.
What equity means to us
In these videos our colleagues explore what #EmbraceEquity means to them, the importance of gender equity in the world and the workplace, as well as understanding the role that male allies can play by embracing equity in the journey to gender equality.
Watch our pledges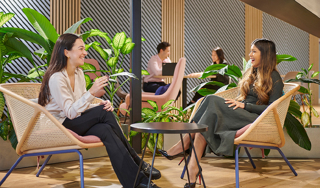 Diversity, Equity, and Inclusion
Learn more about our Gender Diversity Network and how we inspire a culture where everyone can bring their best selves to work, where we can thrive on all forms of diversity, attract the best talent, and give the most value to our clients, our people, and our communities.
Learn more
Read more of our pledges...