With just days to go before the FCA rolls out the final rules for the Consumer Duty, two thoughts should be in mind. First, how do you engage your organisation? And second, who should take charge of implementation?
These questions were high on the agenda at a recent workshop for industry professionals we hosted in partnership with TISA, aimed at improving the financial wellbeing. What came through strongly from the event was the need to move further and faster in preparing for the new regulations.
Behind schedule
We should not underestimate the step change in culture and operations needed to deliver and demonstrate 'good' outcomes for consumers. And even with a possible grace period, there's a huge amount to do and not a lot of time to do it in. But polling at the workshop found that mobilisation is barely underway. Less than a quarter of the participants have moved beyond the initial stage of adhoc analysis and review.

How much progress have you made in mobilising a response to the new Consumer Duty?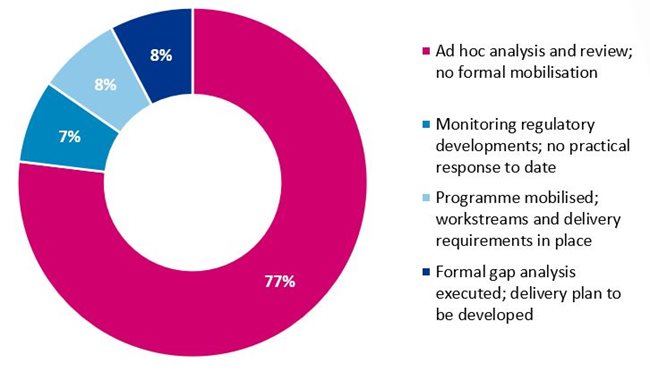 What's holding up progress? Polling showed that few have formed a clear and consistent definition of good outcomes against which they can drive firm-wide change. There's also little consensus about who should take ownership over implementation. Depending on the business, the reins could be held by product owners, operational heads or risk, control and compliance functions.


At firm-level, how well defined are 'good consumer outcomes'?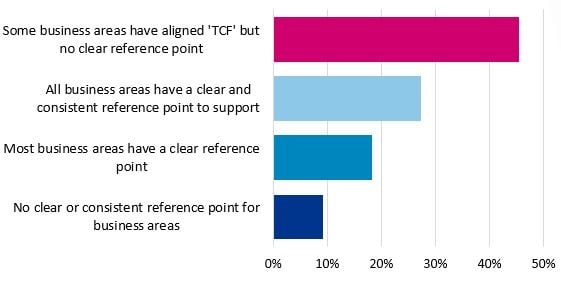 Who is the owner of your response to the new Consumer Duty?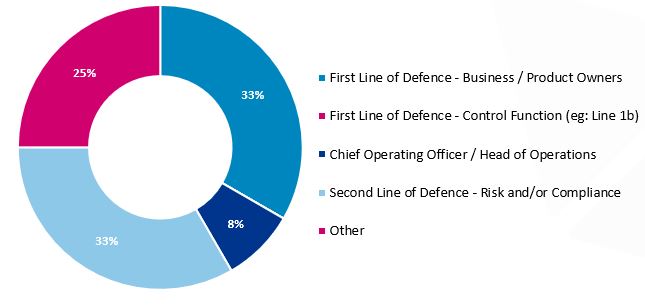 Forcing the pace
So how can your business cut through the knots and get preparations up and running? Drawing on discussions at our industry workshop and conversations with financial services clients, three priorities stand out:
1. Make it clear who's in charge
Heads of business or product/proposition are critical to getting to the heart of Consumer Duty. But you can have either single or joint sponsors. There are merits to each. A single sponsor strengthens accountability for mobilising and delivering. Joint sponsorship can help to win wider buy-in from different teams and extend the range of input and expertise within the implementation programme, which helps ensure you've got the right people in the right roles.
Either way, leadership of the programme needs to be clear, agreed and followed firmwide from the outset. A 'side-of-desk approach to implementation will not deliver success.
2. Engage everybody, now
Early engagement with the board, management and third parties can make sure that the business understands what's involved and why it matters. It can also help to align the implementation programme with wider strategic priorities in areas such as product innovation, digital transformation and customer relationship management.
The starting point is clearly articulating and communicating why the Consumer Duty isn't just more of the same – as well as the potential commercial benefits of getting it right and the risks of getting it wrong.
It will be important to begin running workshops across your organisation to define and refine the framework. SMEs and compliance teams can support this, but the workshops should be owned and run by the business to emphasise that this is a commercial as well as compliance shift. These workshops should be designed to help teams understand the context and impact of the duty.
3. Know your data gaps
Delivering and demonstrating good outcomes demands good data. Polling at the workshop highlighted the challenge of getting up to speed. None of the participants believe they have the data they will need. More than half believe that the additional requirements will be either significant or very significant.

What do you expect your data requirements to be to evidence 'good consumer outcomes'?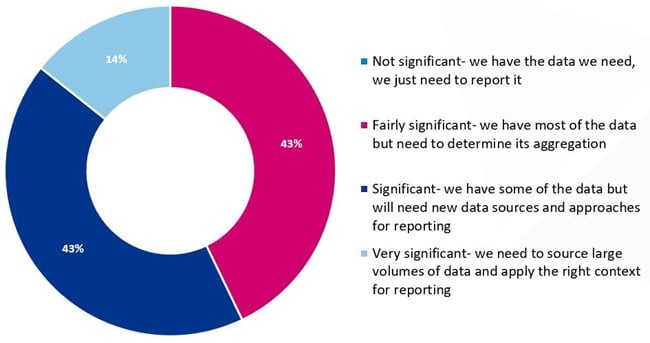 The starting point is working out what data you need and comparing this to what you have, so you can identify and bridge the gaps. An important part of this is looking at the context for the source data, how it's used and how it's shared. It is likely that firms will need to do 'consumer testing' to gain insight, test outcomes and inform the development of new products and propositions.
Time is short. So while it's important to set your target state, you'll need to determine tactical and transitional plans to get over the line by the deadline. You can then build from there.
If you would like to know more about the issues raised at the workshop or how we can help your business make a success of the Consumer Duty, please get in touch.