Climate change is the defining challenge of our generation and requires a collective, global response to halve emissions by 2050 if we are to avoid the worst effects.
As a business we are striving to align our whole business with a less than 1.5°C warming scenario. This includes not only reducing and offsetting the emissions generated by our own operations and supply chain but also educating and empowering our people to do the same and supporting our clients in developing and implementing their own Net Zero strategies.
Our Net Zero Pledge
Whilst our biggest impact is through the client work we do, we are committed to leading by example through actively reducing emissions within our own operations and supply chain. As such, in June 2021 Baringa joined the UNFCCC's Race to Zero Campaign via the B-Corp Climate Collective pledging to achieve Net Zero emissions by 2030. We have also committed to setting science based targets via the Science Based Targets Initiative.
For FY21 (1 April 2020 – 31 March 2021), our total carbon footprint across Scopes 1, 2 & 3 across all our operating geographies was 1.1 tonnes CO2e per FTE, down from 4.4 tonnes CO2e per FTE in FY20.
Despite FY21 being an unusual year, we achieved a number of key milestones in support of our Net Zero goal. We have:
Switched to 100% renewable electricity in our London office – by far the largest of our estate
Diverted 100% of our waste from landfill and achieved a high rate of recycling (87%)
Established our remote working proposition to enable ongoing reductions in business travel (which usually accounts for c.80% of emissions)
Achieved carbon neutrality across our global Scopes 1, 2 & 3 emissions through the use of Gold Standard offsets
Find out more about our Carbon Reduction Plan (PDF, 251 KB).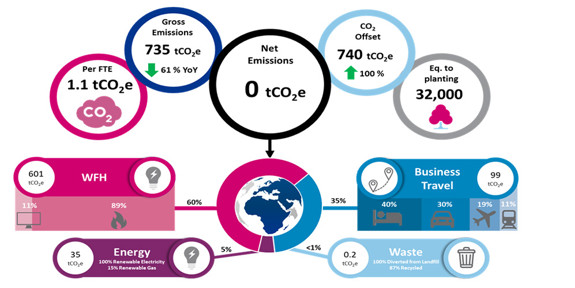 Our offsetting strategy
As of FY21 we are Carbon Neutral with respect to our Scopes 1,2 & 3 emissions and have committed to continue to be every year hereafter.
Our absolute priority is to first reduce emissions and only invest in offsetting where we cannot fully remove sources of carbon in our operations.
Through our offsetting strategy we are looking to not only prioritise the permanent removal of carbon from the atmosphere, but to also deliver a wide range of additional benefits aligned with the UN's Sustainable Development Goals.
This year the projects we have invested in support the following Sustainable Development Goals: