As the climate crisis continues, sustaining the status quo is not an option for COP26. COP26 has a key role in the development of an international Hydrogen market facilitated by a global carbon price.
Many countries worldwide have developed hydrogen strategies; according to recent IEA counts, countries that have adopted hydrogen strategies have committed at least USD 37 billion; the private sector has announced an additional investment of USD 300 billion in hydrogen[1]. More broadly, over the past months, more than $30 billion has been raised by some of the world's largest asset managers for energy transition-focused funds. The capital raised will be invested in things like wind, solar, networks and energy storage projects, as well as equity in the companies developing and supplying these projects, which will also include hydrogen[2].

Climate change and energy is and has been on the front cover for weeks following the recent IPCC report released last summer, calling for urgent action. Various reputable institutions have brought their analysis for discussions on what needs to happen – importantly including IEA, which calls for a ramp up of policy support including the of growth of Hydrogen as solution for hard to abate sectors. In addition, national governments will be coming into this COP with national hydrogen strategies to differing levels of development across Europe, APAC, USA, but one common denominator – ambition to grow. Japan, for example, expressed ambition to import 3 million tons of clean ammonia, a relatively common transportable derivative of hydrogen, by 2030[3]. Many countries are moving on from strategies to implementation, and seeking to scale projects. We see appetite to invest from our clients across these markets but with most commercial business cases still challenged by lack of visibility on international green premium and demand.
Can COP26 offer policy support?
Due to the mostly common nature of geographic split between hydrogen production and demand, many of the aforementioned strategies rely on the development of an international hydrogen market but do not address in detail how to develop this[4]. The role of COP is critical for climate change multi-national policy to enable cross-border policy and market formation. This could involve defining the market mechanics of carbon markets, prescribing a minimum value and trajectory for a global carbon market, or through mandating national governments to have a certain policy ambition.
Investing in sustainable energy - market opinion on the role of COP
Informal polling, done by our team across a selection of global energy community experts, gives a glimpse of where energy professionals stand on this: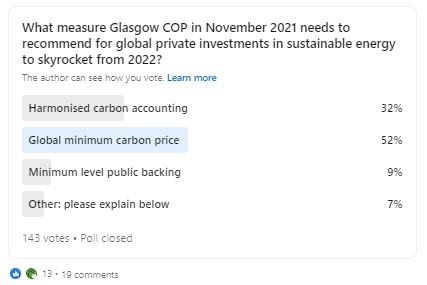 The wisdom of the crowds demonstrated in our poll, indicates support for increased global carbon price. Such a price would help to grow sustainable investment, including hydrogen. There is some support to common carbon accounting standards, with limited requirement for a mandated minimum level of policy backing on an individual country basis.
Accelerating clean Hydrogen growth through global carbon pricing
We have noted in polling and in our client work a preference for global policy to drive value of green investment through carbon pricing, but high importance is also put on carbon accounting and market standardisation, which will be key for corporate value-discovery, and ultimately supporting the industry in a post-subsidy world.
Other than stimulation of a global carbon market, Hydrogen does not need Glasgow's help to become a leading option in energy transition for hard to abate sectors like steel, and existing use cases like the fertiliser industry. The commitments of leading economies to Net Zero result in strong market development of electrification and Hydrogen in parallel. Interestingly, even if no tangible policy measures are agreed in Glasgow, the COP26 summit can be expected to be a stage where initiatives to drive down cost of green and other clean hydrogen (blue, pink[5]) will take centre stage[6]. Glasgow will be remembered for being the start of a global hydrogen economy.
---
[3] See https://www.ammoniaenergy.org/articles/japans-road-map-for-fuel-ammonia/
[4] We do note initiatives like HyXchange in Port of Rotterdam (Creation 'HyXchange' Hydrogen Exchange A Step Closer (fuelcellsworks.com)), and supply chain study of future Hydrogen trade between Australia and Germany, to which Baringa participates (Australia-Germany consortium to analyse hydrogen supply chain in new study (h2-view.com)).
[5] Clean Hydrogen, the energy carrier, can be formed through various energy resources. Green and Blue hydrogen being the most prominent as clean hydrogen production methods at the moment. Pink Hydrogen, produced using nuclear energy and electrolysis, is also making rise as clean hydrogen. Green Hydrogen is hydrogen generated from renewable energy sources in electrolysis process. There is also Grey Hydrogen which is a process where Hydrogen is extracted from hydrocarbons using steam methane reforming; while Blue hydrogen is cleaner and generated from hydrocarbons the same way as Grey Hydrogen, with carbon being captured through carbon capture technology. More colours of hydrogen exist in professional discussions, yet the direction of travel to certify carbon footprint of making the hydrogen, not sticking to colours, as e.g. amount of carbon not captured in making blue hydrogen can differ.
Our Experts